Linstone on the right road with major expansion of eco-friendly Car Club
---

---
A car club which is driving up eco-friendly motoring in Renfrewshire has been given a huge boost.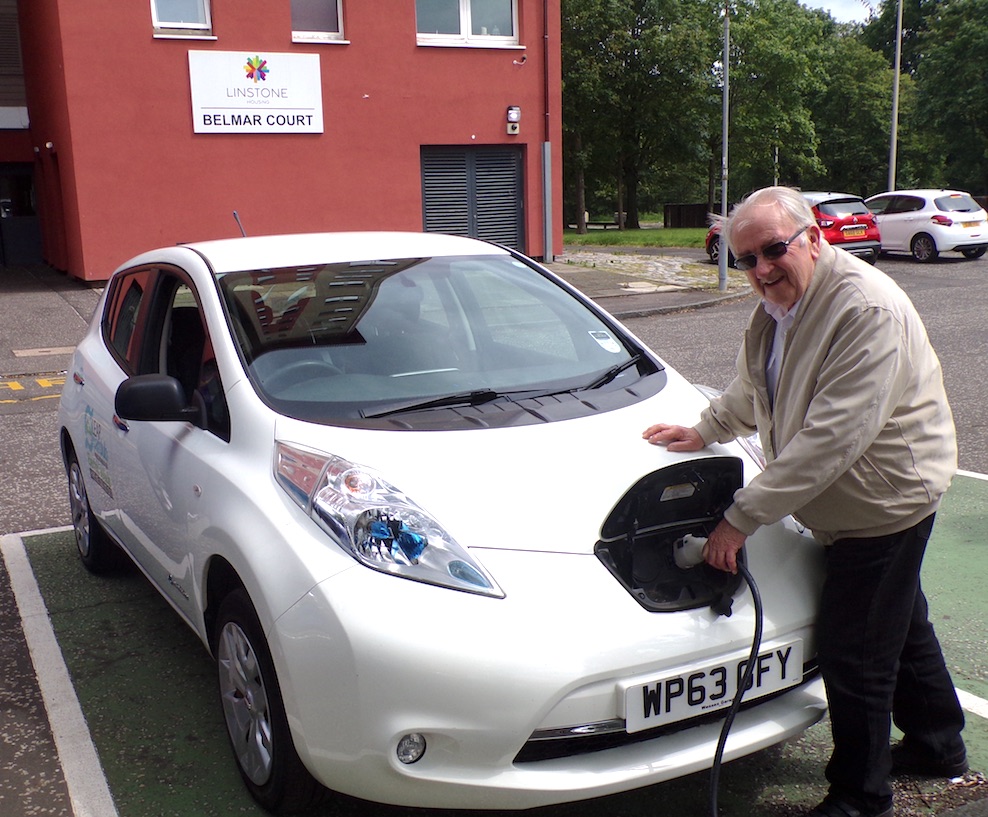 Linstone Housing is charging ahead with two new electric cars for its highly-successful Car Club which frees local people from the costs of car ownership.
It has been given almost £100,000 in funding to expand the Car Club and is tripling its fleet of vehicles from one to three.
Now two new electric cars – complete with electric charging points in Linwood and Johnstone - are coming later this summer.
Linstone Housing has been piloting the car club at its Belmar Court multi-storey flats in Linwood for two years.
When the scheme is fully extended this summer, the existing hybrid car will remain at its current location while the new charging points and base for the two all-electric cars will be at Blackwood Avenue, Linwood and Arran Drive at Sandyflats in Johnstone.
The expansion has come about after Linstone obtained £96,000 from the Energy Saving Trust's 'Plugged-In Households' grant fund designed to help housing associations and community groups offer a car club. 'Plugged in Households' is funded by Transport Scotland.
The success of the club and its rising levels of interest has impressed the housing association – prompting the expansion.
The cars can be hired on an hourly basis, booked online with the whole process being simplicity itself. A membership fee is payable but is currently free for all Linstone tenants. A mileage rate also applies.
Linstone said it was proud to be doing its bit with the car club to provide more transport options for tenants and local residents and help address climate change.
Linstone Housing chief executive, Adele Fraser, said: "We are impressed with how well the car club has been received by Linstone tenants and local residents. This important new development with the arrival of two electric cars this summer will widen its reach significantly."
Mike Callaghan of LEAP Car Club based in Lochwinnoch, which facilitates the car club for Linstone, said: "This is a great step forward for an initiative which proved to be an instant hit in Linwood and is now being extended to Johnstone. It delivers the convenience of a car without the expense and hassle of owning one. We anticipate the expansion of this to further locations in Linwood and to Johnstone will be hugely-welcomed. Linstone Housing has shown great vision in embracing such a worthwhile scheme."
The car club represents Linstone's ongoing and deep-rooted commitment to helping the communities where it has its homes and is further evidence of the work being done under the Linstone 20/20 project. It takes its name from the organisation's 20th anniversary last year and aims to support Linstone's communities, promote social inclusion and increase employment opportunities.
Linstone Housing committee member and tenant, Sandy Hewitt, is full of praise for the car club.
He said: "Being a member is great. I fully recommend it to anyone who wants to use a car but doesn't want to own one. I think it is a fantastic step forward and is definitely the way ahead for motoring."