Rural Stirling Housing Association breaks ground on six Doune homes
---

---
Rural Stirling Housing Association (RSHA) has officially broken ground on a new six-home affordable housing development in Doune.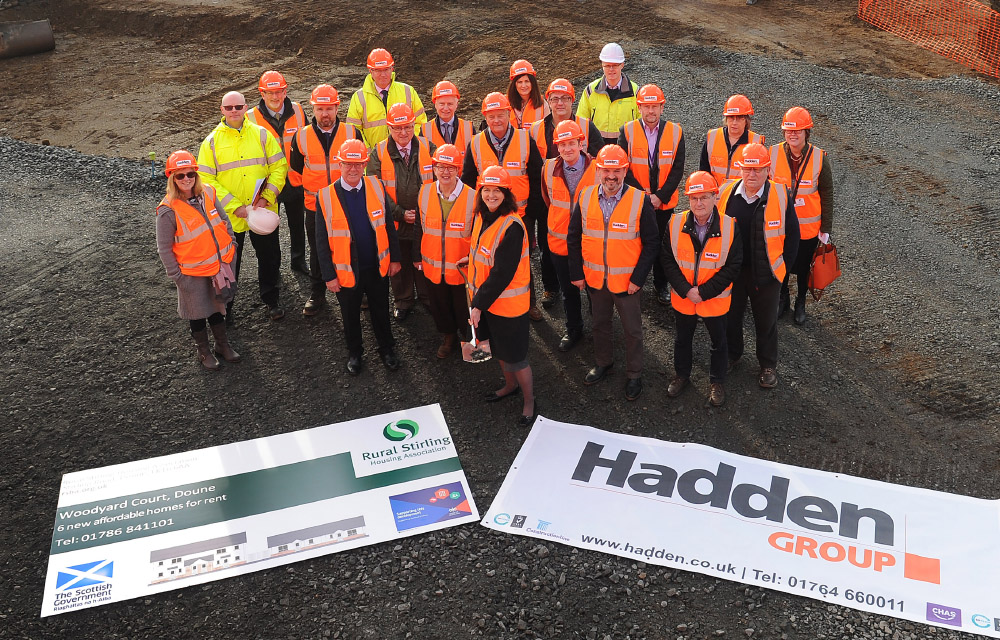 The six homes - comprising two semi-detached bungalows and four cottage flats - are being built by Hadden Group and will be available for rent once completed.
Performing the ground-breaking ceremony, Councillor Evelyn Tweed, Stirling Council's housing portfolio holder, said: "This is the best part of my job, seeing new housing coming into rural areas, and it is made all the more special as it is my ward and I know just how much this housing is needed in an area like Doune."
Margaret Vass, chairperson of Rursal Stirling Housing Association, said: "These new homes for rent will be a welcome and much-needed addition to the village of Doune and helps us to continue to fulfil our objective of providing quality affordable housing for our rural communities."
The Balkerach Street development is being undertaken in partnership with NHS Forth Valley which sees a new health centre for the village being constructed adjacent to the new homes.
Steven Brady, managing director of Hadden Group, said: "We're pleased to have been awarded this housing project from Rural Stirling Housing Association and are looking forward to working in partnership with them to successfully deliver these new affordable homes."
The properties will be finished with reconstituted stone features, white render exteriors and grey tiled roofs in keeping with nearby buildings.
Donna Birrell, chief executive of RSHA, added: "As well as this providing more rural housing this £1M development completes the last pocket of the masterplan for this side of the village of Doune. It continues to demonstrate our commitment to improving the rural communities in which we operate."
The development, on the site of a former derelict timber yard, is projected for completion in September 2019 with the new tenants moving in shortly afterwards.