Aberdeen Cyrenians launches digital connectivity campaign
---

---
Aberdeen Cyrenians is launching its own app and Let's Get Digital campaign to help support and connect people who are affected by homelessness and isolation through the COVID-19 outbreak.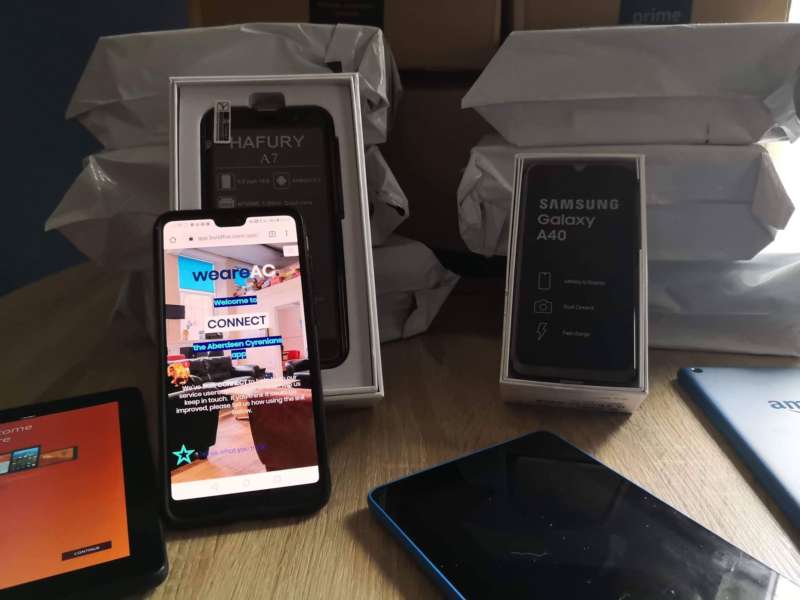 Aberdeen Cyrenians, which runs homelessness, poverty, violence and abuse services across Aberdeen and Aberdeenshire, has been granted £49,978 from the Crisis: In this Together fund to start its new Digital Connect initiative – including the creation of a support app, a hardware-gifting programme and digital skills development project.
Lynda Reid-Fowler, community service lead, said: "During lockdown the need to be online to access vital support and services, as well as care for mental wellbeing by reducing loneliness and isolation has never been more important. For our service user community, the digital connectivity gap has been heightened by COVID-19 - people often don't have the knowledge and confidence to get online safely, or they lack the devices and connections necessary to do so, leading to severe disadvantage.
"We will begin piloting our Digital Connect app with 25 individuals chosen from across our services and then begin rolling it out to our wider community over the coming months. We will be using the app to share advice and support from practitioners, send out key messages and build trusted relationships – similar to what we would do in a day-to-day sit-down appointment. Over time, we also hope to do more group work in a safe and secure environment online to complement our face-to-face services."
She continued: "The people chosen for this pilot won't have a device to use the app, so we will be gifting them a smartphone and credits, which they can use to access our support, but also to keep in touch with friends and family, use social media, streaming and email services as they wish to get connected to the outside world.
"Our aim is that the people within the pilot will enhance their digital skills and self-confidence, enjoy the value in being connected, and reach out to our organisation more frequently through the app for help when they need it. We want to be able to build a long-term digital platform that will allow us to provide crucial information and support to vulnerable people, to increase their opportunities to engage with us, and access any help and advice they may need."
Aberdeen Cyrenians has also recently become a key player in the national homelessness network's digital inclusion programme, by becoming one of five Get Digital Scotland partners – and the only one based in northern Scotland.
The Get Digital Scotland partnership works to improve access to the digital world for people affected by homelessness, by training people in the everyday skills, knowledge and safety necessary for life in the increasingly digitised world.
Mike Burns, chief executive, added: "We're delighted to have become a Get Digital Scotland partner – this was something we were already working on before this crisis, and which we have accelerated in recent weeks as we moved many of our services online.
"The rapid rate of digitisation across Scotland has left the homeless community extremely disadvantaged – a large majority of our services users do not have the skills or confidence to do things like send an email, type a CV or fill in an online form, and this skills gap makes them increasingly vulnerable when they face barriers to accessing the very services designed to help them, like Universal Credit for instance.
"Like many other organisations across Scotland, we've had to embrace digital like never before, and this has not been without its challenges; we recognise that we need to enable the people we work with to do the same, so they can enjoy the same benefits we all take for granted, getting them online to get stuff done and stay connected as we move through COVID-19 and into the future."
Jamie Trout, digital inclusion programme manager for Get Digital Scotland, said: "Simon Community's Get Digital programme is delighted to be working in partnership with Aberdeen Cyrenians to help integrate digital inclusion within their services. In the current context of social distancing and social isolation, digital is an essential life line, and we want everyone to be connected! It's now more critical than ever that we include the people we support in the digital world."
Read all of our articles relating to COVID-19 here.