Demonstration planned as GHA eviction case heads to court
---

---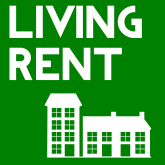 Tenants union Living Rent will today challenge an ongoing eviction of one of its members by Glasgow Housing Association (GHA) as the action reaches court this week.
The grounds for eviction, which stem from the accrual of rent arrears, are being contested by the union as "irresponsible and unfair".
A change in circumstances led to the tenant, Catherine Bennett, having to pay more rent than previously. However, Ms Bennett and Living Rent claim that she was not notified of the change and unknowingly entered into rent arrears.
GHA told Scottish Housing News it has consistently reached out to Ms Bennett to negotiate a payment plan and work out if she is entitled to other benefits but the tenant has yet to engage. With the court date set to December 11, GHA added that Ms Bennett still has an opportunity to work with the Association to prevent any legal action.
Ms Bennett said: "I've been in this flat for 15 years and have never had complaints against me. All my family are here who I rely on more than ever with the deterioration of my health and wellbeing due to the stress of eviction proceedings that I have been dealing with since January.
"My house is my safe place as I've been through a lot in my life, but overcome it. The prospect of losing my home is so terrifying I can't comprehend it."
Living Rent has called on GHA to drop the eviction proceedings and immediately start engaging in negotiations around a repayment plan to ensure her physical and mental wellbeing.
The union will lead a demonstration today at the Gallery of Modern Art from 12.30pm.
Anna Knox of Living Rent said: "GHA is intending to put our member and friend on the street right before Christmas, during some of the coldest months of the year. This is grossly irresponsible behaviour from GHA, especially in light of them being the largest social landlord in a council area that so recently recognised the brutality of winter evictions.
"Living Rent is uncompromising about the fact that no one should be forced onto the streets in the freezing cold, and we are hoping that the courts will make a stand against these cruel proceedings."
A GHA spokesman said: "We take all our obligations to our tenants very seriously. However, all tenants sign a tenancy agreement and they too have to fulfil their obligations as a tenant. We're always disappointed when tenants don't pay their rent as not only does it put their home at risk, it is also a fundamental part of our investment in homes, services and employability opportunities.
"We've tried repeatedly, for over a year, to engage with this customer to help her sort her benefits and rent payments. Today we have been contacted by her representatives and can clarify that if the tenant herself now talks to us and agrees a repayment arrangement she is able to stick to, we would be happy to ask the court to continue the case for eight weeks. This would give the tenant a final opportunity to resolve the situation with our support.
"GHA only takes a case to court as a very last resort and only after all attempts at engaging with the customer have failed. We can confirm absolutely we follow the social landlord pre-action requirements.
"The courts decide on whether a tenant should be evicted or not but even if a decree was granted, we are still always happy at that late stage to speak with the customer about repayment. We would urge this tenant to contact us without delay to stop these eviction proceedings."
The spokesman added: "We have been contacted by representatives of the tenant today and can clarify that if the tenant herself talks to us and agrees a repayment arrangement she is able to stick to, we would be happy to ask the court to continue the case for eight weeks. This would give the tenant a final opportunity to resolve the situation with our support."