Elderpark Housing receives £10,000 boost from CCG
---

---
Elderpark Housing has received a £10,000 cash windfall from CCG to invest within their communities in Govan.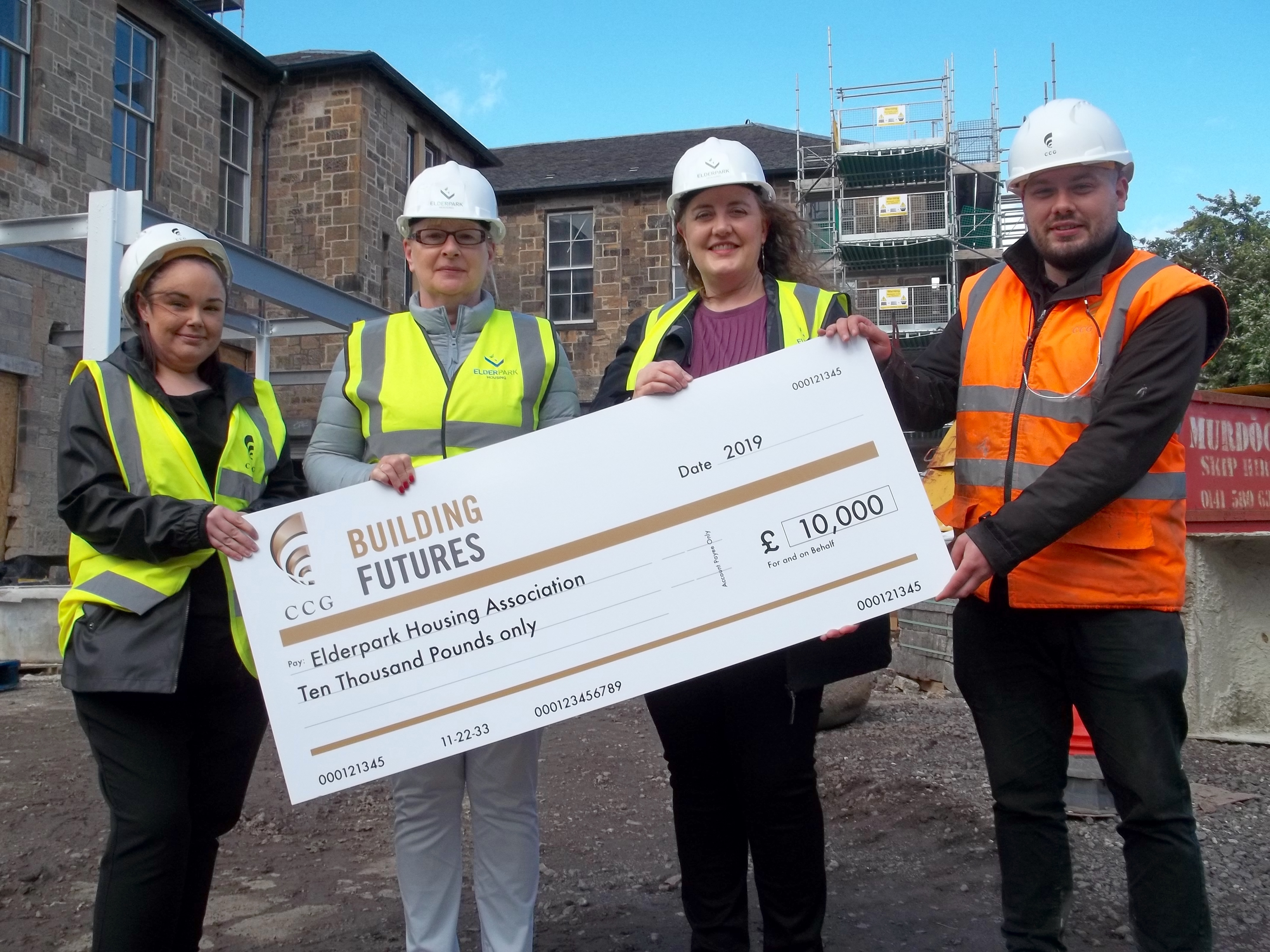 The money is part of CCG's "community benefit" commitment, as it undertakes the construction of 82 new homes for Elderpark and restores the iconic Hills Trust School to become new offices for the housing association.
Alongside the donation, CCG's commitment includes the provision of jobs, trade apprenticeships, work placements and curriculum support for local schools.
Elderpark Housing said the money will be used to deliver on a range of small projects within the community and some of it has already been put to good use on community events designed to engage local residents in the Elderpark area.
It has helped pay for an afternoon tea for senior citizens, contribute to a community fun day, purchase new blinds at Elderpark Community Centre and there are plans to use some of the money to buy land for a community garden.
Shirley McKnight, Elderpark Housing deputy chief executive, said the creation of new homes, due to be completed next year, was already bringing significant benefits to the community.
Ms McKnight said: "Nowadays contractors are encouraged to deliver what's known as 'community benefit' when they are awarded contracts from housing providers such as Elderpark.
She added: "CCG's generous contribution of £10,000 has already started to benefit the community and will continue to do so over the rest of the year as we look at ways this money can be used. Elderpark Housing shares CCG's vision of delivering affordable housing underpinned by strong communities. We thank CCG for helping us to achieve this."
David Wylie, CCG managing director, said: "Contributing to communities is very much integral to the CCG ethos and we are delighted to see that our donation is already being used to support the people of Govan by creating a lasting legacy from our work in the delivery of new affordable homes and the Hills Trust School. Elderpark Housing's commitment to Govan is to be commended, without whom this donation would not be possible."