Four new trade apprentices for Elderpark construction project
---

---
Construction and manufacturing business CCG (Scotland) Ltd has welcomed the progress made by four new apprentices in support of a major development in Govan.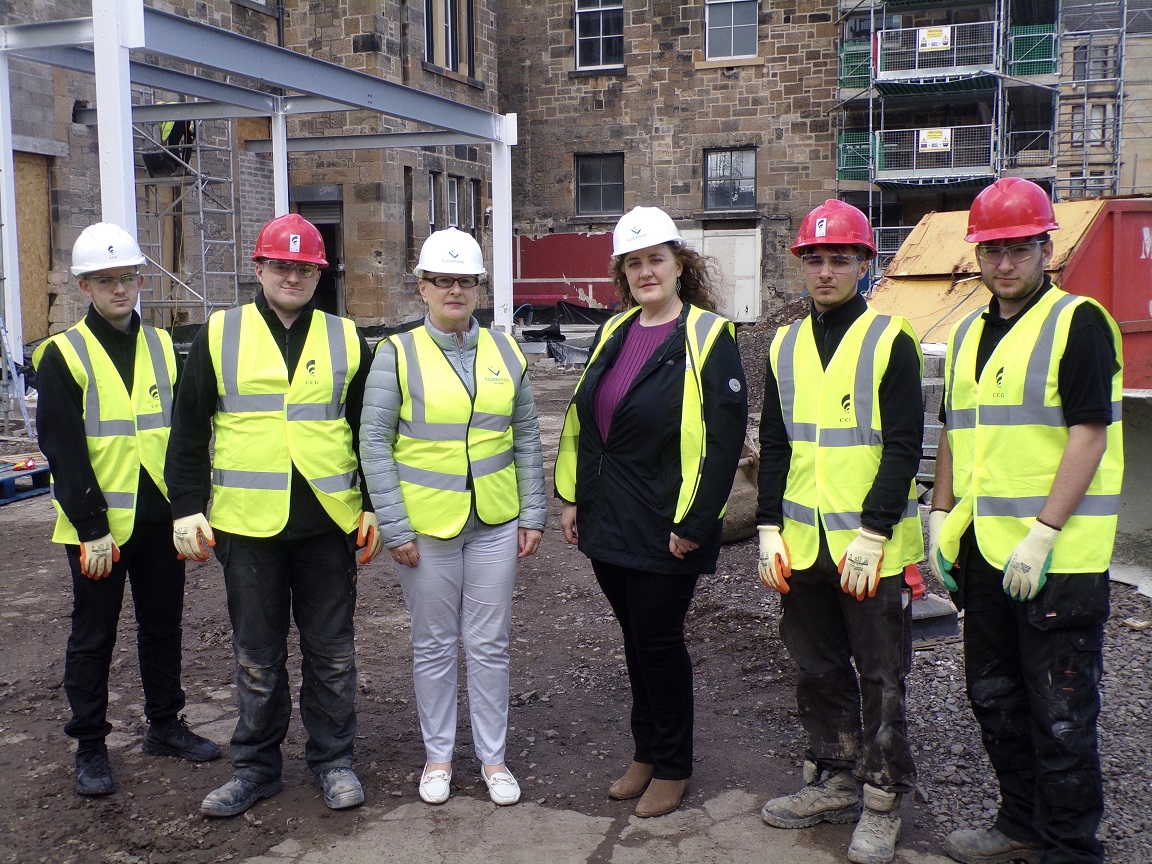 19-year-old Jack Mulvey started a plumbing apprenticeship with the Glasgow-based firm in August as part of the conversion of the former Hills Trust Primary School and the construction of 82 new affordable homes for Elderpark Housing.
Jack said: "I am a local lad. To work on my very first project so close to my home is great; I feel like I am giving something back to the community."
CCG has a well-established approach to youth development and training which is cemented in the ethos of the business. Over 10% of its 700 staff are in an apprenticeship or trainee role delivered in partnership with local colleges and universities to deliver opportunities for young people from the communities in which they operate.
With the construction of over 1,000 homes annually across the Central Belt of Scotland, CCG housebuilding programme creates opportunities for young people to earn and learn in their local town or city.
In the case of Jack, from Crossloan Road in Govan, he is joined by Marc Morrison, Mark Robertson, and Johnathan Moore, from Glasgow, each 1st year apprentice has been employed as a direct result of the £15 million transformation of Nethan Street, comprising the construction of 82 affordable homes, as well as the conversion of the former Hills Trust Primary School on behalf of Elderpark Housing which is set to become the offices of the housing association from January 2020.
Jack said: "I became interested in plumbing after working with my brother who also works in the trade and so far, the programme has been really enjoyable. I've only been with CCG since August but even in the short space of time with the company, I would recommend doing a trade apprenticeship as the variety of projects and responsibility is really rewarding.
"I am looking forward to learning more and hopefully when I graduate, I'll be better than my brother!"
Group HR manager for CCG, Lynn Stodart, said: "CCG's commitment to skills replenishment will never change. We wholeheartedly believe that by providing apprenticeship and training programmes - as well as further education for staff – we are securing the long-term success of our business.
"In doing so, we are employing from within local communities and the apprentices based at the Elderpark project in Govan is a great example. Jack, Johnathan, Mark and Marc are taking immense pride in delivering this project and will be able to say to their families that they helped transform an important, historical landmark in their local community."
In addition, CCG has donated £10,000 towards local projects, created six full-time jobs and will create 12 work placements during the lifetime of the project.
Gary Dalziel, Elderpark Housing's chief executive, added: "It must be a tremendous feeling to be part of a team building new homes in the area you are from. Being able to walk down the street and know that have created something that will last for generations in your community will hopefully be something for Jack can look back on fondly in years to come as he develops his career further in the construction industry.
"We are delighted to be working with CCG on this project at Nethan Street and pleased that as well as the physical improvements to the area there has been opportunities to provide training and employment opportunities within CCG."
The Hills Trust project has been part-funded by the Govan Cross Townscape Heritage Initiative, supported by the Heritage Lottery Fund, Historic Environment Scotland and Glasgow City Council.