Mactaggart & Mickel renovates Linwood home of care experienced woman
---

---
A Linwood maisonette has had a makeover in time for Christmas thanks to a pioneering partnership between Mactaggart & Mickel and charity Who Cares? Scotland.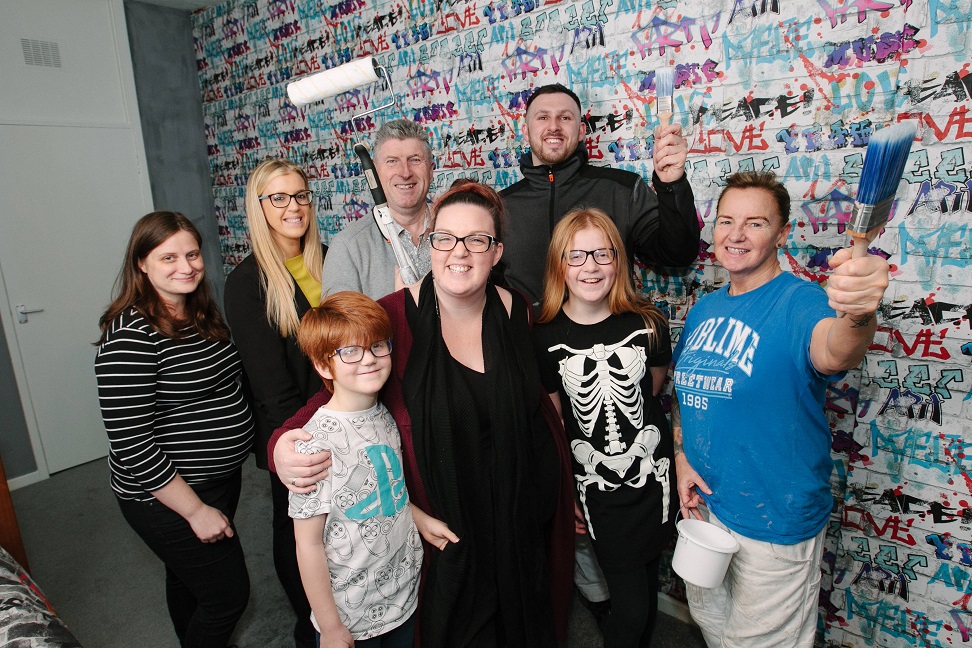 Employees from the housebuilder brought their 'day job' skills to bear to wallpaper and paint the three-bedroom housing association property.
Lee Davidson was in the care system for seven years as a child, then spent a further decade battling homelessness. Today, with four children under the age of 14, she still has had her work cut out to keep a roof over the family's head. However, she is determined to realise her potential and is now in her fourth year at the University of the West of Scotland, and hopes to work in the voluntary sector when she graduates.
Lee said: "Who Cares? Scotland is an amazing charity and do great work for Care Experienced people. And, thanks to the lovely volunteers from Mactaggart & Mickel, my children will get their bedrooms decorated and our home smartened up in time for Christmas. They were excited to choose the colours themselves!"
The housebuilder has pledged to work alongside Who Cares? Scotland to support the care experienced community in Scotland, to provide vital life skills and practical support to young people when they leave care and move their own homes for the first time.
Marion Forbes, director at Mactaggart & Mickel, said: "Many young people leaving care appreciate advice and support to help them tackle jobs around their first home – and that is where our Mactaggart & Mickel colleagues come in.
"It can be a bit daunting, even if you have family and friends around to help, but care experienced people often don't have this network around them. Our team were delighted to be able to help Lee and her children get their house Christmas-ready!"
Duncan Dunlop, CEO of Who Cares? Scotland, added: "Mactaggart & Mickel's ongoing support is helping us ensure that Care Experienced people have the same opportunities as anyone else – with the ability to turn to a trusted supporter to help them with simple things like DIY and painting and decorating.
"Our aim is that our members know they have people around them to turn to for advice and support, just as any other young person would."
As part of its arrangement with Who Cares? Scotland, Mactaggart & Mickel is providing work experience opportunities, arranging taster days on construction sites, and has hosted interviewing preparation days at its head office, which resulted in three participants finding jobs.
In April this year, more than 28 employees took part in the KiltWalk, raising over £6,700 for Who Cares? Scotland.