North West Kilmarnock goes with placemaking process
---

---
Kilmarnock's North West is the latest area to make their own Place Plan, East Ayrshire Council has revealed.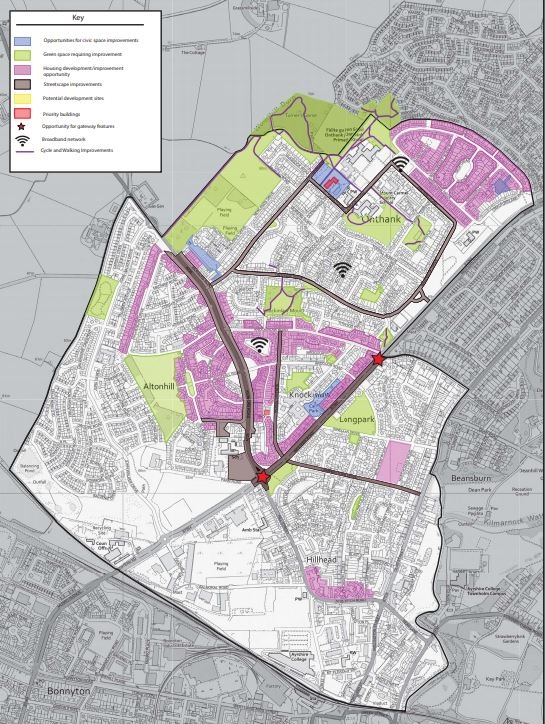 Since Placemaking became a significant feature of the East Ayrshire Local Development Plan in 2017, communities in East Ayrshire have been supported to develop their own Place Plans.
Placemaking builds upon on the Community Led Action Plans and other community-led initiatives.
Many areas have now completed their plans, through a mix of public meetings, events, online and written consultations.
Place Plans identify priorities for improvement to the natural and built environment such as public spaces, historic buildings and infrastructure. They are then adopted by East Ayrshire Council as part of the Local Development Plan, so that whenever funding applications are made or services adapted, the views and needs of those who live and work in communities as expressed in their Place Plans have an influence on decision making.
Councillor Jim Roberts, East Ayrshire Council cabinet member for economy and infrastructure, said: "Placemaking is a relatively new process which has already worked well in the communities which have undergone it. Using extensive discussions with local community groups, businesses and the public and through online consultations and public events, the East Ayrshire Planning and Economic Development Team, assisted by Vibrant Communities, draws up a map which identifies priorities preferred by the community aimed at improving the built and natural environment."
He also said: "Placemaking helps the Council prioritise resources and eases funding applications by local groups to bodies such as the Heritage Lottery Fund or Historic Environment Scotland. These applications are much more likely to succeed because there's proof that they are widely supported by the community concerned and formally supported by the council".
Mr Roberts added: "As I've said many times before, regeneration is about more than doing up old buildings or redeveloping derelict areas, it's all about making sure we all work together, using initiative and local knowledge, pooling resources and expertise to help change the lives of the people who live and work in a community, improving their wellbeing and boosting local economies.
"Placemaking works inclusively to play an important role in bringing about welcome, long-lasting change for the better and developing strong working relationships between council officers and communities."
To find out more about the Placemaking Map of North West Kilmarnock visit East Ayrshire Council's Placemaking webpage and fill in the online survey.