Unique Osprey Housing Moray partnership helps transform lives
---

---
Four men with learning disabilities have seen their lives transformed over the past year thanks to a unique Fochabers partnership involving Osprey Housing Moray, Moray Council and service provider Community Integrated Care (CIC).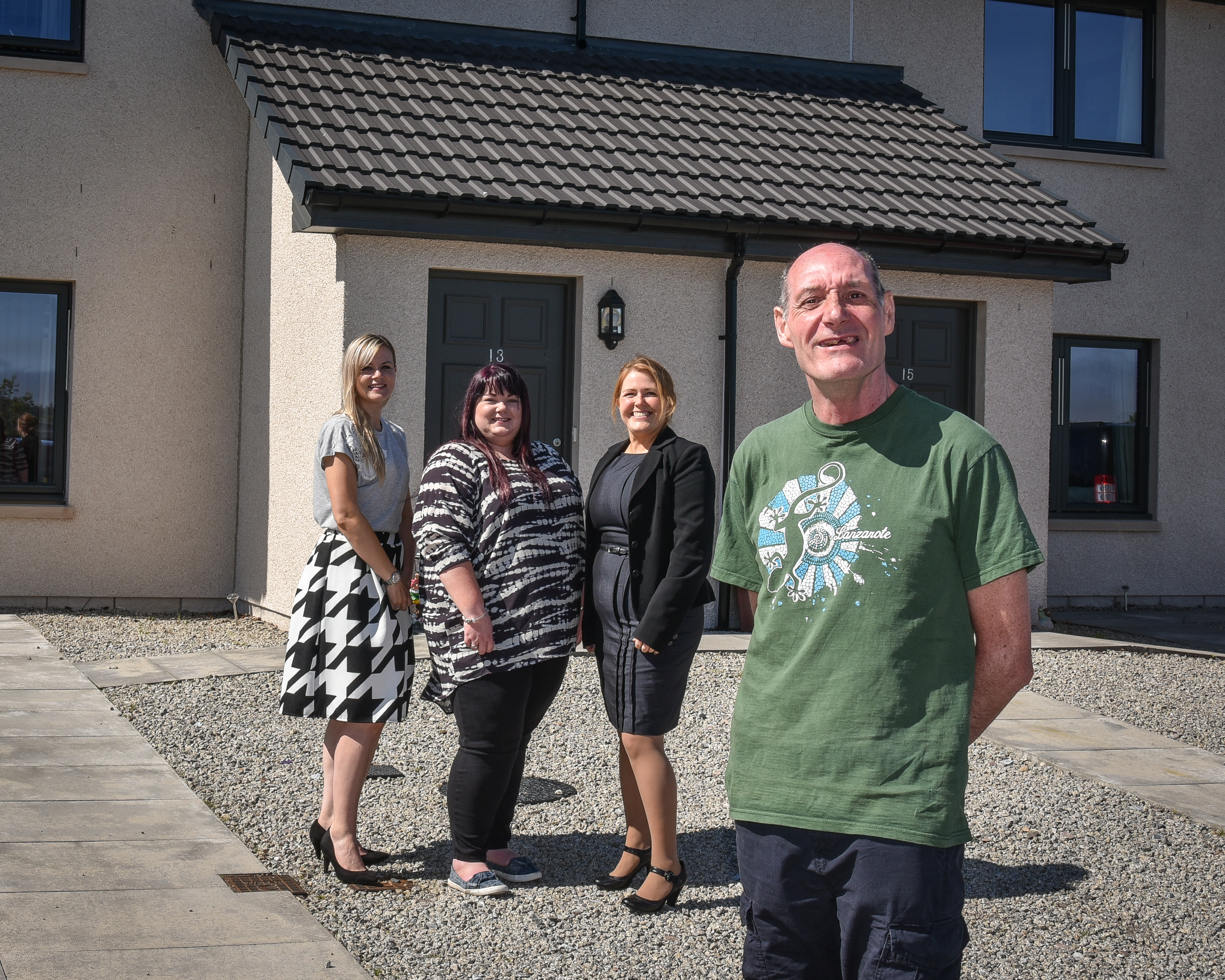 All four left a care home in the town in April 2018 to move into their own self-contained one-bedroom flats within Osprey's Castle Avenue social housing development, becoming tenants for the first time in their lives and given an opportunity for independence they had never before experienced.
One of them, Philip Gillies, said: "When I moved in, it felt like I had moved out of my parents' house for the first time at 60 years old.
"It was so exciting — the best thing that could have happened to me."
Philip and his fellow Osprey residents had all been living at the Castlehill House residential home where they had their own bedrooms but shared all other facilities, including dining and recreation areas.
Moray Council recognised that the building was no longer fit for purpose and began exploring alternatives with Castlehill's service provider, Community Integrated Care. Most of these involved moving the men outside Fochabers.
Aimee Borzoni, commissioning officer for Health and Social Care Moray, said: "Through the council's housing department, we knew Osprey were building in Fochabers, so we approached them to explore working in partnership to provide a solution in line with our health and social care policy of integration into the community of people with particular needs."
Osprey integrated the purpose-built flats into the £1.23 million Castle Avenue development — built by Morlich Homes — which also includes four three-bed semi-detached and four four-bed detached family houses.
Osprey's housing services manager Stacy Angus said: "We have developed several similar supported units in Aberdeenshire and were able to draw on that experience when forming this partnership, the first of its kind in Moray.
"These tenants were at risk of being moved out with Fochabers and the area they knew. Being able to facilitate them staying in their local area through this partnership is invaluable for helping to build sustainable and inclusive communities."
She added: "The positive human impact of providing housing is more than bricks and mortar — the quality of life impact cannot be underestimated, and this really illustrates our commitment to making a positive difference to the lives of those we provide homes to."
The men are now Osprey tenants while enjoying on-site access to CIC's local support team who work from a cabin at the Castle Avenue development.
Service leader for CIC Emma Horne said: "I have supported these gentlemen for more than 10 years and this simple change of environment has been life-changing.
"Being able to offer so much freedom has been made possible by the use of Telecare technology. Each flat has a sensor on the front door which alerts a pager our staff carry, so the men can live as independently as possible while still allowing us to offer them our support where needed.
"There are also telecom buttons in each flat — installed by Osprey at their expense — which the men can use to contact us at any time."
Ms Horne added: "This support model is new to Community Integrated Care and it's incredible to see the difference in these men — they are thriving.
"They have a greater sense of independence and choice and are developing a wealth of the life skills most of us take for granted, such as preparing and cooking their own meals and hanging out their washing."
Tenant Mr Gillies moved around a great deal as a child as his father was in the forces and had been living in Fochabers since 2011. He now works in a charity shop one day a week as well as attending various clubs and going to church on Sunday.
He said: "I feel more relaxed now, better in myself and more confident to try new things. It's lovely to have a beautiful flat I can call home, and not to have to sit with people I don't get on with or hear them shouting when they have a bad day. I have my own space and time to think. Moving here has changed my life for the better."