100 formerly homeless people have their own home with Housing First Scotland
A ground-breaking response to homelessness in Scotland has reached a milestone with more than 100 people having a home of their own along with appropriate support.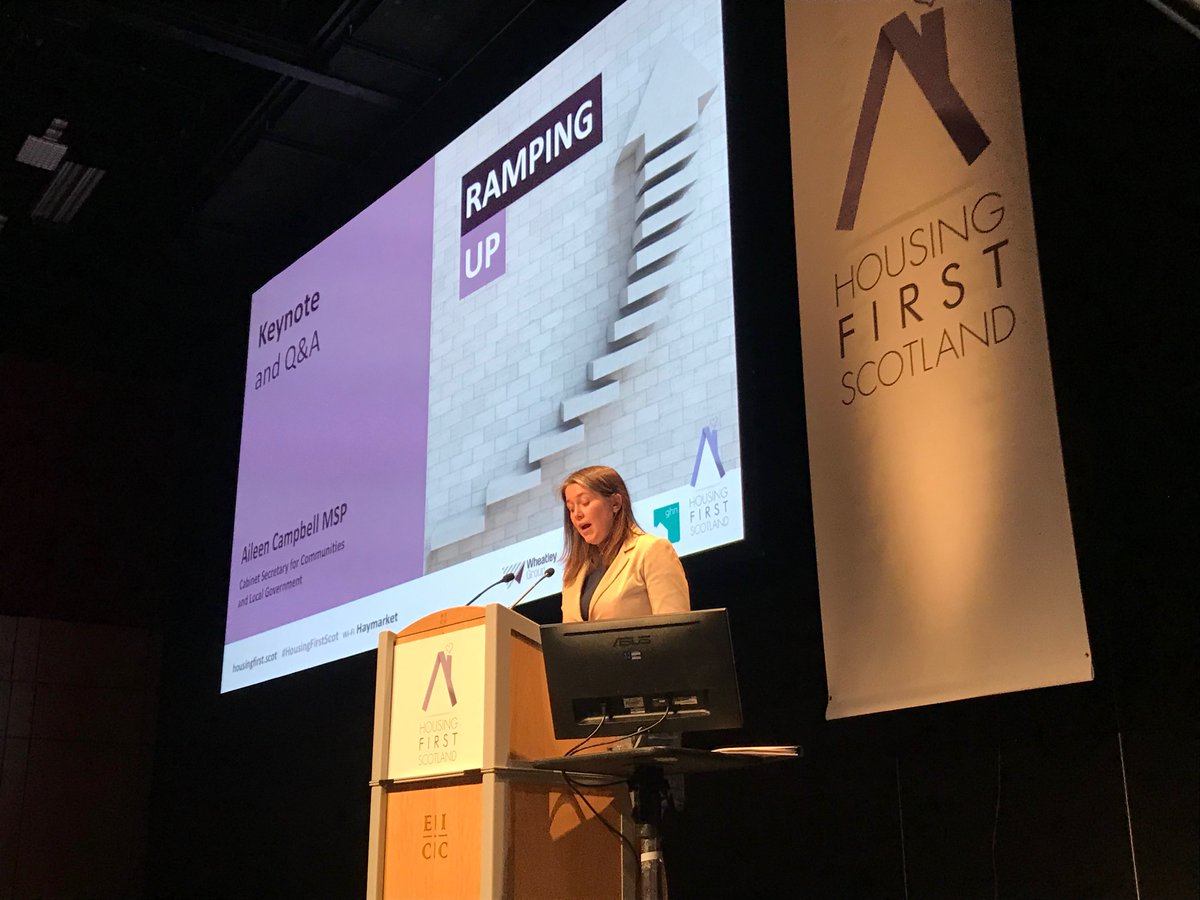 Figures for July have revealed that 103 people across six local authority areas in Scotland who were formerly homeless have been housed as part of the Scottish Government's Housing First Scotland Pathfinder programme since it began in 2018.
Housing First provides ordinary housing as a first step rather than at the end of a process that often fails to prevent or end homelessness. It includes a support package tailored to the individual for those with complex needs and is proven to be a better and more lasting response for people with experiences such as trauma, abuse, addictions and mental ill health who experience homelessness, often over many years.
The target of the Housing First Scotland Pathfinder is to provide 830 people with their own home across the six Pathfinder areas Aberdeen City, Aberdeenshire, Dundee, Edinburgh, Glasgow and Stirling by the end of the programme in 2021, with the remaining 26 Scottish councils shaping up plans to deliver Housing First in their localities as the normal response to homelessness where the person has other needs as well as housing.
Scotland has become only the third country in the world to fully implement this radical approach, proven to be successful in Finland, currently the sole European country where homelessness is falling.
Graeme from Glasgow was staying at a shelter in the city when he was approached by the Housing First team and offered a tenancy.
Despite struggling to engage with his support team at first, Graeme now enjoys living in his own flat, which is just a short walk from his son's school. "I've been in the homeless system for years. I found myself homeless because of a relationship breakdown and poor mental health," said Graeme.
"I was staying in a shelter in Glasgow when I was offered a home of my own through the Housing First programme. I jumped at the opportunity but not long after I moved in I could feel my mental health beginning to falter. I refused to get into conversations with support guys at the start but they were excellent. My support worker Joe was always there for me, he stood by me and did a lot to help me adjust to living on my own.
"My son goes to the school across the road from the wee flat and that has made a massive difference. I can be a real part of his life. I've got to the point now where there's a possibility of a job. I love my home."
Housing minister Kevin Stewart MSP said: "We want everyone to have a safe, warm place to live. Our Ending Homelessness Together Action Plan sets out the steps we are taking to make sure that anyone facing homelessness is supported into a permanent, settled home that meets their needs as quickly as possible. The Housing First Pathfinder will help us achieve that ambition, and this milestone is a great start for the programme.
"A home provides a sense of identity and belonging, and offers an essential stable platform for people to re-build their lives. That's why we've committed £6.5 million to support this pathfinder programme and why we are working with all 32 local authorities to move to a system of rapid rehousing, which includes the Housing First approach for people with complex needs."
Maggie Brunjes, chief executive of the Homeless Network, which manages the Pathfinder programme, said: "People who've had the toughest times need the fastest response. Over 100 people are now in their own home, with some of the best support staff the country has to offer right alongside them. Our admiration deepens for the services making this happen, the founders and funders – and for the new tenants taking a chance on us."
Jane Bruce, chief executive of Social Bite, said: "Social Bite is so happy to reach this milestone in the project. Each person housed is a massive achievement as Housing First is giving people a secure platform on which to build a life. Many of those receiving a home have been shut out of the system and not had a permanent place to live for decades. All our partners and supporters should feel incredibly proud of their part in helping to house some of Scotland's most vulnerable people."
Carolyn Sawers, deputy chief executive of Corra Foundation, added: "It is a huge privilege for Corra Foundation to be working alongside partners across the pathfinder areas. The collaborative effort to provide consistent yet flexible support for those experiencing homelessness along with other severe disadvantages has been instrumental to the Housing First programme achieving 100 secure tenancies."
The evidence behind the Housing First approach is substantial and shows it to be an effective response. Scotland's commitment to Housing First is part of a bigger strategy for all Scottish local authorities to transition to a system of rapid rehousing. The five-year Ending Homelessness Together Action Plan was published by the Scottish Government and COSLA in November 2018. It sets out a five-year plan to transform temporary accommodation and end rough sleeping and homelessness for good.
Support for Housing First tenants in Glasgow is provided by the Salvation Army.
Housing First Manager (Scotland), Helen Murdoch, said: "The feedback we have had from the people we work with has been overwhelming; lives have been transformed. At the outset most people didn't believe it was real. A year in, some people have got themselves back into education and employment. We have faced challenges as this is a new way of working and sits outwith current systems and pathways. However, all of our partners are 100% committed to making a difference."
Mike Burns, lead for the Aberdeen/Aberdeenshire Housing First Consortium Board, said: "Aberdeen and Aberdeenshire is pleased to see the first of many landmarks to be achieved by the National Housing First Pathfinder, the success of the first 100 'Homes' across Scotland is a significant first step on our journey to eradicate homelessness for those with multiple complex needs."
Bryan Smith, lead for the Dundee Consortium Board, said: "Looking back to our first introduction to Housing First in a crowded meeting room in March 2018, it seems remarkable the progress we've made. The partnerships that have been developed between consortium members and external agencies have been innovative, and have challenged traditional thinking and practices. The team is developing into a supportive and cohesive service that is delivering the service we outlined in the bid and is moving towards a service that is indispensable to the people of Dundee."
Elle Murphy, lead for the Edinburgh Consortium Board, added: "Housing first is not about an individual's journey or fast reward but about moral obligation and being with people as they are today, with today's challenges. Partnerships are developing across multiple sectors, change takes time but Housing First is an evidence-based change that we know works, and in Edinburgh is currently working for 46 people who might otherwise have been in hostels or on the streets. This is about giving people back ownership of their lives."