800-home Haddington development continues with new site start
Work to deliver 800 new homes and a new primary school at one of the gateways into Haddington is well under way with a number of developers on site at various stages of construction.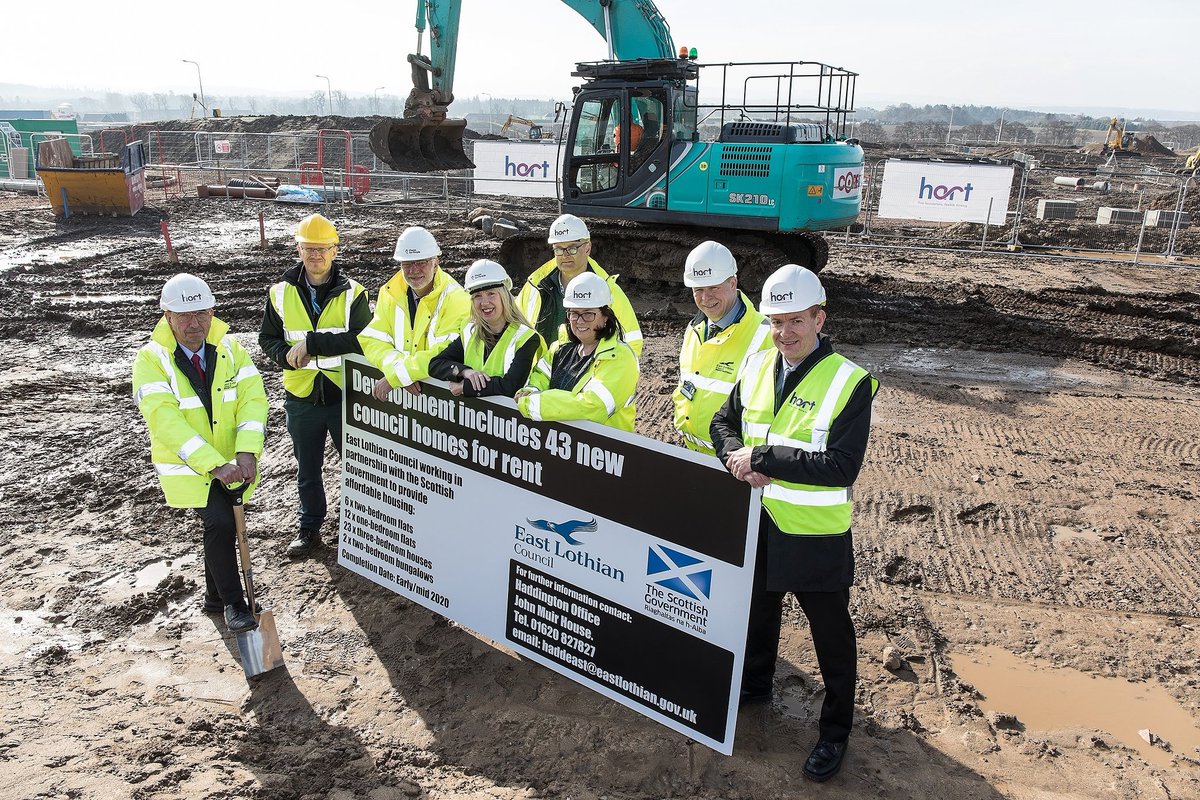 One of the more recent projects to begin on site at Letham Mains is the construction of 66 affordable homes which was awarded to Hart Builders at a cost of £8.4 million with £3.7m of subsidy secured through the Scottish Government's Affordable Housing Supply Programme. The total cost will be £10.1m.
This development will incorporate a mix of affordable house types and affordable tenures including two, three and four bedroom homes with two bungalows specifically designed to meet the need of wheelchair users.
43 of the units will be delivered as new council homes and 23 will be delivered as mid-market rent let by Castle Rock Edinvar Housing Association. These units are expected to be completed in phases between spring and autumn 2020, with three more affordable developments to start on the Letham Mains site in future years.
Councillor Jim Goodfellow, cabinet spokesperson for housing at East Lothian Council, said: "This is great news for current and future residents of East Lothian. There is a clear need for new affordable housing developments and these sites at Letham Mains will help contribute to meeting our Local Housing Strategy outcomes by increasing the supply of affordable housing and improving access across different tenures and house types."
Housing minister Kevin Stewart said: "Making sure everyone has a safe, warm and affordable home is central to this Government's drive for a fairer, more prosperous Scotland. These new homes will be a welcome addition to Haddington, giving people a sense of belonging and community while also helping us achieve our ambitious target of 50,000 new affordable homes by 2021.
"I'm pleased that the Scottish Government has been able to co-fund the project with £3.7m of investment, giving more people access to high quality, accessible homes to meet their needs."
Richard Jennings, managing director, Castle Rock Edinvar, added: "There is strong demand for mid-market rent accommodation in East Lothian and we are delighted to deliver an affordable choice of high quality, well managed homes for people wishing to be part of the vibrant new community at Letham Mains."
Andy Mallice, managing director of Hart Builders, said: "Hart Builders are delighted to be partnering with East Lothian Council and Castle Rock Edinvar at Letham Mains. We are particularly pleased that Hart apprentices who live in East Lothian will continue their training and play a significant part in the delivery of this new community."