Aberdeen City Council agrees £150,000 funding for Pupils' Climate Change Action Plan
Aberdeen City Council has agreed an annual budget of £150,000 for an innovative children and young people's action plan to help tackle climate change.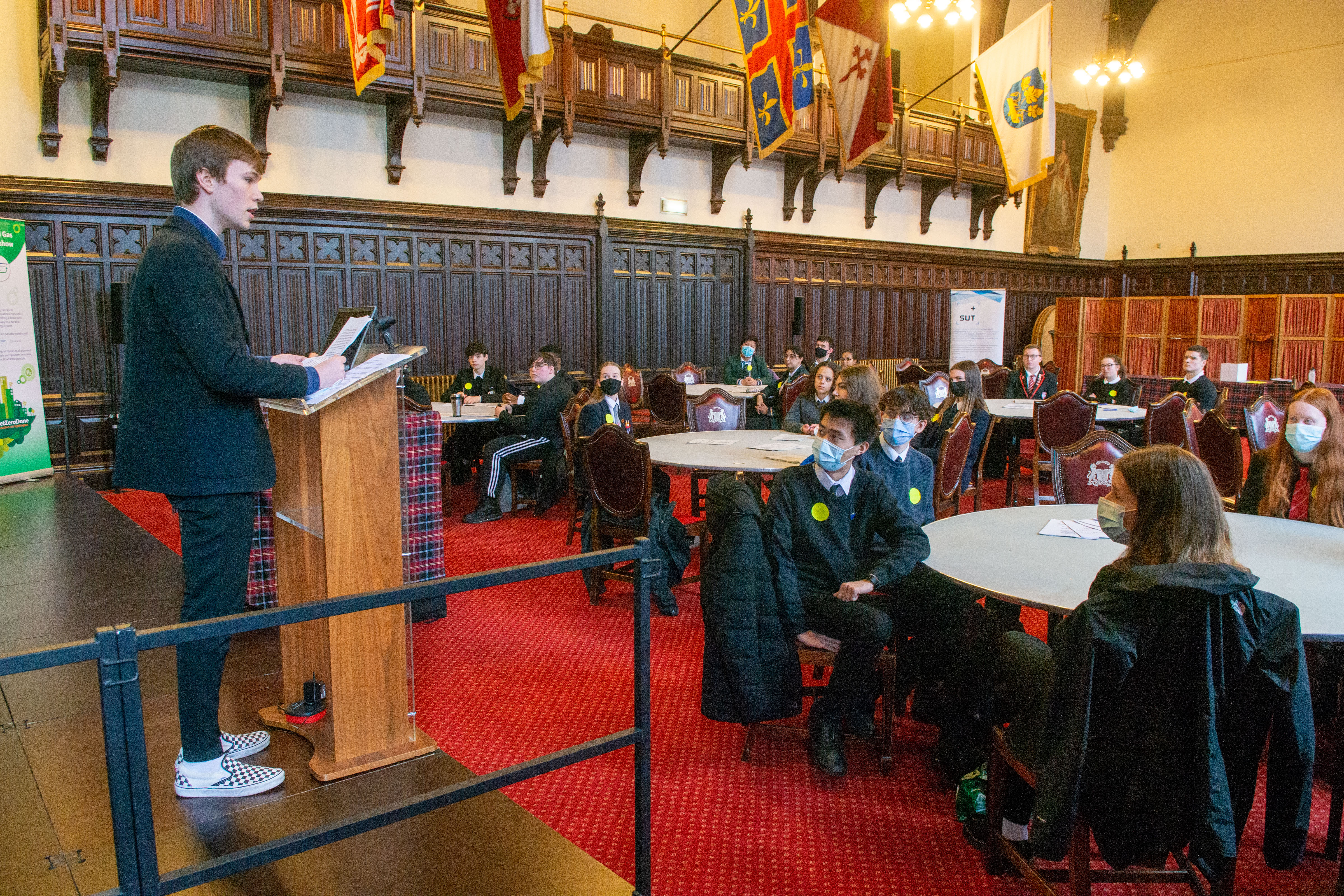 The funding allocation for a plan to be devised by a citywide Pupils' Climate Change Working Group was agreed following an address to a specially convened Education Operational Delivery Committee by Charles Turner, the group's first President. who presented the findings from the Mock COP26 Senior Pupils Conference which took place in the Town House on 3 March.
Charles, 17, who attends Aberdeen Grammar School, reported to the committee the findings from the Mock COP26 Senior Pupils' Conference which took place in the Town House on 3 March.
The most important issues for the pupils who took part were:
Improved public transport including night buses and new rail routes
Better cycling and walking connectivity with improved signposting to routes
More promotion of Net Zero goals including energy efficient lighting, home insulation, sustainable energy sources, kinetic energy pavements, carbon capturing and the continued expansion of the city's hydrogen bus fleet
Supermarkets disposing food products to charitable organisations or as compost / animal feed, pre-ordering of school meals to avoid wastage, home growing and buying locally to reduce food miles and more support for food banks
Continued focus on reducing paper usage, the removal of plastic packaging from school meals, food waste converted to green energy and the introduction of a Too Good to Go App encouraging shops and restaurants to reduce waste.
The committee agreed that the funding should support monthly meetings of the pupil's group and that the eventual action plan should be communicated to all children and the impact of the plan to be reported back to the committee in a year's time.
The councillors also agreed to establish an annual event for Secondary age young people to help shape city strategy around net zero and climate change.
Committee convener, Councillor M Tauqeer Malik, said: "I am very proud that we have been able to empower our children and young people in driving forward the important work of tackling climate change and helping to build on our existing programme aimed at achieving a Net Zero green economy for the city.
"We saw at the conference and workshop earlier this month the commitment of senior school pupils to tackling an issue that will have such an impact on them and their own children in years to come.
"The findings presented by Charles today illustrate the sheer breadth of imagination and innovation our young people have to offer. This really gives us hope for the future and our job will be to put as much of the action plan into operation as we practicably can."
Charles added: "Events like the Mock Cop26 are so important. It gives my generation a chance to talk about our ideas, our motivations, our hopes, our dreams, and where we see our city going."