Aberdeen City Council considers options to bridge £50m funding gap
Stakeholder groups have been given an outline of the funding challenges facing Aberdeen City Council as it prepares to set the 2019/20 budget.
The budget will be decided at a meeting of full council on March 5 – with a range of measures to be considered to bridge a funding gap of between £40 million and £50m, primarily due to increasing demand and reduced funding.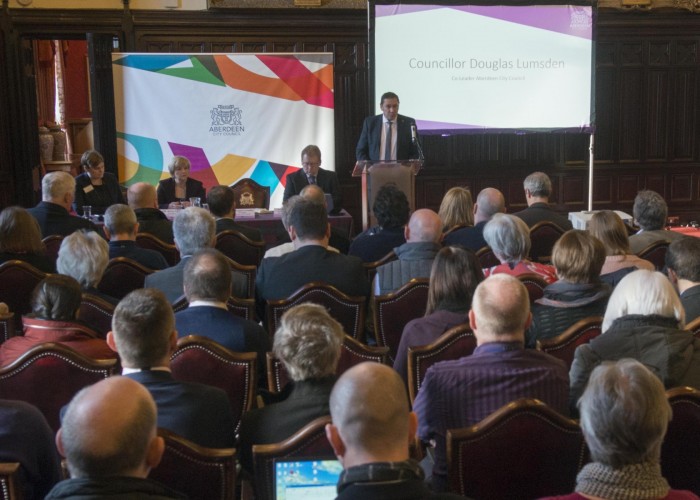 The council's transformation programme, which puts digital technology at the core of plans to enhance customer service whilst improving efficiency, will continue to underpin financial planning. In 2018/19 the transformation has achieved significant savings.
A variety of additional budget options will be outlined when the annual budget report is finalised and published in late February.
As part of the process an engagement session with city stakeholders was held today to share an overview of the financial challenges and discuss the potential impact on organisations who work in partnership with the council.
The session involved representatives from public sector organisations, including Police Scotland, the NHS, cultural and community groups, charities as well as local and national politicians.
Aberdeen City Council co-leader, Councillor Douglas Lumsden, said: "The financial constraints facing the Council are stark. We have been proactive in preparing for the challenges we face, embarking on an innovative and comprehensive transformation of the organisation, but the scale of the funding gap continues to grow.
"This year's budget setting process will be incredibly difficult and it is essential we engage with stakeholder groups to build understanding of the process, the tough choices that will have to be made and the potential impact those decisions may have."
Co-leader Councillor Jenny Laing added: "Whilst the success of the Council's transformation has achieved vital savings in the past year and will continue to form the bedrock of efficiencies, further action is required. That will involve generating additional income, continuing to change the delivery of services and, in some cases, assessing which services we can continue to deliver as a council.
"Our primary aim remains to protect the place and people of Aberdeen and to promote inclusive economic growth and we remain confident about delivering a prosperous future for residents and businesses – but now, more than ever, partnership working is essential. By working closely with public sector, third sector and private sector organisations who share the same vision we will continue to deliver on our commitments."