Aberdeen Cyrenians marks IDAHOBIT
Aberdeen Cyrenians is joining people in more than 132 countries across the globe today to mark the International Day Against Homophobia, Transphobia and Biphobia (IDAHOBIT Day).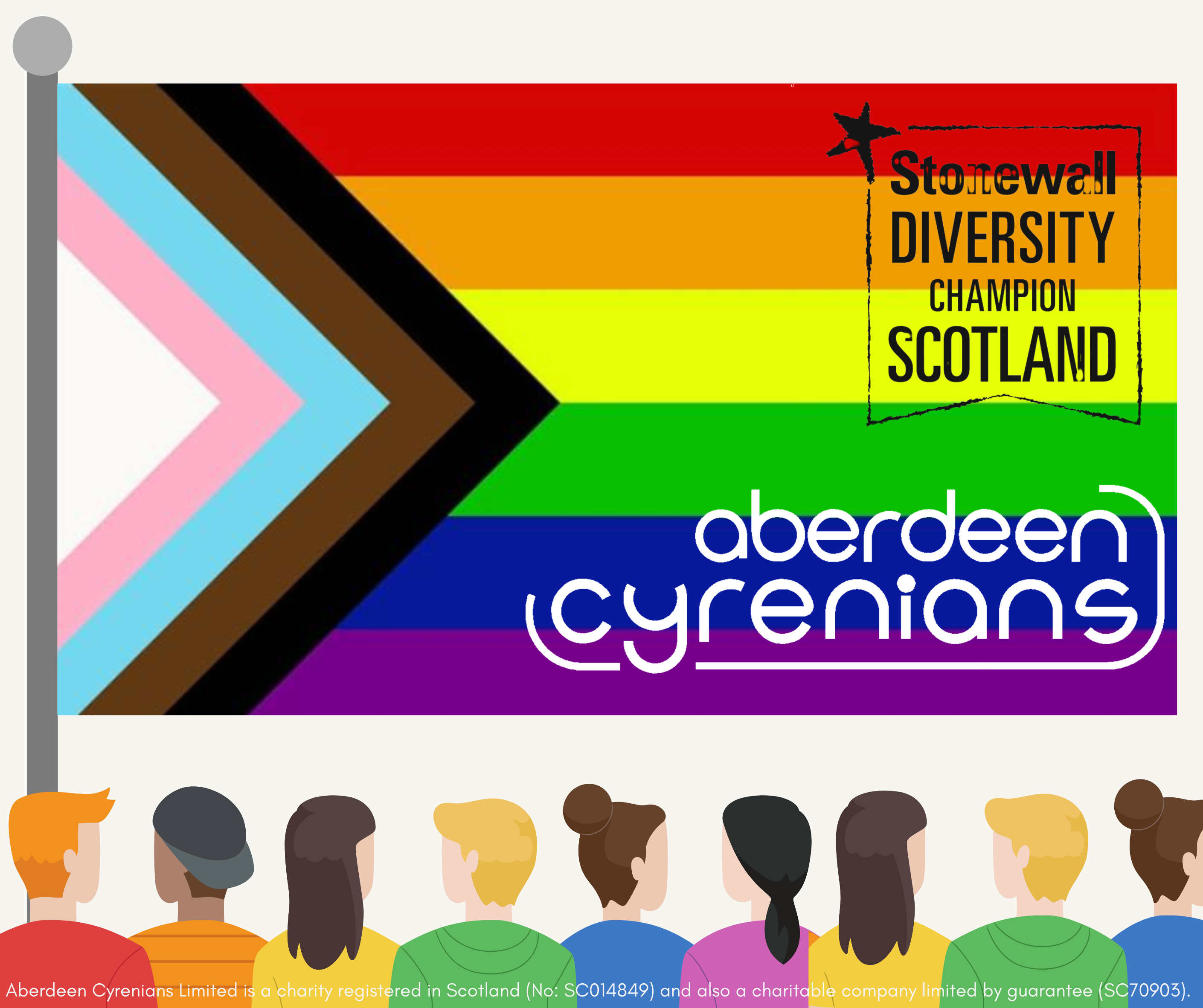 IDAHOBIT Day was created in 2004 to draw attention to the harmful consequences of homophobia, biphobia and transphobia, and the discrimination experienced by lesbian, gay, bisexual, transgender, intersex people and all other people with diverse sexual orientations and gender identities.
The date of May 17 was specifically chosen to commemorate the World Health Organization's decision in 1990 to declassify homosexuality as a mental disorder.
Earlier this year Nationwide partnered with Aberdeen Cyrenians as part of the Community Grants Programme, and £50,000 was awarded for the recruitment of a specialist LGBTQ+ practitioner to support those affected by homelessness and abuse due to their preferred identity.
Now, Aberdeen Cyrenians is announcing it has joined Stonewall's Diversity Champions programme to ensures all staff are accepted and included equally, without exception in the workplace, and that everyone feels comfortable, heard and accepted.
Year on year, hate incidents to those who are LGBTQ+ have been increasing, with staggering levels of abuse, harassment and discrimination. By joining Stonewall's programme, Aberdeen Cyrenians aims to support LGBTQ+ staff and service users so that they can feel safe and free to be themselves within the organisation.
Colin Macfarlane, director of Stonewall Scotland and Northern Ireland, said: "LGBT-inclusive employers play a crucial role in changing society by using their power and influence to proudly support LGBT people in their organisations. We are delighted that Aberdeen Cyrenians have joined the Stonewall Scotland Diversity Champions Programme to demonstrate their commitment to championing lesbian, gay, bi and trans equality in the workplace.
"We know that when all staff and service users, regardless of their sexual orientation or gender identity, feel included it doesn't just make a huge difference to individuals – it can affect improve everybody's experience.
"Our recent research revealed that more than a third of LGBT staff (36%) have hidden who they are at work for fear of discrimination. Whether as senior leaders, managers or colleagues, we all have a part to play in making sure that our workplaces and communities are places support LGBT people.
We are excited to work with Aberdeen Cyrenians over the coming months to help support their LGBT inclusion activities, to ensure that all LGBT people at work are accepted without exception."
Mike Burns, CEO at Aberdeen Cyrenians, added: "We're extremely proud to announce that we are now part of Stonewall's Diversity Champions programme. At Aberdeen Cyrenians it is so important that inclusivity is taken seriously, and we know better than most the consequences this can have on an individual who cannot fully be themselves.
"We know that Homophobia, Transphobia and Biphobia are much wider issues outside the workplace so, with our partnership with Stonewall, we aim to enhance our inclusivity and educate ourselves alongside showing our support for diversity and inclusion in the community.
"We want to ensure everyone involved with our organisation feels comfortable and that they have a voice to speak up and reach their full potential."
You can find out more about IDAHOBIT Day by clicking here. Or to find out more about Stonewall's Diversity Champions programme please click here.