ACHA completes new homes in Connel
Argyll Community Housing Association (ACHA) has just completed the final phase in a 32-unit new build in the village of Connel, north of Oban.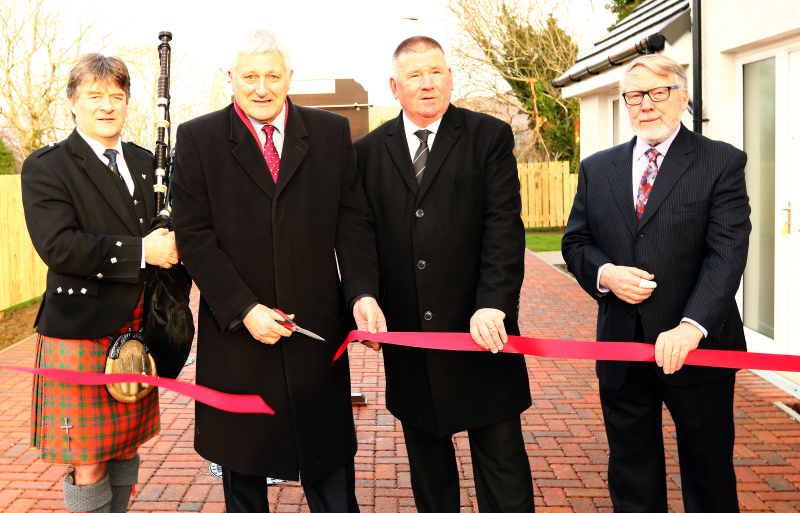 The completed development was officially opened by Highlands and Islands MSP John Finnie.
Prior to John officially cutting the ribbon to open the new homes, pipe major Angus MacColl played an Argyll tune on the pipes, the 2/4 March "Donald MacLean's Farewell to Oban" to rapturous applause.
The 32 homes for rent provide a mixture of family and special needs housing, from one bedroom up to three-bedroom. The total value of the development saw an investment of £4.9 million which supported 37 jobs during the construction phase.
The development was funded in a three-way partnership between ACHA, the Scottish Government and Argyll and Bute Council. The main contractor for the project was MacLeod Construction, an Argyll-based company. The house style is terraced with gardens.
Alastair MacGregor, ACHA's chief executive, said: "I am delighted to see these badly needed homes completed and to see families with young children moving into Connel. This development is about ensuring that we have decent, affordable housing in small villages in Argyll as well as in larger towns like Oban and Helensburgh.
"I am really pleased that John Finnie has joined us today to officially open the finished development as he has been a close ally and supporter of ACHA in our work meeting housing need in this part of the Highlands and Islands."
John Finnie MSP added: "It is fantastic to see this important project reach completion. Providing high-quality affordable homes to people in Argyll's villages is more important than ever and I hope those moving in will spend many happy years here.
"Decent housing isn't a luxury, it's a basic human right. I congratulate ACHA and everyone else involved in this ambitious project and look forward to continuing to support the housing association in its vital work."
This development is part of an ongoing new build programme throughout Argyll and Bute being taken forward by ACHA with developments currently on-site in Oban, Kilmartin, Cairnbaan and Garelochhead. Additional site starts are due shortly in Inveraray and Tarbert.