Alliance Electrical wins smoke detector contract with Angus Council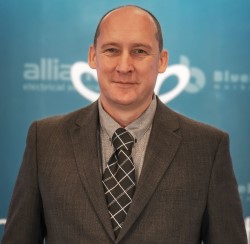 Local contractor and renewable technologies experts Alliance Electrical Services will soon begin a £300,000 programme of work to install smoke detectors in partnership with Angus Council.
Beginning with a programme of work to fit smoke detectors in more than 600 homes in Arbroath, the installations are scheduled to begin as soon as COVID-19 restrictions on non-essential work are lifted.
New fire and smoke alarm regulations introduced by the Scottish government mean that every home must be fitted with a smoke alarm in the living room, and in circulation spaces such as hallways and landings. As well as this, all alarms are required to be interlinked so that they can be heard throughout the property.
Errol Lawrie, Alliance Electrical managing director, said: "The team at Alliance Electrical have gained a good reputation for their quality work over the last two decades, and we have successfully delivered similar contracts for a range of councils and housing associations in the East Coast of Scotland.
"The new fire and smoke alarms regulations need to be implemented in every home across Scotland, so we are seeing an increasing number of landlords, housing associations, and councils preparing to meet the deadline."