Almond Housing Association launches Growing Together campaign with WLYAP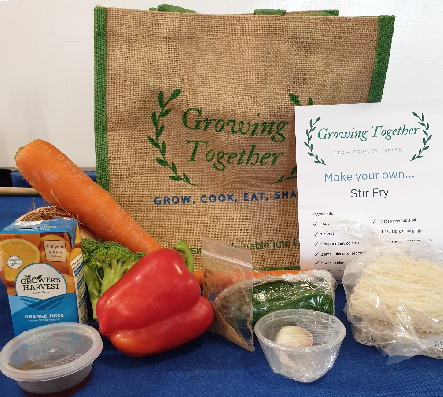 Almond Housing Association and West Lothian Youth Action Project (WLYAP) have come together to deliver a brand new initiative, Growing Together.
Growing Together is a community-based project that will provide residents of Craigshill with the opportunity to grow fresh produce, cook new recipes and eat a range of dishes. There are several ways for residents of all ages to get involved and these opportunities will develop as the country proceeds out of the current COVID-19 restrictions.
There are three aspects to the project - growing, cooking and eating. The team have distributed 'Growing Packs' to residents over the past few weeks which have included everything that is needed to create a range of crops, including compost, trays, seedlings and step-by-step instructions on how to grow each individual crop.
Residents can also drop into the Community Fridge at Riverside Community Wing every Friday to collect a 'Cooking Pack.' A different pack is produced each week and includes everything that is needed to cook a healthy, nutritious meal at home.
Inside the pack, residents will find all the ingredients they need for the week's meal and a helpful instruction card that gives step-by-step guidance on how to make the recipe.
Some positive feedback has been received from a resident who collected a pack with her son on Friday 2nd October: "My Cailan has no interest in much except his Xbox… but he absolutely loved getting his wee bit of advice from the woman on how to chop up the veg etc. He talked about making it all the way home – He was straight in and washing his hands and cleaning his food prep area - and he scoffed the lot! He can't wait until next week."
The project is funded by the Scottish Government: Investing in Communities Fund.
Growing Together caters to all ages, with the aim of helping individuals to develop their growing and cooking skills. By the end of the project, participants will have the skills to grow their own food and then create meals from this freshly grown produce.
Due to lockdown restrictions, Growing Together could not welcome residents in to learn how to grow and cook together but with a range of printed materials and online videos, the project has managed to go ahead with great success so far.
Once COVID-19 restrictions ease further, the Growing Together project hopes to welcome residents to a new Community Garden in Rowan Grove. This garden will require volunteers to help manage and maintain the space to make it accessible to everyone. This will allow the community to grow fresh produce together and support one another in a dedicated space.
After the project, it is hoped that the participants will continue to use the Growing Kits, Cooking Kits and the Community Garden with the confidence to grow fresh produce and try new recipes. The Community Garden will also be used to grow vegetables for the Community Fridge in Craigshill, which is open for residents to collect much-needed food throughout the year.
Almond HA and West Lothian YAP are committed to creating a community that can work together and help each other during difficult times. This project will help to reduce food deprivation while creating a fun, social and interesting environment for all residents.