Almond Housing Association provides support for tenants struggling with fuel costs
Almond Housing Association (AHA) has created a package of support for those who are experiencing increased fuel costs and are struggling with the pressures brought on by the pandemic and subsequent restrictions.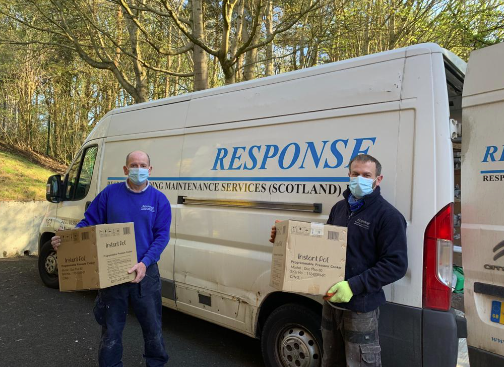 The pandemic has required people to spend more time at home and their energy costs are rising as a result. AHA has drawn on the expertise and support of a number of local partners, all with the same aim of helping people who are experiencing fuel poverty.
Support from the Scottish Federation of Housing Associations (SFHA), the Housing Associations' Charitable Trust (HACT), Energy Action Scotland (EAS) and Changeworks has allowed AHA to provide a full package of support, including fuel vouchers, pressure cookers and energy advice sessions.
The SFHA and HACT worked with AHA to apply for Scottish Government funding through the Scottish Social Housing Fuel Support Fund. This funding allowed AHA to provide fuel vouchers to tenants who were experiencing debt or higher than usual costs for their energy bills.
AHA worked with EAS to provide tenants with pressure cookers that would help to reduce the cost of cooking. Five pressure cookers were gifted to AHA tenants from the EAS campaign and Scotland's National Chef, Gary Maclean, provided introductory videos to show tenants how to use the cooker.
Following the success of the original role out, AHA purchased another 125 pressure cookers for other tenants in need. The energy efficient pressure cookers could save families up to 50% on their cooking bills. Response Building Maintenance Services, who are contracted by AHA, then offered to help distribute the pressure cookers to those in need.
Changeworks has also been working with AHA to provide tenants with free online Energy Advice Sessions. These were open to anyone in the community and an Affordable Warmth Advisor gave hints and tips on how to reduce energy bills and make your home warmer.
Finally, AHA is creating its own energy packs to help tenants struggling with their fuel bills. Each pack will include a radiator reflective panel and low energy lightbulbs. These packs will be distributed following lockdown restrictions easing.
The pandemic has put a lot of pressure on individuals and communities and this campaign illustrates how organisations can work together for the greater good. AHA said it is delighted that the SFHA, HACT, EAS, Response, Changeworks and the Scottish Government could support them, to support its tenants.