Angus Council completes £2m Cliffburn housing regeneration project
The £2 million council housing development at Mayfield Terrace in Arbroath is now complete and will help to meet demand for one-bedroom properties in the town.
The project has revitalised a once empty site that was created when old low-demand flats were cleared away several years ago as a key part of the Cliffburn regeneration.
These 14 new one-bedroom homes make a very welcome addition to the Angus Council's housing stock. They will go some way toward meeting the current high demand on the Arbroath common housing register, where one-bedroom properties account for 67% of all applications.
The new homes are being allocated through our choice-based lettings system, which allows applicants to bid on their preferred properties. They are then allocated based on need.
These brand new homes are built to an exacting specification. That includes very high levels of energy efficiency with an aim to minimise fuel bills for council tenants and help combat the cost of living crisis.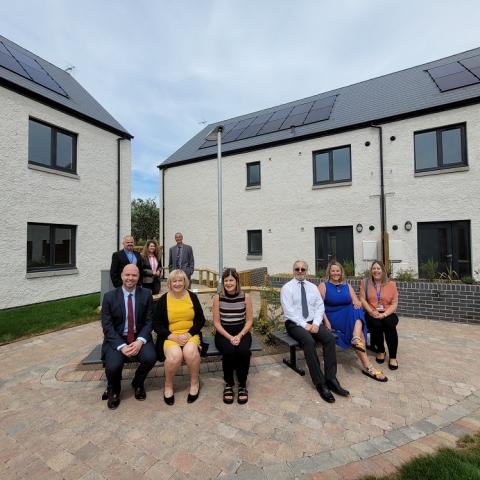 Communities convener Mark McDonald, who visited the project, said: "It has been great to finally see this new development. There's no doubt the new homes will help to improve the lives of all those who are being offered a place to live here.
"The focus of Angus Council is in delivering high quality homes and spaces for our citizens. This excellent development is another fantastic example of this approach and I'd like to thank all of those involved in getting us to this stage."
This £2m investment at Cliffburn, which has been delivered over the challenging period of the pandemic, has been funded by Angus Council and the Scottish Government through its Affordable Housing Supply Programme.
The new homes are a part of the council's Strategic Housing Investment Plan that aims to deliver up to 775 new affordable units over five years.