AS Homes on target to deliver final phase of homes at Bonhill for Caledonia
Tenants of Caledonia Housing Association have moved into new homes in Bonhill with AS Homes (Scotland) set to complete the final phase of homes in March 2022.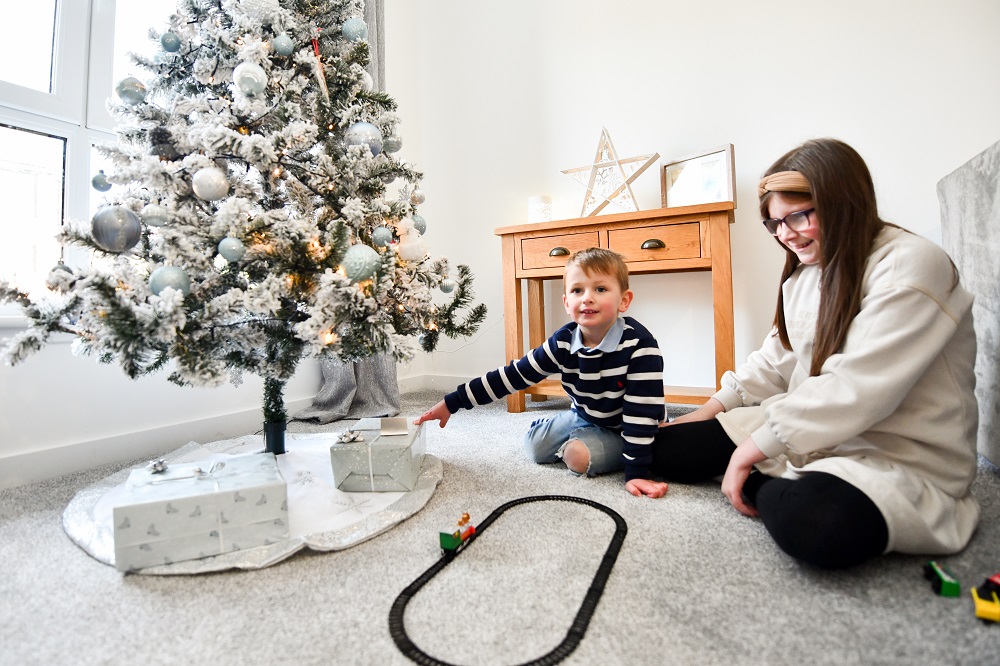 Laura and Scott Dickson moved into a three-bedroom home at the development, which is on the site of the former High Dykes Primary School.
The design to regenerate the vacant site included 41 two-storey terraced houses, plus a further eight cottage flats, all for affordable rent. A percentage of the lower flats were adapted for wheelchair use. The development offers resident and visitor parking, and each home will have its own lawned front and/or rear garden.
AS Homes (Scotland)'s fabric first, energy efficient, sustainable approach and their renewable technologies such as solar panelling ensure that the tenants will benefit from lower utility costs continuously.
Laura and Scott Dickson needed more living space, the rental properties on offer for private let were too high for them. They investigated their options and contacted Caledonia Housing Association.
They were delighted that they didn't have to wait long to be offered a two-bedroom flat on Aitkenbar Drive in Bellsmyre, Dumbarton. The top floor flat worked well in the short term, but when their second child was born, they soon realised the need for more living space and another bedroom.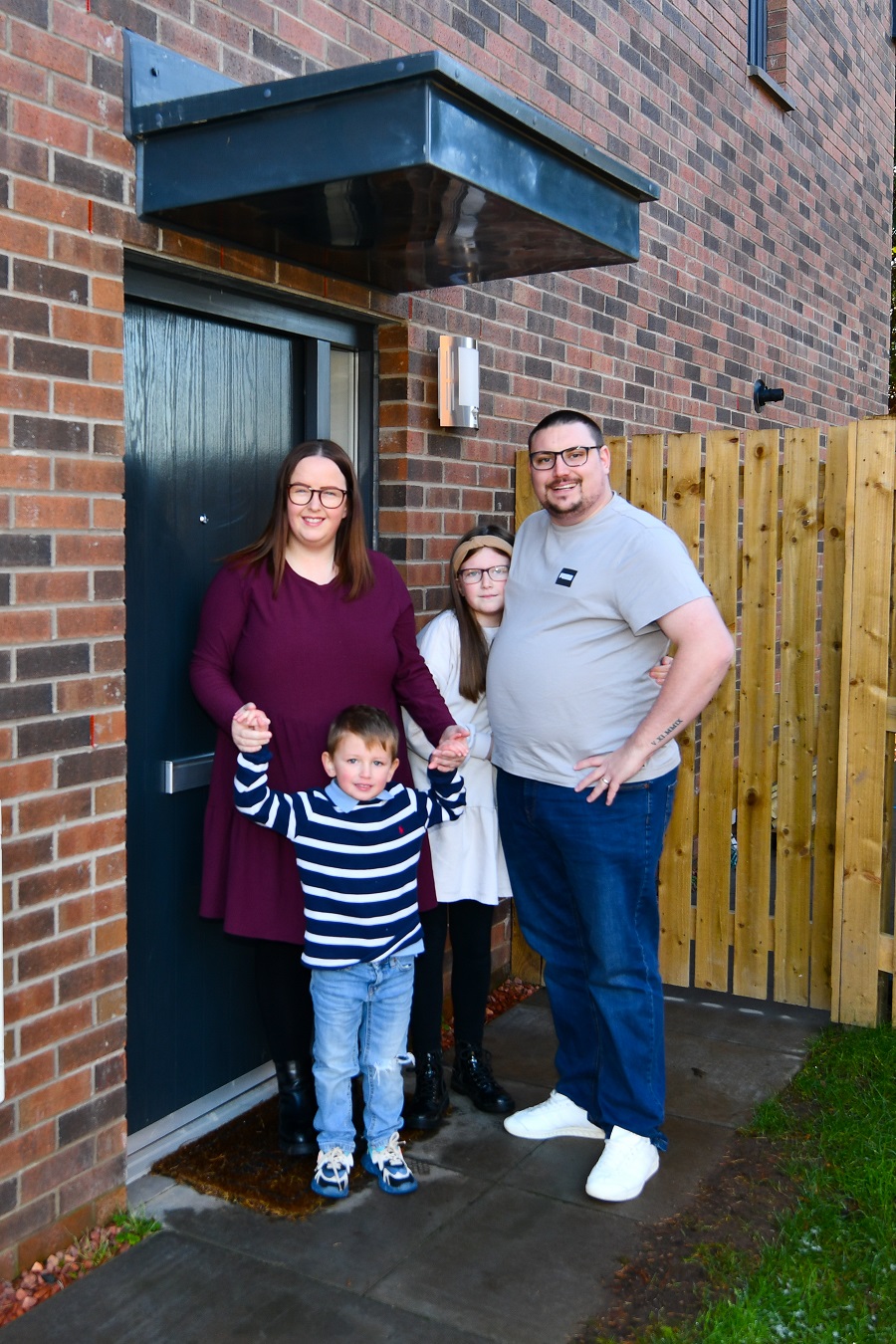 Laura and Scott's flat had been in the first phase of Caledonia Housing Association's regeneration of the area. An important project to provide new homes and community facilities, part-funded by the Scottish Government. Recognising their tenants' needs, the couple was offered the opportunity by the regeneration coordinator to move to a new development, about 15 minutes away from the community of Bellsmyre on the site of the former High Dykes Primary School at Bonhill.
"We were so keen to move to a house but moving away from what we knew was quite daunting. Although we loved our flat, we got to the stage that it was too cramped and the lack of outdoor space became an issue with the kids," explained Laura. "It was also such a pain lugging shopping up and down the stairs and getting the bins out was difficult too. The thought of a garden and are own front door made us look."
"Moira - our Regeneration Coordinator was so patient and answered all our questions. We began to realise that a garden would be really appealing and if we wanted a house and more space we may have to look further afield. Some of our neighbours were happy to move into accommodation nearby until the new homes were built at Bellsmyre, but we felt it was worth looking at Bonhill as we didn't want to wait and the houses there looked too good to be true.
"The houses are lovely and with fantastic views over the River Clyde and Ben Lomond in the distance. We checked out the school run and how I would get to work as I rely on public transport. It was all doable. We were so excited to think we could afford to move to a three-bedroom house with a front and back garden.
"Craig Cairney, the site manager from AS Homes made the move and settling in so easy. Nothing was too much trouble. I still can't quite believe it and I love my new home."
With the right set of circumstances, the couple were offered the opportunity to move to the new community being created at Bonhill. The development was designed and built by AS Homes (Scotland); a Glasgow based developer specialising in high quality affordable homes.
From inception, the new Bonhill community design by AS Homes (Scotland) is with family living in mind, local schooling and shops are close by with main bus routes to Alexandria, Dumbarton, Balloch and Glasgow on its doorstep. Bonhill will also feature a wide array of open spaces and a children's play area for local families.
"I have never lived in a new build property before, and we were able to add our own touches. We received a grant as we were moved due to the regeneration, and we used this for new carpets. The place was immaculate inside and out. We all love the space and Ruby and Rory love having a bedroom each.
"This really is our dream house in a fantastic location. We are so glad we made the move."