Barratt Homes donates £1,000 to The Haven Centre
The Haven Centre, a charity with facilities in North and South Lanarkshire, has been selected to receive a cash boost from a Barratt Homes to the sum of £1,000.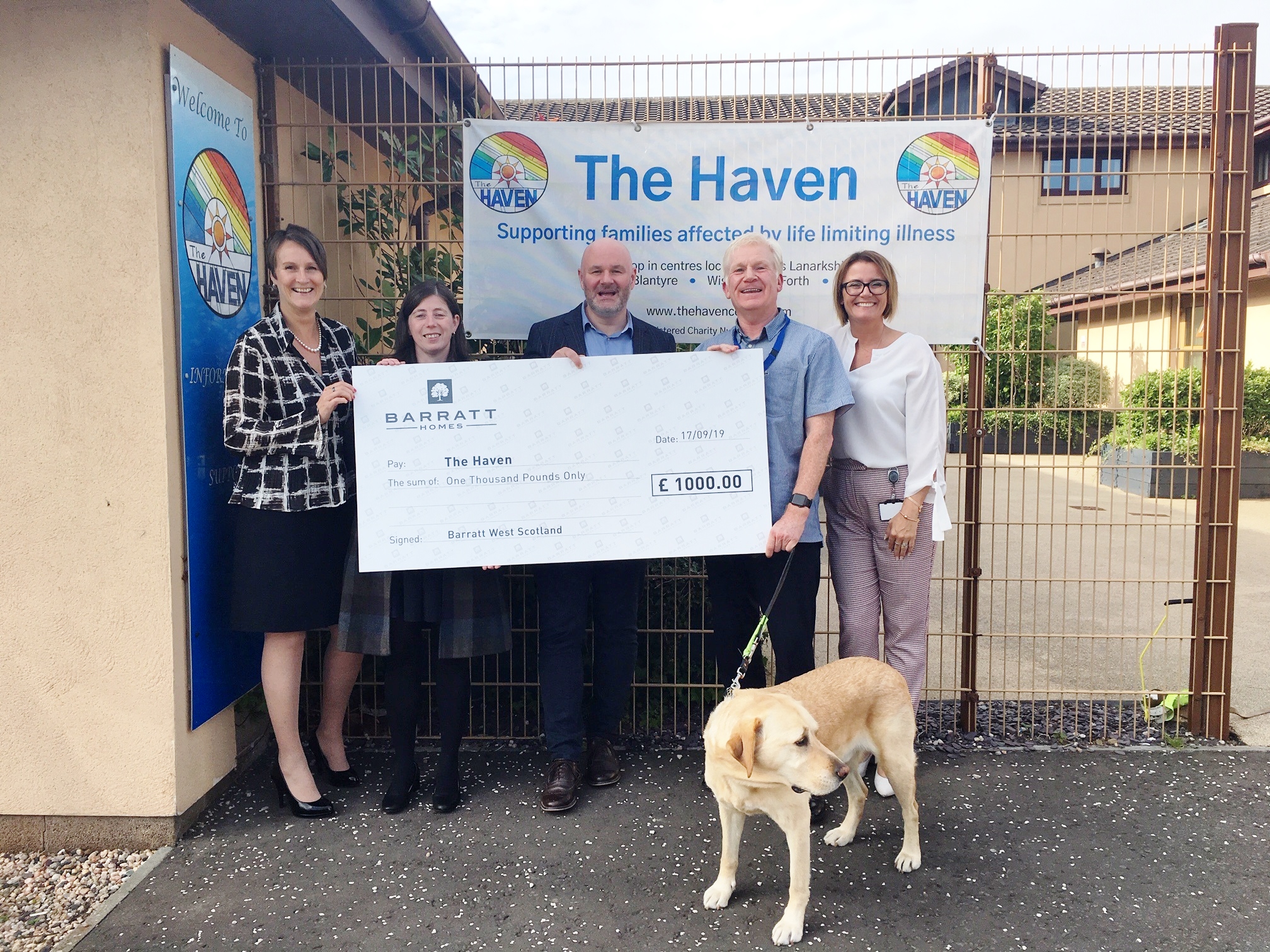 Based in Blantyre, Wishaw and Forth, The Haven Centre is the latest recipient of Barratt Homes' monthly donation as part of its ongoing Community Fund programme, launched in January this year.
The Haven offers a service that supports people affected by a range of life-limiting illnesses, as well as to their family members and caregivers.
Janice Williams, CEO, fundraiser at The Haven, said: "This incredibly kind and generous donation from Barratt Homes will help to sustain the delivery of The Haven support services for families across Lanarkshire meaning we can really be there for people when they need us the most.
"The Haven has a team of specialist nurses, therapists, counsellors and volunteers who offer emotional support for clients, their families and carers enabling them to cope with illness or caring responsibilities and ultimately to live well with hope.
"All of our services are provided free of charge so donations to fund the facility are vital. We are extremely grateful to everyone at Barratt Homes' who have made this donation possible."
The Haven, founded in 2002 by Dr Rosalie Dunn MBE, was established in a bid to widen the scope of supportive and palliative care services, and particularly to widen its reach to include people living with non-cancer illnesses.
Suzanne Craven, finance director, Barratt West Scotland, said: "The community fund allows us to give back to local causes that are close to the hearts of the people that work for Barratt West Scotland.
"The Haven is a local support service that offers palliative care to those with life-limiting illnesses, but also – and distinctly – to family, friends and carers of service users. It is a perfect beneficiary of our Community Fund because it continues to make a positive impact to the lives of people in the local area, adds unimaginable value to people who need support and acts as a haven for people who need some respite.
"We are thrilled to have been able to support The Haven and look forward to seeing it continue working with local people in the future."
Other charities to benefit from the fund, which launched in January 2019, are Chris' House, LifeSavers Scotland, Glenbervie Care Home, Cleft Lip and Palate Fund, Mind the Men, The Lilias Graham Trust and St Andrews Hospice.
The Barratt Homes Community Fund has pledged to donate £1,000 each month to a charity or organisation in the west of Scotland.
Charities are nominated and voted for by employees of Barratt Homes and the focus for the fund continues to be on organisations that improve the quality of life for those living in the area.
Last year £1.2 million was donated across the Barratt Homes and David Wilson Homes in the UK.