Bield resident proves you are never too old to exercise
A blind 93-year-old Bield Housing Association resident has teamed up with her 87-year-old DJ neighbour to help get fellow pensioners in Anniesland moving.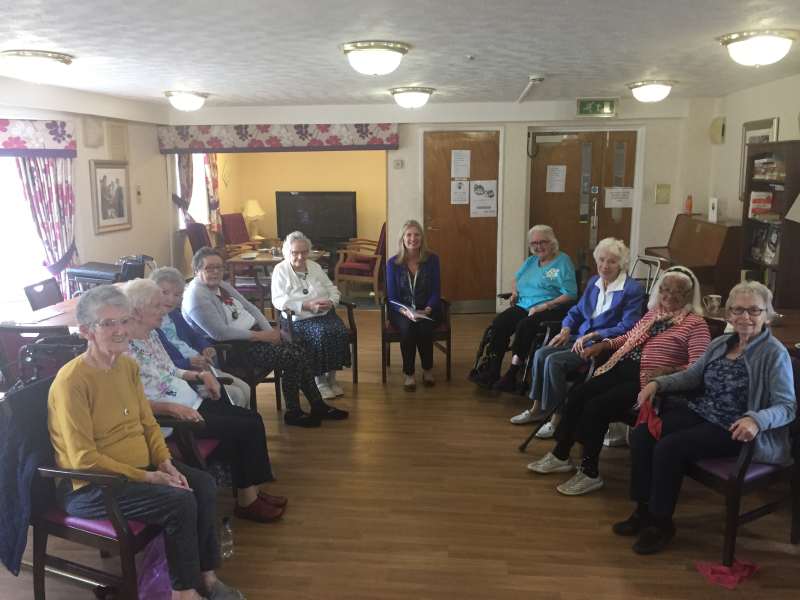 Charlotte Watson and neighbour Elizabeth Menmuir have joined forces to lead chair-based exercise classes at their home at Bield's Castlebank Garden's development in Anniesland.
Fitness instructor Charlotte is registered blind with very limited vision and relies on the help of her DJ sidekick to be her eyes for the duration of the hour-long classes.
Charlotte said: "It has been great to rally up the neighbours so we can all exercise together and have a laugh whilst singing along to our favourite songs. The feedback we have received has been extremely heart-warming, I can't believe how much everyone has enjoyed the classes. It has given us all something that we can look forward to!
"I like to stay motivated as I'm not the type of person to feel sorry for myself or become isolated in my flat. This group provides a space, for those with similar feelings to me, to come and be an active part of something."
Not only does the programme help tenants keep active as they get older but it also provides a friendly space for residents to socialise and make relationships as they engage in fun and meaningful activities.
Extra stimulus, increased social interaction and a joint sense of purpose are just a few of the aspects residents cited as being extremely important to them having attended the classes.
The programme was set up by Charlotte just a few years after she joined the development. Recognising the importance of socialising and keeping fit, Charlotte saw an opportunity to get Castlebank residents involved in more activities so she started the exercise class which encouraged residents to stretch, use resistance bands and chat.
Sarah Cannon, manager at Castlebank Gardens, added: "Everyone at Castlebank admires Charlotte's determination and really appreciates the time she spends not only with the exercise group but also with her gardening and other efforts.
"Charlotte was motivated to start the group when it became difficult for her to access wider community links which she participated in for some years. Her work is amazing and inspirational but unfortunately we can't always expect on our residents to put on activities for themselves.
"We would love to encourage more volunteers to join Castlebank. Whether you want to gain experience, develop new skills, meet new people or just give back to your local community - there are endless opportunities."
Bield is looking for fun, friendly volunteers aged 16 + to join the volunteer team, no prior experience is necessary, full support and training is supplied, with all expenses covered.