Blue Triangle Housing Association chief executive to step down next year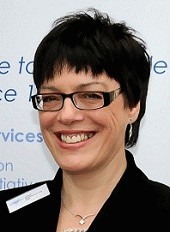 Fiona Stringfellow, chief executive of Blue Triangle (Glasgow) Housing Association, has announced her intention to step down from her post next year.
Ms Stringfellow has led the organisation for ten years.
She said: "I have loved working for a value-based organisation that is so committed to achieving its mission: support, accommodate and assist vulnerable people to achieve better lives. The team of people working for Blue Triangle are outstanding in their dedication to going above and beyond for our homeless service users.
"I want to thank my committee of management – a tremendous group of people who have been a significant force in helping me deliver our mission. I also want to thank the hundreds of service users who have come through our doors over the years as they have always humbled me because of the many challenges that many of them have had to overcome in life.
"My decision to step down is purely to work less hours and spend more quality time with my husband. I have had ten years of a long commute and also after 35 years working in social care I feel it's time for a change in lifestyle."