British Nationality for EU Citizens: a Citizens Rights Project webinar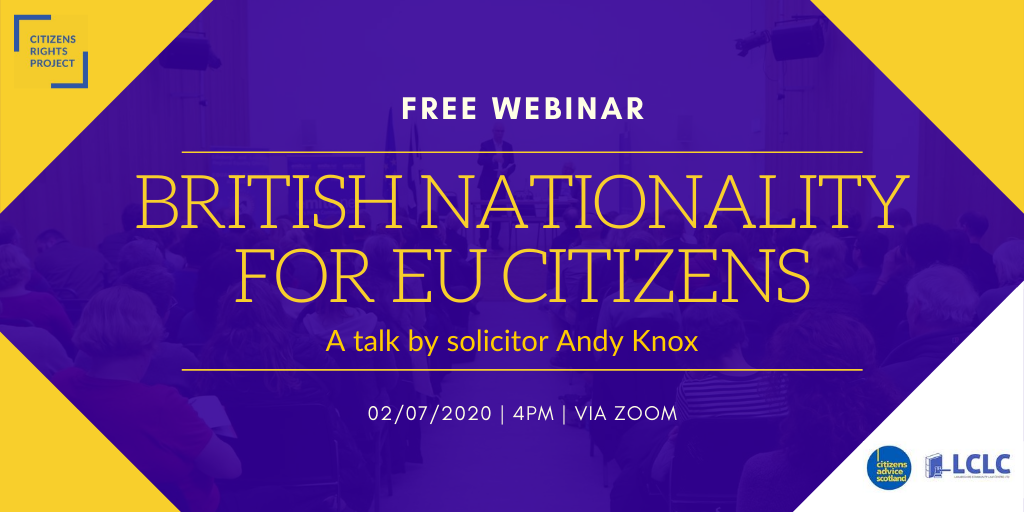 The Citizens Rights Project has announced a new free webinar in its series of events on EU citizens' rights in Scotland.
The event will take place on Thursday, 6 August via Zoom and will give an overview of British naturalisation.
It will cover aspects such as residence requirements, the possible requirement for EU applicants to show comprehensive sickness insurance, good character requirements, British nationality for children and applications & advice.
The speaker at the webinar will be solicitor Andy Knox. Mr Knox has practised UK immigration law in Scotland for over 10 years and has extensive experience litigating both EU immigration and British nationality matters at the tribunals and Court of Session.
He is currently principal solicitor & director of Lanarkshire Community Law Centre, which is funded by the Scottish government via Citizens Advice Scotland to provide legal advice to the EU Citizens Support and EU Citizens Advice Scotland advocacy projects.
Mr Knox sits on the Law Society of Scotland's Immigration & Asylum & Constitutional Law Reform committees and is a member of the UK Immigration Law Practitioners Association (ILPA).
Attendees will have the opportunity to ask some questions at the end of the presentation.
To book a place at this free event, register here.