Chris Bennett-Taylor: Another year of increased demand at Aberdeen Cyrenians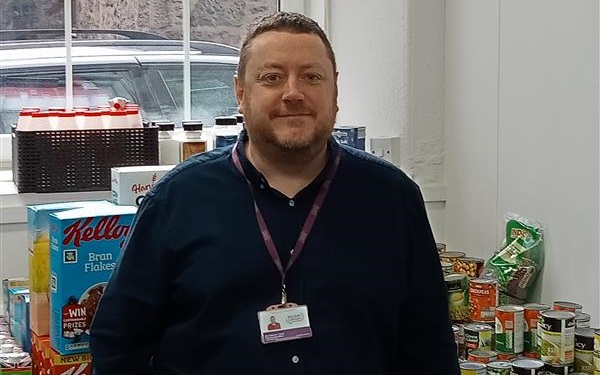 Chris Bennett-Taylor, chief executive at homelessness charity Aberdeen Cyrenians reflects on another year of significantly increased demand for its services.
The beginning of 2022 seemed to offer a glimmer of hope as we started to ease out further from the Covid-19 pandemic. However, for some of the most vulnerable people in our community the pandemic is still having an effect, with new variants emerging and the residual impact on our economy and job markets. To add to that a growing cost-of-living crisis has put unbearable pressure on people and has seen demand in our services continue to soar.
As the cost-of-living crisis deepens we have seen a 600% increase in referrals to our Direct Access Service. There has been an 82% increase in demand for essentials like food, clothing, and toiletries. We have distributed 80,325 meals, and during the period of October – December we have issued twice the amount of food parcels as this time last year. With demand so high, we have often had empty shelves.
The cost-of-living crisis has shown that anyone can be affected by soaring energy prices, and an unstable economy. This year, we have provided 6,749 support appointments in our Direct Access Service. 50% of our service users are in employment but feeling the effects of spiking prices. More and more people are seeking our support; many of them for the first time.
This year we have seen a 451% increase in fuel poverty support needs. Our ethos is to adapt our services and respond to changing needs and the external environment, that is why we joined forces with Fuel Bank Foundation. We continue to offer support to service users affected by the cost-of-living energy crisis.
At Aberdeen Cyrenians our services are person-centred, flexible, inclusive, compassionate, and friendly, supporting people aged 16 and over. We work as a team to ensure our support centres on prevention, intervention and alleviation and meeting immediate need for food, shelter, and safety.
As the cost-of-living crisis worsens with no clear timeline of when it will end, we have witnessed demand in services, like the demand during the peak of the Covid pandemic. However, we have been adaptable in supporting those who need us the most.
Sadly, for many people who do not feel safe at home, financial instability is a contributing factor, amongst many, in making the decision to leave an abusive situation. Calls to EVAA, our Ending Violence and Abuse Aberdeen service continue to rise, and we have supported 147 survivors and families, with 78% reporting that they feel more confident about their safety.
Although there have been times when we have had nearly empty shelves, particularly in our food store, whenever we have called for donations, the North-east community has heard and supported us. Despite the current financial climate affecting everyone, we continue to be overwhelmed by the huge generosity and support from the North-east community.
We have received the equivalent of £44,885 worth of donations of food, toiletries, clothing, other essential items as well as monetary donations from individuals, business, and community groups. We cannot thank everyone enough, supporting some of the most vulnerable people potentially facing crisis really is a community effort.
As we approach the holiday period, we continue to see people contacting us for support, particularly as the weather turns colder and the nights get darker. More and more we are receiving requests for extra blankets and warm clothes as increasingly, people are facing the stark reality of not being able to heat or eat.
Christmas for many is magical, filled with excitement and joy, but for some people it can be a lonely and isolating time. During Christmas we will continue to support those who need us the most with food and essentials and Christmas dinners will also be provided from our DAS service.
For anyone who needs support we are here, please get in touch with us. We continue to offer support during the festive period and will have additional opening times on Saturday 24th of December, 10am – 1pm, and Sunday 25th of December, 11am – 1pm.