CIH Scotland unveils 2021 Housing Awards shortlist
CIH Scotland has announced the shortlisted nominees for the Scotland Housing Awards this November.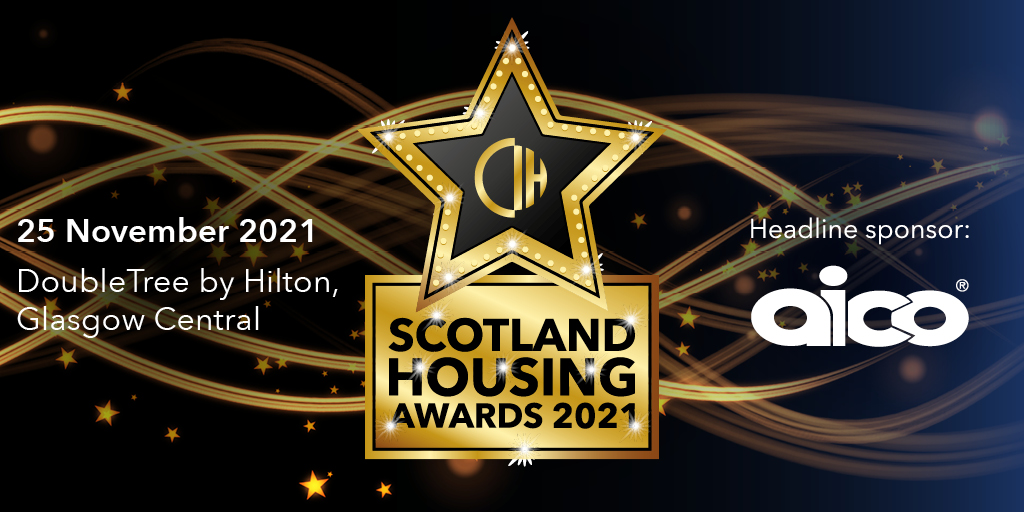 Over a period of real challenge, the Scottish housing sector has continued to provide vital services and support to communities. The Scotland Housing Awards represents an opportunity to recognise, showcase, celebrate and share this incredible and inspirational work.
The shortlisted nominees are as follows:
Excellence in Customer Service
South Lanarkshire Council: Working with our Gypsy/Traveller Community
Prospect Community Housing: Prospect's Welfare Rights Service
Riverside Scotland: Customer Contact Calls
Wheatley Group: Eatwell (feeding customers in their time of need)
Kingdom Housing Association: Kingdom CARES (delivering customer service excellence)
Grampian Housing Association: Committed to Customer Service (Customer Service Unit)
Shelter Scotland: Scottish Empty Homes Advice Service
Excellence in Housing Innovation
Homes for Good: PRS Empty Homes Project
Craigdale Housing Association: Craigdale Lens Programme
Wheatley Group: The Wheatley "You Choose Challenge"
Kingdom Housing Association Ltd: Working out of Homelessness – Naumann Phase 2
Communities Housing Trust: Old Sawmill Development, Rothiemurchus
Renfrewshire Council Housing Support Services: WRAP
South Lanarkshire Council: Delivering the SHORE Standards
Working in Partnership
South Lanarkshire Council: Community Safety Partnership HUB: Partner organisations: Police Scotland and Scottish Fire and Rescue Service
Dundee City Council: Dundee City Council's Housing Domestic Abuse Policy: Partner organisation: Dundee Violence Against Women Partnership
Prospect Community Housing: The Triple Whammy ARCHIE Project: Partner organisations: West Granton Housing Co-op, Lister Housing Co-op, Manor Estates Housing Association, Viewpoint Housing Association
Eildon Housing Association: Eildon and Cruden Homes East Development and Construction Partnership: Partner organisation: Cruden Homes East
Glen Oaks Housing Association: goConnect
Cunninghame Housing Association: Halcrow and Raydale Community Partnership/Gretna FC 2008 Project: Partner organisation: Raydale Community Partnership
Wheatley Group: Changing lives at the Bellgrove Hotel: Partner organisation: Glasgow City Council
Renfrewshire Council Housing Support Services: We're Safe and Well: Partner organisations: H-Arts, Made In Paisley, Connecting Scotland, Paisley FM radio station
Excellence in Development for Affordable Housing
West Dunbartonshire Council: Regenerating, creating a community and designing for Dementia
Sanctuary Scotland: Inverclyde
Dumfries and Galloway Housing Partnership: Transforming Sanquhar
Mull and Iona Community Trust/The Wee House Company: Affordable modular homes – Isle of Mull
Hillcrest Homes: Countesswells Phase 2
Excellence in Tenant Security
South Lanarkshire Council: Budget Scrutiny Group (BSG) – engaging tenants in ongoing scrutiny of the HRA and budgetary process
Link Tenant Scrutiny Panel: Independent scrutiny, massive impact!
Cunninghame Housing Association: Cunninghame Scrutiny Group
West Dunbartonshire Council: West Dunbartonshire Scrutiny Panel
Kingdom Housing Association: Kingdom Tenant Scrutiny
Excellence in Organisational Change
Kingdom Housing Association: Digital Cloud Services
Wheatley Group: Changing lives in a pandemic
Excellence in the Private Rented Sector
Lowther: Going the extra mile for mid-market tenants
Gilson Gray: ECO3 Grants
Excellence in Regeneration
Places for People Scotland: Engine Yard
Cunninghame Housing Association: Lockerbie Academy and Old School Regeneration Project
Loretto Housing Association: Kippen Gate/Buckley Street
Kingdom Housing Association: Fraser Avenue Regeneration
Communities Housing Trust: Achtercairn development, Gairloch
Housing Provider of the Year
Kingdom Housing Association: Kingdom, Delivering More than a Home
Wheatley Group: Changing lives during a pandemic
Link Group ltd: Excellent Tenancy Toolkit
Excellence in Health and Wellbeing
South Lanarkshire Council: HOMESTART
Eildon Housing Association: Springfield Terrace, St Boswells
Wheatley Group: More than a landlord
Berwickshire Housing Association: Financial Inclusion
Grampian Housing Association: Tenancy Sustainment Services Supporting Tenants
Excellence in Communications
Kingdom Housing Association: Communicating in Unprecedented Times
South Lanarkshire Council: South Lanarkshire Council Housing Services – Digitally empowered housing customers
Berwickshire Housing Association: Better Comms Team
Wheatley Group: Communicating in a pandemic
Apprentice of the Year
Places for People: Carla Hutchinson
East Ayrshire Council: Jamie-Lee Davidson
Wheatley Group: Adam King
Prospect Community Housing: Abbey Kivlin
Alan Ferguson – Outstanding contribution to housing
Homes for Good (Scotland): Dr Susan Aktemel
John Ferguson
TPAS Scotland: Lesley Baird
Blackwood: Fanchea Kelly
Positive Action: Robina Qureshi
Wellhouse Housing Association: Maureen Morris
Wheatley Group: Alex Adrain
Hillcrest Homes: Alan Russell
Excellence in Leadership
Kingdom Housing Association: Matthew Busher
Lar Housing Trust: Ann Leslie
Fife Council: John Mills
Best Frontline Housing Story
North Lanarkshire Council: Tracy Lennon, Julie Gonzalez-Bradley, Nancy Robertson, Kate McDonagh
Caledonia Housing Association: Moira Nisbet
Wheatley Group: Darran Kennedy
Renfrewshire Council: Renfrewshire Council Housing Support and Homeless Services
Housing Team of the Year
Housing Options Scotland: Julia Bandel, Moira Bayne, Pedro Cameron, Karen Campbell, Jil Dyson-Fyffe, Sarah Franklin, Olivia Lindsay, Susan Mendelovitch, Ben Parker, Heather Storgaard, Gina Wilson, Eve Young
Glen Oaks Housing Association: Brenda Whitelaw, Erin Williams, Audrey Dorward
North Lanarkshire Council: Susan Fowler, Tracey Fallow, Debbie Shawcross
Riverside Scotland: Riverside Scotland Lettings Team
Ruchazie Housing Association: Staff team
North Lanarkshire Council: Raymond Boyd, Alan Clark
Wheatley Group: Wheatley's Lettings and Homelessness Team
Homes for Good: HFG Tenancy Support Team
Bob Allan – Young achiever in housing
Dunedin Canmore Housing Association: Abby Turnbull
Ferguslie Park Housing Association Ltd: Alastair Burke
Clyde Valley Group: Katie Stewart
Falkirk Council: Soni Pius
The award winners will be announced on the 25th November 2021 at the event, which will be held at the Double Tree by Hilton Hotel, Glasgow.
Commenting on the shortlist, CIH Scotland national director Callum Chomczuk said: "Over the last 18 months housing professionals have shown an incredible resilience in continuing to deliver outstanding services and support to tenants. The work of the final shortlisted nominees highlighted in the good practice compendium shows the dedication of our sector and the impact that our support has had on those living in the hardest of circumstances.
"The Scotland Housing Awards this November will provide an opportunity to bring housing professionals and organisations together again to support and celebrate the creativity, determination, innovation and achievements of Scotland's housing sector."