Community buy-out proposed to develop social housing at Maryhill site
A community-based alternative has emerged for a vacant development site in Glasgow to be used for social housing amid plans by the local authority to sell to private developers.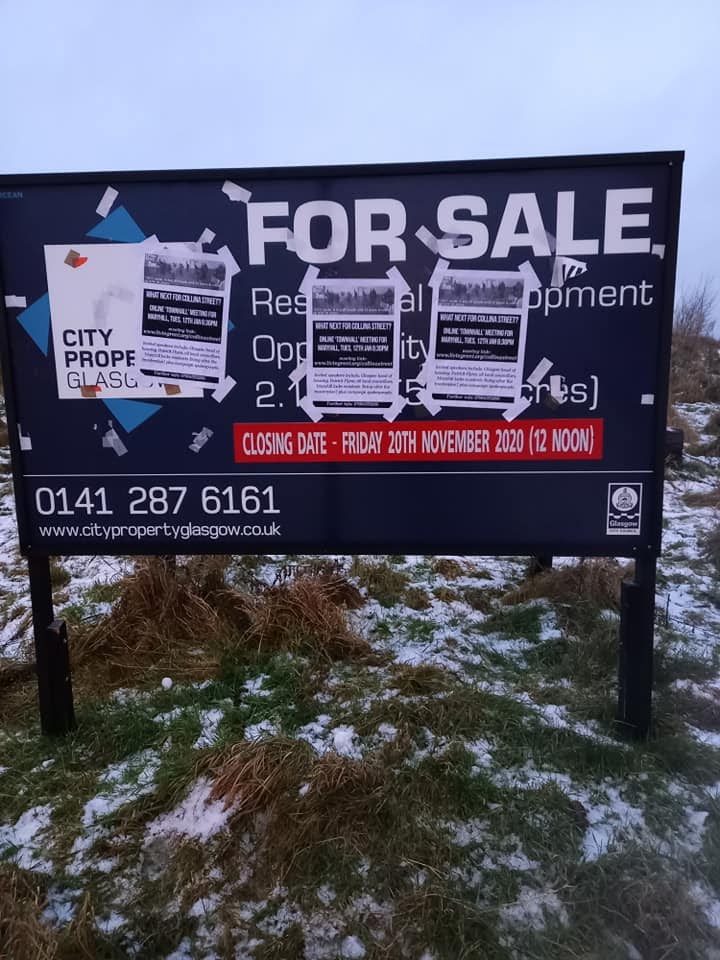 At an online town hall meeting on Tuesday evening, the council's head of housing and regeneration services, Patrick Flynn, said there was no option but to sell the 2.14-hectare site on Collina Street in Maryhill.
However, tenants union Living Rent, along with Wyndford Tenants Union, is holding a public vote to determine which of two new community alternative option for the site is the most popular.
The tenants union has a manifesto published for the coming elections and Section 2 demands that vacant land previously used for public housing be re-used for the same purpose.
One of the options on the community poll is "Halting the council sell-off of Collina Street to work with a local housing association to develop public housing".
Living Rent member and Wyndford Tenants Union committee member Norman Cunningham said: "We heard from Patrick Flynn last night who told us that this site is going to be very difficult to develop [for profit]. Well in that case, let's give the community a chance. There are any number of existing community-based successful social housing schemes."
Cunningham, who proposed a community buy out of the site, said he was inspired to hear about West Whitlawburn Housing Co-operative.
He added: "This site has lain empty for 13 years. The idea that it has to be sold off right now during a lethal wave of a year-long pandemic is simply untrue. In any case, if the community decides to do so, we are going to enter a late offer to buy the site from the council using 'community right to buy' legislation."
Agreeing with the proposal, local MSP Bob Doris noted: "I have also contacted the council. I have not been successful as yet in asking if they were able to review the balance at that Collina Street site. I would love to see more social housing there.
"The bidders are going to be received by Friday, but I'm conscious the council in 2019 also put the site out to market but then didn't close the deal, because they must have, I assume thought the deal wasn't appropriate, or for the best needs of the community or the wider masterplan. So let's see what bids come in on Friday, but I think they should keep talking to Living Rent. When you lock in a masterplan, you have to keep it fresh. I think the council has some lessons to learn there."
Other politicians at the meeting concurred.
Pauline McNeill Labour regional MSP for Glasgow said: "It's for local members to take the lead on this but I am quite clear that land set aside for social housing should be for social housing.
"For me it's about building communities and not simply about building homes. I would support communities having much more of a say generally on how the land gets used.
"The pandemic has greatly exacerbated Scotland's housing crisis.
"With thousands stuck in substandard accommodation, it is vital that we see an expansion in new social housing in Glasgow.
"Having a roof over your head and a place to call home is a right, not a luxury. It's time for action to be taken to prioritise the building of social housing and I call on Glasgow City Council to review their decision."
Fellow city MSP Patrick Harvie from the Scottish Greens said: "When you have long standing transformational regeneration plans made many years ago it means that things will have changed in terms of the use of the land and also things will have changed in terms of the attitudes of the communities.
"So you need to keep asking people if they still support what was decided a long time ago. It's pretty clear that they don't."
A spokesman from Glasgow City Council said: "The Collina Street site is one integral part of a community-led masterplan that has been successful in attracting new development into the area. The masterplan is promoting a 'mixed tenure' and 'tenure blind' approach to new development. Transforming Communities Glasgow Ltd, which controls the site, is happy to discuss its community-led proposals with any interested parties."
Known locally as 'the Valley', the land has been vacant for 13 years since Glasgow City Council demolished the previous social housing on the site. BBC sitcom 'Still Game' was set and filmed there.
UPDATE:
Glasgow City Council revealed on Thursday that the deadline for developers has been extended "due to current Scottish Government Covid-19 restrictions". A new date for the deadline has not been provided.
A spokesperson said: "The site will deliver 125 new low-cost home ownership properties that will complement the wide range of affordable housing already built – and to be built – in the area.
"Low-cost home ownership properties cannot be sold to private landlords as there is strict assessment criteria for the purchaser and unless they meet this criteria (first-time buyer, income threshold and so on) they will not be permitted to purchase.
"When completed, most of the homes in the Maryhill Transformational Regeneration Area will be in the socially-rented sector, underlining the reality that affordable homes will be a feature of the entire regeneration area in Maryhill, and providing low-cost home ownership offers a choice for those who prefer to buy."