Community groups benefit from Blantyre housing and care development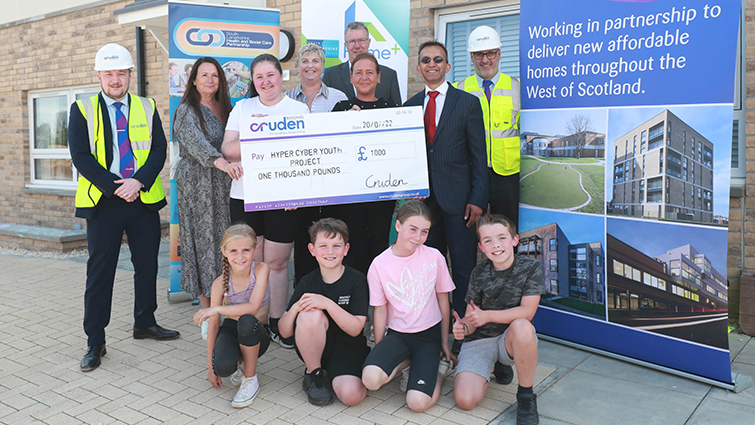 The Blantyre Youth Development Team, Blantyre Community Council, Blantyre Miners Welfare, Hyper Cyber Youth Café (Regen Fx) and Blantyre Soccer Academy have aech received £1000 each from Cruden Building, the firm constructing a new Blantyre housing and care development site.
These community benefits awards are part of the procurement contract for the development of the former St Joseph's Primary School site with £5000 to local community groups intended to deliver wider social benefits in addition to those from the main development itself.
Catherine McClymont, depute chair of South Lanarkshire Council's Social Work Resources Committee, said: "I am delighted to see all these groups benefitting from this fantastic initiative. It really does mean what it says on the tin – community benefit.
"Not only is this development going to provide South Lanarkshire with a new care facility but there is also the social housing that is surrounding the complex."
The development itself is the result of a partnership between the council's Housing and Technical Resources and South Lanarkshire Health and Social Care Partnership.
Soumen Sengupta, director of Health and Social Care, added: "It was really great to meet members of these local groups, and for them – and us - to see the terrific progress that our partners at Cruden Building have been making on site."
The ambitious multi-million-pound development, supported by Scottish Government grant funding, will deliver a state-of-the-art care facility, 20 technology enabled houses and 25 family homes in the Blantyre area.
Annette Finnan, head of the council's Housing Services, commented: "This development is part of the council's new housing programme, delivering much needed high quality, energy efficient, affordable homes. As this ambitious development progresses it is great to see the residents settling into their new homes and already starting to create a real community.
"And with the funding being delivered today to these invaluable local groups, Blantyre as a whole is really starting to see the benefits of what well planned, considerate developments can deliver."
The development is one of many that Cruden Building has undertaken on behalf of the council over the last five years.
Gordon Lee, partnering & procurement director at Cruden Building, said: "Collaboration between all parties is vitally important and once again South Lanarkshire and Cruden staff have worked closely to ensure the successful delivery of these initiatives.
"A key factor has always been the delivery of meaningful community benefits and these donations will ensure that a number of council residents will benefit from the services provided by these well-respected community groups."
Three of the groups were on hand to receive their cheques in person.
Ciara Stirling, the vice chair of the Blantyre Youth Development Team which is responsible for overseeing the work of the Terminal One Youth Centre, said: "The Blantyre Youth Development Team are delighted and very grateful to receive this community benefit donation.
"This donation will contribute to our ongoing provision of free youth work programmes, ensuring that all young people aged 8-21 years are included, supported and have the same opportunities as their peers.
Ginem Anderson, team leader, added: "We will be using the funding to support our winter programme that will include some trips out for the young people.
"The cash will help towards increased costs for fuel that will allow us to keep the project open during the cold months."
Robert McMillan, President, said: "This very generous award will enable us to help pay for the installation of the Solar Panels and associated equipment provide heating and lighting for two new sheds.