Construction output records third consecutive monthly decrease
Output in the UK construction sector fell for the third consecutive month in June according to the Office for National Statistics (ONS), recording the largest monthly decline since December 2020.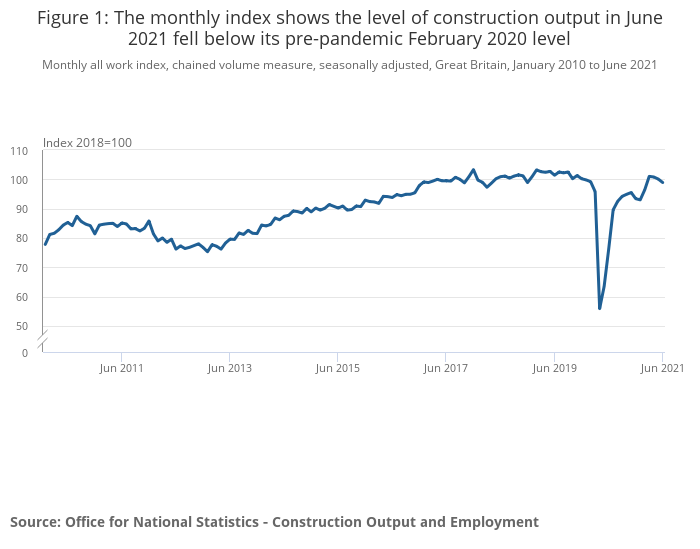 Monthly construction output fell by 1.3% in June 2021, because of a decline in repair and maintenance (4.2%) offset by a small increase in new work (0.5%).
Construction output in June 2021 was 0.3% (£39 million) below the February 2020 pre-coronavirus (COVID-19) pandemic level; new work was 2.1% (£188m) below this level, while repair and maintenance was 3.1% (£149m) above.
In contrast to the monthly fall, quarterly construction output grew by 3.3% in Quarter 2 (Apr to June) 2021 compared with Quarter 1 (Jan to Mar) 2021; both new work (3.9%) and repair and maintenance (2.3%) saw increases.
Total construction new orders grew by 17.6% (£1,998 million) in Quarter 2 2021 compared with Quarter 1 2021; total new orders recovered in Quarter 2 2021 to above its pre-pandemic level for the first time at 1.6% (£214 million) above the Quarter 1 2020 level.
The annual rate of construction output price growth was 3.4% in June 2021; this was the strongest annual rate of construction output price growth since August 2019 (3.5%).
Industry response
Mark Markey, managing director, Akela Group, said: "It is disappointing that the monthly output has fallen and there is no doubt that the sector has been impacted by the supply and rising costs of materials. At Akela, we have adapted our procurement processes to ensure the necessary materials are on site when needed. We are also better informed on the latest updates as we are communicating more regularly with suppliers and manufacturers.
"Akela has always taken an innovative approach to sourcing materials, for example reducing waste by using steel tubular piles returned to shore by oil companies for recycling. We have also invested in plant equipment that can recycle site inherited materials for reuse on that project. This reduces the impact on landfill and our carbon footprint.
Mark Robinson, group chief executive at SCAPE, said: "Despite the sustained recovery of order books in the first half of the year, June's fall in output is a sign that the long-term challenges facing the construction industry are starting to bite, with material and labour shortages inflating costs and extending project timelines. Inflation is tipped to continue rising until the end of the year at least, which has the potential to hamper the impact of increased government spending, as it looks to modernise infrastructure and stimulate a construction supercycle.
"The support provided to SMEs in the coming months will be key to mitigating any negative long-term effects – particularly for those businesses with restricted buying power or weaker order books post-Covid. Larger contractors can play a key role by ensuring SMEs are able to plan effectively whilst supporting their cashflow through fair payment practices."
Fraser Johns, finance director at Beard, added: "For output to drop for the third consecutive month to below pre-pandemic levels, should start to ring some alarm bells. As an industry we've been saying for months now that the pandemic bounce-back could potentially be scuppered by a combination of the serious materials shortage, rising prices, labour shortages and now not enough HGVs on the roads to supply building sites. It's not the kind of prediction anybody wants to be right about, but today's stats demonstrate that these issues are really beginning to bite.
"At the same time, it is encouraging to see quarterly levels of growth up 3.3% in Q2 compared to Q1, driven in part by new orders, but it is some way below the growth in the economy overall at 4.8%. And of course, that first quarter was spent still under lockdown.
"Right now, we have to work together with suppliers, surveyors, customers and consultants to be proactive about the issues we face and take a multi-step approach to things like procurement to manage our way out of this current decline."