Councillor Kate Campbell: We've worked together to put our most vulnerable first during this crisis – but the biggest challenges are still to come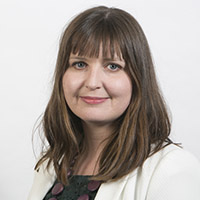 City of Edinburgh Council's housing, homelessness and fair work convener, Councillor Kate Campbell, outlines the phenomenal response from organisations working to prevent homeless during the pandemic.
The council's homelessness service has been working with the Scottish Government, third sector, the police, the NHS, social care and volunteers to provide housing, food, health care, advice and support throughout the lockdown period.
Front line workers and volunteers have powered this work putting their own health at risk to make sure that our most vulnerable residents are supported. We owe them a massive thank you.
And what is even more phenomenal is the level of engagement we've received in return. Turns out showing that you actually care builds trust. So people we have been describing as 'hard to reach' have actually been reached, and are engaging, and are being supported on the journey to permanent housing.
So we have learnt a lot– things, frankly, we already knew. But now we can evidence them. If you put in all the support upfront, then people will engage. You have to take services to people and they have to be tailored to meet their needs.
It has cost a lot in the short term, but we also need to learn the lessons about what we are saving in the longer term. Not just money on future services that hopefully won't now be needed. But life chances, health outcomes, dignity, respect.
There's a big debate here. And one we need to manage carefully: when our city shut down, suddenly we were able to end rough sleeping.
Now partly it's to do with resources. It was a public health emergency and so funding became a secondary consideration. And we were allowed, because of public health, to spend money accommodating people with 'no recourse to public funds' – where their immigration status means a person isn't entitled to any benefits, even if they have the right to remain in the UK. Usually the law prohibits us from doing this.
The other thing that happened is accommodation became available to us. Short term let properties were suddenly accessible for people experiencing homelessness. Hotels opened their doors to people who had been rough sleeping.
And we have to be honest. This is about supply and demand. There was no demand from tourists, so residents were the only market.
We will welcome visitors back to the city in the months and years to come. We need to make sure that the balance is right. That visitors are not staying in accommodation that could be used as homes. And we need to support hotels who employ more people, are tightly regulated and have to pay their business taxes.
So we will be pressing ahead with controls on short term lets as they pass into legislation, whether that's licensing powers or through planning. It's important for both the hospitality sector, and for our residents, that homes stay as homes after the pandemic.
But there will be more challenges to come. We know that there will come a point when we are no longer legally allowed to accommodate people with no recourse to public funds. The idea that we will have to say, because of the law, that people must leave their accommodation – and we will know that they have nowhere to go - is horrific.
We have limited powers (unfortunately we can't change legislation at Westminster from the city chambers) but we can start to plan pathways, look at options and work with our partners. Kevin Stewart, Scotland's Housing Minister, has written to the UK government. We will need to work with the Scottish Government to make the case for legislative change – and funding to go alongside it.
We know too that the economic situation is likely to worsen before it gets better. We know that we are likely to see job losses as the furlough scheme winds down and that alongside this there is a risk of increased homelessness.
We need to increase preventative work to help keep people in their homes. Advice and support are crucial so that people are able to access the benefits they are entitled to and receive help with housing costs. It's also vital people know their housing rights.
We will also need to increase the supply of temporary accommodation, and make sure that accommodation is suitable for the people that need to stay in it.
Ultimately though, we want people to move into permanent, secure and safe homes – so our housebuilding programme, and the provision of social housing, will be even more critical than ever.
We've reconvened the homelessness task force to look at all of this. To have a space where we can learn best practice from each other – and there is so much innovation happening – and where we can share our concerns about what we see coming down the line. And work together to plan solutions.
In the months ahead we will need to keep re-evaluating, and planning, and adapting. This crisis is far from over. But the strength of the partnerships we have now across the city, and the enormous determination to work together to overcome any obstacles, give me confidence that we will collectively rise to the challenges that come.
This article originally appeared in Edinburgh Evening News
Read all of our articles relating to COVID-19 here.