Councillors cut turf to mark beginning of work on Hillcrest's new affordable homes development in Dundee
Council leader John Alexander and Councillor Anne Rendall cut the turf at a new Hillcrest development on Wednesday, to mark the start of work on the Victoria Dock affordable homes development.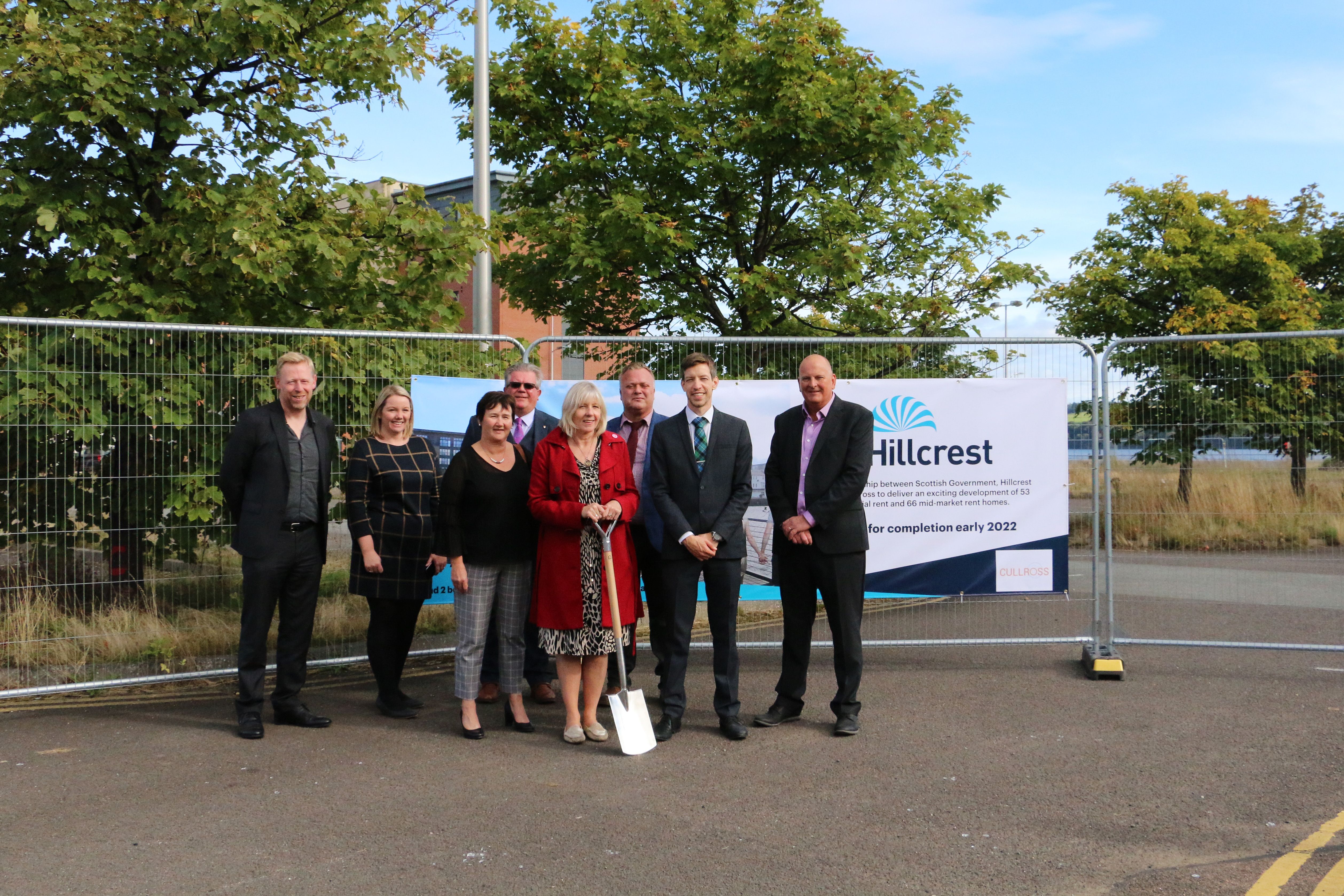 The development will house 119 affordable apartments and ground floor commercial space at Dundee's City Quay.
The £13m development will consist of 53 flats for social rent and 66 for mid-market rent spread across two apartment blocks, offering a welcome boost to the city's affordable housing provision. The properties will offer a mixture of two and three bedrooms and will offer balconies giving outstanding views over the city or the river.
The ground floor of the apartment block located on Victoria Dock Road will also offer retail space, paving the way for the first local convenience store to be located at City Quay.
The apartment block, which will sit closest to Victoria Dock will accommodate the social rent housing, while the block situated on the banks of the Tay will feature the mid-market rent apartments.
The two blocks will be separated by an open car parking court, with this open space being carefully worked into the apartment designs to open up the view for the neighbouring apartments.
The visit also marked Scottish Housing Day, an annual event that celebrates the impact that good quality housing has on people's lives.
Councillors Alexander and Rendall were greeted at the site by Hillcrest chairman Alan Russell and Hillcrest chief executive Officer Angela Linton. Emma Garry and Ryan Fletcher, both directors at Cullross, who have been appointed as the contractor to develop the new homes, were also present to welcome the councillors.
During the visit, councillors Alexander and Rendall examined the site, which is located on the former car park on South Victoria Dock Road, before picking up the spades to mark the start of the construction of the apartments.
The development will be delivered within the city's wider waterfront regeneration area, only a short distance to the V&A, Slessor Gardens and the city centre.
The development's completion is expected to be around January 2022, and the homes will offer a range of modern energy-efficiency measures to help tenants save money on energy bills. This will include energy-saving windows and doors, gas central heating, state of the art insulation and cladding, smart meters and boilers fitted with gas savers.
Anne Rendall, councillor and convener of the council's neighbourhood services committee, said: "I'm very pleased the Council is working with Hillcrest Homes to deliver more affordable housing for the City of Dundee. The properties will be of high quality and delivered through effective partnership working for the benefit of the area and local housing demand."
John Alexander, council leader, said: "This is an exciting housing development for the city, one of many in the near future. This is a comprehensive investment in accommodation to meet people's modern needs and aspirations, in a highly sought after area."
David Zwirlein, director of development for Hillcrest, said: "Hillcrest are delighted to be developing 119 new affordable homes in a fantastic location on the Dundee waterfront. Right in the heart of the city's wider waterfront redevelopment, these good quality homes will offer unrivalled views over the River Tay and back inland over the city, and will come with the latest energy efficiency measures to help tenants save on bills."
Emma Garry, consultant at Cullross, added: "This is such an exciting opportunity to deliver new affordable homes in Dundee's Waterfront, only a stone's throw from the V&A, with magnificent views on to the Tay and very close to the city centre amenities. It really will be a fantastic place to live."