Councillors highlight Dundee's social housing boost
More than 160 new homes for rent have been built in Dundee in the past 12 months according to the latest figures.
Housing officials from Dundee City Council revealed that between April 2018 and March this year 161 social rented housing units were built, most of which were two-bedroom flats.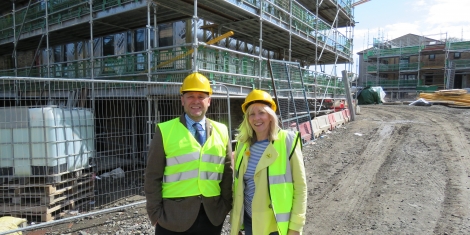 Kevin Cordell, convener of Dundee City Council's neighbourhood services committee, said: "These figures represent brand new energy efficient, warm and easy to heat homes for 161 city families.
"With our partners in Hillcrest, Abertay and Angus housing associations we have been able to develop new homes close to schools and community facilities that people want to rent."
Of the 161 units, 51 were houses and 87 flats, eight were built to be wheelchair accessible and 15 were community care units.
The £20 million cost of the building programme came from the Scottish Government, Dundee City Council and the three housing associations.
Most of the new build homes completed in the period were in Alexander Street, with Fintry Drive/Finavon Street and Eliza Street also sites where multiple units were developed. Other homes were built in St Ann Lane, Gray Street Lochee and Kirkton Road.
Cllr Cordell added: "The work that has already been done as part of our regeneration programme has removed some of the poor quality, unpopular house types in the city to make way for new homes that meet people's modern needs and aspirations. By doing that we are also tackling the problem of supply and demand.
"Work has or is about to start on more than 450 new affordable homes in areas across the city using empty sites to add to the 161 completed by the council and our partners in the past 12 months."
Most of the new builds were flats, with the remaining 51 of them houses. As well as the most popular two-bedroom properties, 21 were constructed with one bedroom and 41 with three or four.