Cruden Group reports 21st consecutive year of profitable trading
Cruden Group has welcomed a "robust" set of results in which it reported its 21st consecutive year of profit.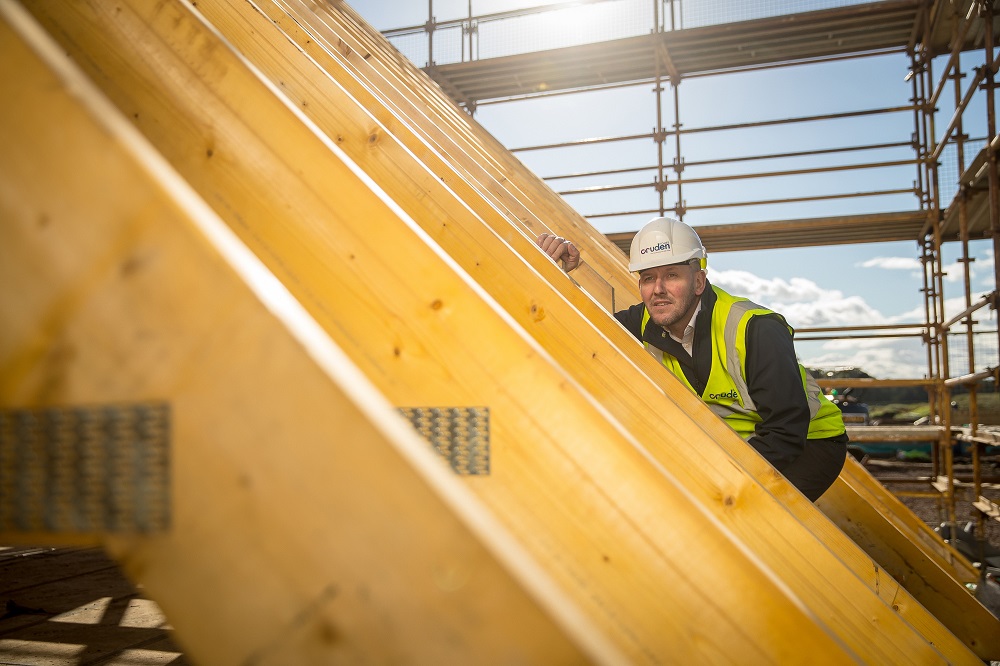 The group, which in recent years has delivered an average of 1,200 new homes across the country, has been expanding its activities - working with its clients across both the public and private sectors and increasing its investment in delivering new housing for sale, both in its own name, and with its joint venture partners.
In its latest results, Cruden revealed it made £7.9 million profit before tax before exceptional items relating to the coronavirus pandemic of £1.3m and recently reported turnover of over £228m, an increase of 19% from the previous year. This consisted of construction for external clients of £180m, representing approximately 1,100 units completed during the year, and the sale of private housing of £48m, representing 241 private homes sold in the year (including joint ventures).
During the year ahead, Cruden said it will focus on investing in the delivery of new housing for sale and sustaining this level of construction activity to deliver much needed high-quality housing to clients across both the public and private sectors. This will involve the group in all of its existing core areas of mixed tenure regeneration, affordable housing, premium housing in urban developments, bespoke private residential homes, and additionally, its first developments in the senior living sector.
The coronavirus pandemic and subsequent site closures during lockdown impacted the long- term contract profit margins reported in the group's financial accounts for the year to 31 March 2020. However, the group, through its dedicated and professional staff met the challenges presented by the pandemic with energy and fortitude. Working with industry representative bodies, the Scottish Government and trade unions, the group established exemplar sites in the Central Belt to demonstrate new safe working practices to support the Construction Scotland Restart Plan.
Although the lockdown period and resulting loss of productivity will also affect the current year's financial performance, the group is confident of delivering another year of profit and, through effective cash management, is well placed to continue to invest in its core operations looking forward.
The total volume of new homes that Cruden will deliver this year is notable – aiming to complete approximately 1,500 new homes. Cruden is currently building on over 50 active sites and the group is one of Scotland's major employers, with approximately 600 direct members of staff, including 72 apprentices and a further 1,000 operatives on Cruden sites employed by sub-contractors in the group's supply chain.
Significant landmark developments that the group is currently working on include:
Cruden Homes has commenced construction, and now sales, at a major new housing development in Longniddry. This brings the number of homes under development in East Lothian to 230 (at Longniddry, Aberlady and Old Craighall)
In the West, Cruden Homes' Cathkin View development in the south of Glasgow (98 homes), has seen exceptional demand with forward sales already being taken for future phases
In one of the Group's Joint Venture's (Queensberry Properties), the 66 apartment, £35m Waverley Square development, in the heart of Edinburgh's Old Town, has recently been brought to market with significant early success
Under a new brand, Juniper Residential, the group is currently building at two sites (in Scone and Kinross), delivering 51 and 41 homes respectively for sale into the senior living market in 2021
Since lockdown ended, Cruden Building has been appointed as main contractor on eight new affordable housing developments delivering 413 homes in the West of Scotland for a wide client base
In the East, Hart Builders was proud to deliver Berwickshire Housing Association's 300th new build home. Hart is also starting work on 133 new homes for Eildon Housing Association and Berwickshire Housing Association across three communities in the Borders under a partnering relationship
Hart Builders is also heavily involved in housing delivery in the City of Edinburgh, with over 1,000 homes/apartments in construction across nine sites
Cruden is invested in the delivery of 152 apartments making up the residential element of the £1 billion St James Quarter development in Edinburgh.
Commenting on the Group's operations, Kevin Reid, chief executive of the Cruden Group, said: "It's a significant achievement to report our twenty-first continuous year of profitable trading, particularly against the challenging and unprecedented backdrop that the pandemic presented. I am particularly proud of the responsible approach adopted by all of our employees both during lockdown and on our return to sites. Their hard work in creating an environment which allows for a safe and effective workplace has been admirable. The wellbeing of staff, our subcontractors & suppliers, our customers and the communities that we are building in continues to be our key focus.
"In that context, I'm also delighted to report that The Cruden Foundation has now donated in excess of £7m in total to charitable organisations across Scotland. Our staff should be proud of this achievement made possible only by their continuing hard work.
"On the trading front, we have made a robust start to the year ahead with an extremely healthy forward order book. The chronic shortage of housing throughout the country remains an issue and as a result, we hope to further increase the number of homes that we will build this year to help address this shortfall.
"We will be placing more emphasis on mixed and sustainable housing communities, including combinations of affordable, build to rent and private sale housing, along with multi-purpose commercial and retail space. Building multi-tenure sustainable communities is at the heart of the Cruden offering and we will continue to play a crucial role in delivering Scotland's much needed homes for the future."