Dallas Dhu housing mix delivery design team appointed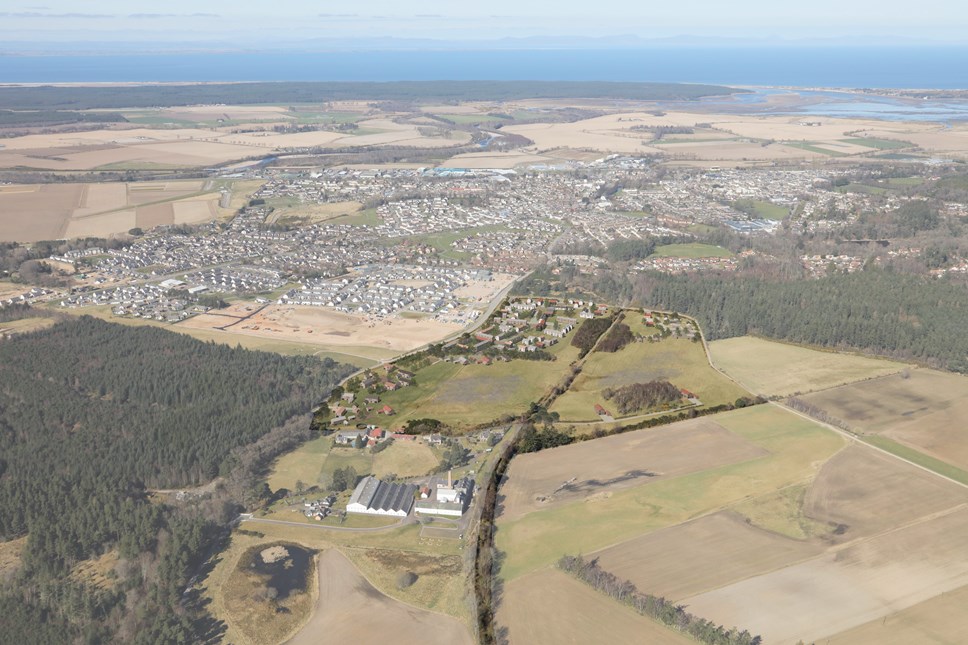 Fraser/Livingstone Architects have been awarded the contract to design phase one of the Dallas Dhu housing masterplan, near Forres.
The £7.5 million Housing Mix Delivery project, part of Moray's Growth Deal, is funded by Moray Council and the Scottish Government, and will see accessible, affordable and smart homes built across Elgin, Speyside and the Buckie coastal area. The Scottish Government is investing £5m while Moray Council complete the total with £2.5m.
The project is a partnership between Moray Council, Altyre Estate, Grampian Housing Association and the Digital Health and Care Innovation Centre, with a vision to deliver a new net-zero, sustainable community with multi-functional outdoor space to encourage physical activity and food growing.
The masterplan work will include site phasing, infrastructure and landscape design for amenity facilities, green space and public realm across the 18-hectare site.
Councillor Marc Macrae, chair of Moray Council's Economic Development and Infrastructure Committee, said: "The Dallas Dhu phase of the housing mix project presents a unique opportunity to create a sustainable new community for the people of Forres that will lead our transition to net zero through the provision of smart homes based on citizen wellbeing. For this to be realised in the next three years is an incredible feat and I look forward to seeing the innovative designs come to life."
Robin Livingstone, director of Fraser/Livingstone Architects, added: "Our ambition is to draw inspiration from both the extraordinary built fabric of the nearby Altyre Estate as well as the type of developments in the burgh towns and coastal settlements of Moray and Aberdeenshire.
"Alongside the masterplanning work, the first phase of 24 affordable homes will be delivered using innovative design and construction methods, as well as digital health and care innovation to support people remaining independent in their own homes. The pilot project will also include enabling the development of 20 serviced plots for housing innovative or self-building projects. We look forward to working with the team to bring this exciting new development to Moray."
Scottish Government wellbeing economy secretary, Neil Gray MSP, said: "This project will see more affordable homes being built in an area with significant demand for housing to support the growing local economy. It will also see delivery of smart homes in collaboration with the Digital Health project to meet the needs of Moray's population.
"That is why the Scottish Government is delivering £32.5 million funding to support the Moray Growth Deal, in line with the National Strategy for Economic Transformation's focus on delivering inclusive, sustainable growth which helps reach net zero emissions."
Janette Hughes, director of Planning & Performance, Digital Health & Care Innovation Centre, added: "The Rural Centre of Excellence for Digital Health and Care Innovation, led by DHI, are delighted to be working with this team to ensure we develop smart homes that are fit for the future and can meet the ever changing needs of residents, with the aim of creating more seamless care."
Craig Stirrat, CEO of Grampian Housing Association, said: "We are delighted to be working with Moray Council and the Altyre Estate to bring forward this unique sustainable community for the people of Forres.
"With the threat of global warming and the increasing cost of living, we must ensure that our new affordable homes and places promote a more sustainable lifestyle, where people can safely work rest and play. Starting with a blank sheet allows the partners and the community deliver something truly inspiring that is sympathetic to both the needs of householders and the environment, and hopefully provide a great legacy for future generations."
Sir Alastair Gordon Cumming, from Altyre Estate, added: "I'm delighted with the progress made by Moray Council in appointing the design team for Phase 1 and I look forward to working with them to deliver our shared aspirations contained in the Dallas Dhu Master Plan and Design Code."