Drum Property Group begins build to rent phase at Glasgow's Buchanan Wharf
The next significant building phase at Glasgow's Buchanan Wharf starts this week with ground-breaking for Legal & General's 324-home build to rent (BTR) scheme.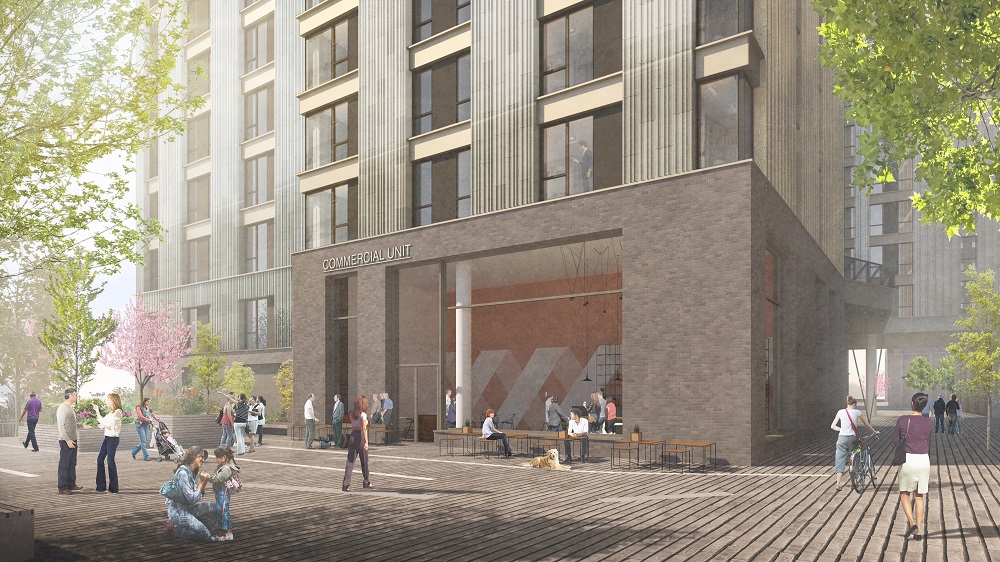 Drum Property Group, developers of Buchanan Wharf, agreed a deal with Legal & General earlier this year for the first institutionally forward-funded BTR scheme to be delivered in Scotland.
The 280,000 sq. ft. development has been designed to meet the increasing demand for high-quality rental accommodation in Scotland. Made up of two 18-storey towers, the development will house a dedicated dining space, gym, residents' lounge and games room.
It will also make full advantage of its location overlooking the River Clyde by incorporating a 4,250 sq. ft. communal roof terrace.
This next building phase marks an important step in the regeneration of Buchanan Wharf, one of Scotland's biggest-ever building projects. With the construction of Barclay's state-of-the-art Northern Europe campus HQ well underway, the site when complete will encompass more than a million square feet of prime Grade A office space, residential accommodation, local amenities and landscaped public spaces.
Welcoming the formal on-site building launch, Graeme Bone, group managing director of Drum Property Group, said: "This is another important step in the evolution of Buchanan Wharf, which has quickly established itself as one of Scotland's largest and most important commercial and residential development sites.
"With prime office space plus an exciting mix of homes, local amenities and open public spaces, Buchanan Wharf will be a stimulating and attractive environment in which to work, live and to visit.
"It is now transforming not just this neglected part of the waterfront but the entire city centre of Glasgow, once again placing the River Clyde at the heart of the city's economic and cultural regeneration."
Dan Batterton, head of build to rent at LGIM Real Assets, added: "We are delighted to be breaking ground on our first BTR development in Scotland. Buchanan Wharf is an exciting scheme, set to have a significant positive socio-economic impact on this area of Glasgow.
"Across the country, Legal & General remains dedicated to bringing forward large scale, sustainable rental schemes, meeting the increasing demand for quality rental accommodation."