Dunbritton completes Dumbarton waterfront transformation
Dunbritton Housing Association has announced the completion of its 150-property development at Dumbarton Harbour.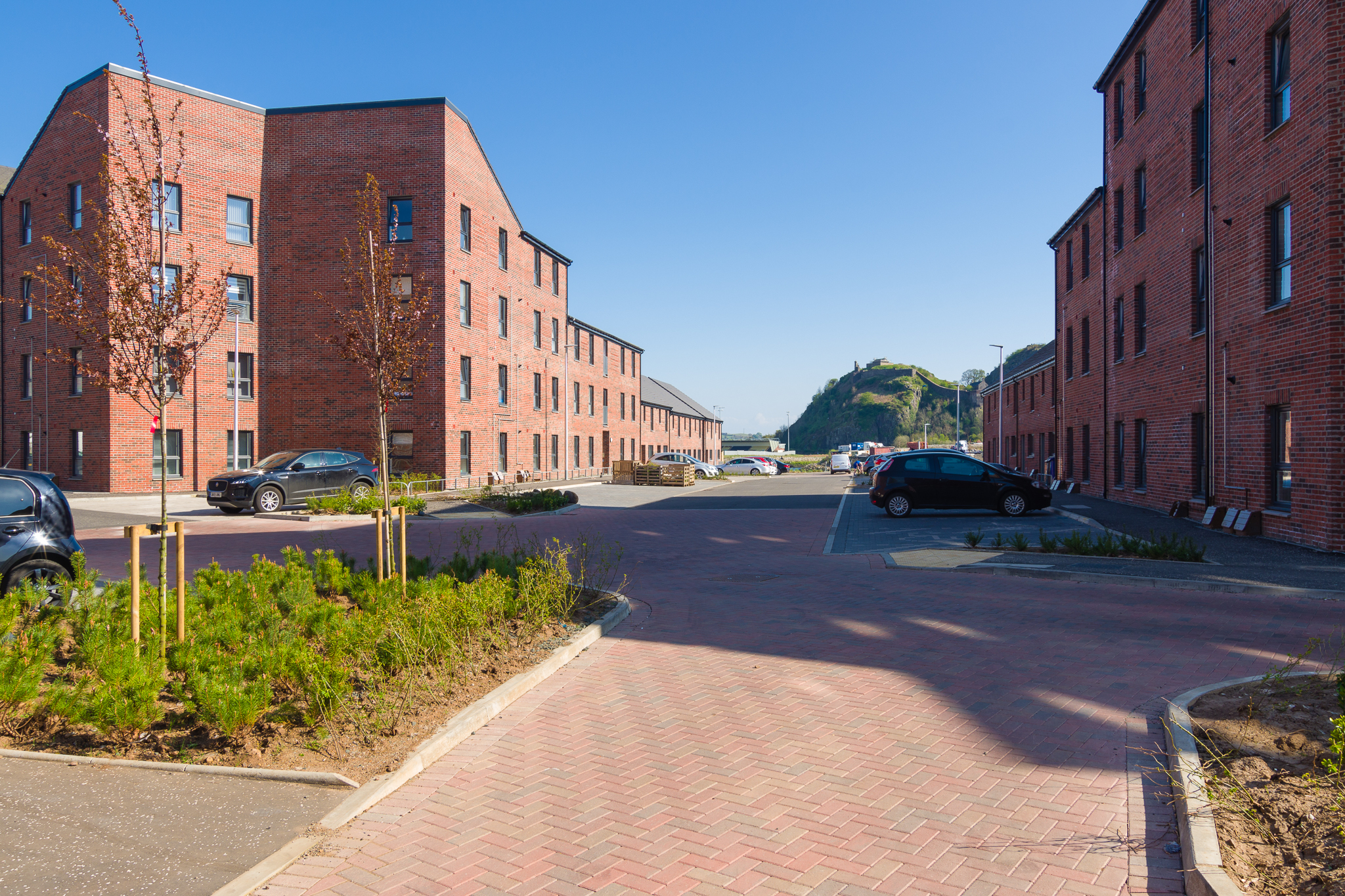 The site comprising of one, two, and three-bedroom properties includes main-stream housing, wheelchair accessible properties, and properties let to care providers for supported living.
The development looks to address the growing need for affordable housing within the town, whilst looking to link in with the culture and heritage of the location. With funding from the National Heritage lottery, Dunbritton is currently working closely with Rigarts (Socially engaged arts and film charity) and West Dunbartonshire Council to ensure that the open areas provide cultural regeneration with the provision of benches, a viewing platform, artistic paving slabs and commemorative door plaques.
Each property was constructed to the highest standards meeting the 2032 Energy Efficiency for Social Housing Standards. Energy-efficient windows with low emission glass were used throughout, this allows for natural air circulation whilst preventing the escape of heat.
The properties also benefit from a mechanical heat ventilation recovery system, which extracts humidity, processing this back through the heating system to generate heat. Through these innovations Dunbritton has ensured that their affordable housing is affordable to run and maintain, helping to alleviate the challenges of fuel poverty.
Geographically the area is in a prime location, both for easy access to Dumbarton High Street and with stunning vistas of Dumbarton Rock and Castle. The development borders the river Leven at its confluence with the Clyde, providing the properties with a spectacular view. All the properties are now let and happy customers have now moved into their new homes.
Allan Murphy, Dunbritton chief executive, commented: "The development has not been without its challenges, with construction stalled due to the 2020 Covid outbreak, however, it encapsulates Dunbritton's can do approach and strapline 'together we can.' The Association and its partners worked closely together to overcome such adversaries and to deliver a high-quality development for its customers, and I am very proud of the team at Dunbritton. We have shown a commitment to all of our customers in seeing this ambitious project through to completion."
Sephton MacQuire, chair of the board at Dunbritton, added: "This development encapsulates Dunbritton's commitment to providing high-quality social housing within West Dunbartonshire. I wish to thank both the Scottish Government and the Bank of Scotland for their financial support and assistance with financing the project. We have shown a long-term commitment to regenerate this unused and abandoned area of the town, turning it into a place of high demand for those in housing need."
The business received a £9 million funding package from Bank of Scotland to assist in the build of the 150 new homes.
Grahame Andrew, relationship director at Bank of Scotland, said: "The new development at Dumbarton Harbour has provided locals with a range of sustainable properties at affordable rents. At Bank of Scotland, we are always eager to help drive positive change across the country and we're proud to have been able to support Dunbritton Housing Association. Using our funding the organisation is helping to transform a previously derelict part of Dumbarton into a thriving space that we're sure the new tenants will enjoy."