Dundee woman secures new job after looking for support for fuel poverty
A Dundee woman looking for support with her fuel bills has ended up landing a new job.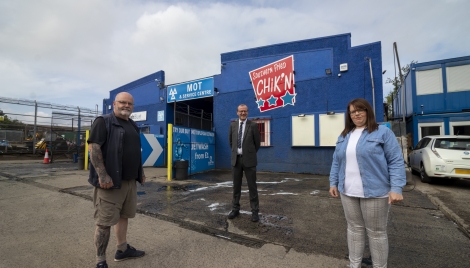 Lee Glen from Douglas was made redundant at the end of last year and as a result, applied to Dundee City Council's Fuel Well scheme for support with her bills.
As well as ensuring Lee received the help she needed with her bills, Fuel Well also referred her to the council's Adult Employability Team.
Ms Glen said: "Every member of the employability team I worked with was really friendly. My case manager gave me CV and interview support and then put me forward to a really good employer."
That employer was Scottish Blue and company owner George Scullion said: "The Employer Support and Adult Employability team have been a great help to me with their friendly and informative service.
"They took the full details of my vacancy and found me suitable applicants, providing a thorough service by carrying out the first stage interviews for me and answering any questions I had on the applicants. They provided me with clear and informative notes on the applicants to support their CV.
"When we hired Lee, they helped me source training for her and since then she has been a great addition, fitting into the team well.
"She is very trustworthy and I was quickly able to allow her to work unsupervised. She has been a great help in getting the new fast food, Southern Fried Chicken Shop in Douglas ready.
"I highly recommend the service, as they were able to save me time so I could focus on my business."
Ms Glen added: "Once I got the job, the team helped me with my PVG and then arranged for me to attend a health and hygiene course to support my role.
"The job is really enjoyable and I have a great manager with George and the team are very welcoming. The location is local for me which makes it easy to get to work. The shop opens in a few weeks, and I am really excited about it."
Mark Flynn, convener of Dundee City Council's city development committee, said: "Lee and George are great examples of a system that works.
"When Fuel Well was introduced we were keen to make sure that it wasn't just a short-term fix for people in immediate crisis but that we could join up all of the council's expertise and resources and bring that to bear to offer people a more permanent solution.
"I am delighted that they, and many others have benefitted from this forward thinking scheme."
Running from January to March the Fuel Well Dundee Programme supported people on a low income whether in or out of work, on reduced incomes as a result of Covid-19, or already experiencing fuel poverty.
Almost £300,000 was distributed to around 2500 low income families during the winter months of lockdown in Dundee.
Run by Dundee City Council and SCARF (Part of the Home Energy Scotland network) the scheme helped with top-up payments under certain circumstances, as well as support from fuel and welfare rights advisers and referrals to other council teams like the Adult Employability Service.