East Renfrewshire Council helps Me 2 Club secure £4,000 donation from CCG Scotland
East Renfrewshire Council has assisted Barrhead-based charity, the Include Me 2 Club, in securing a £4,000 donation from CCG (Scotland) Ltd.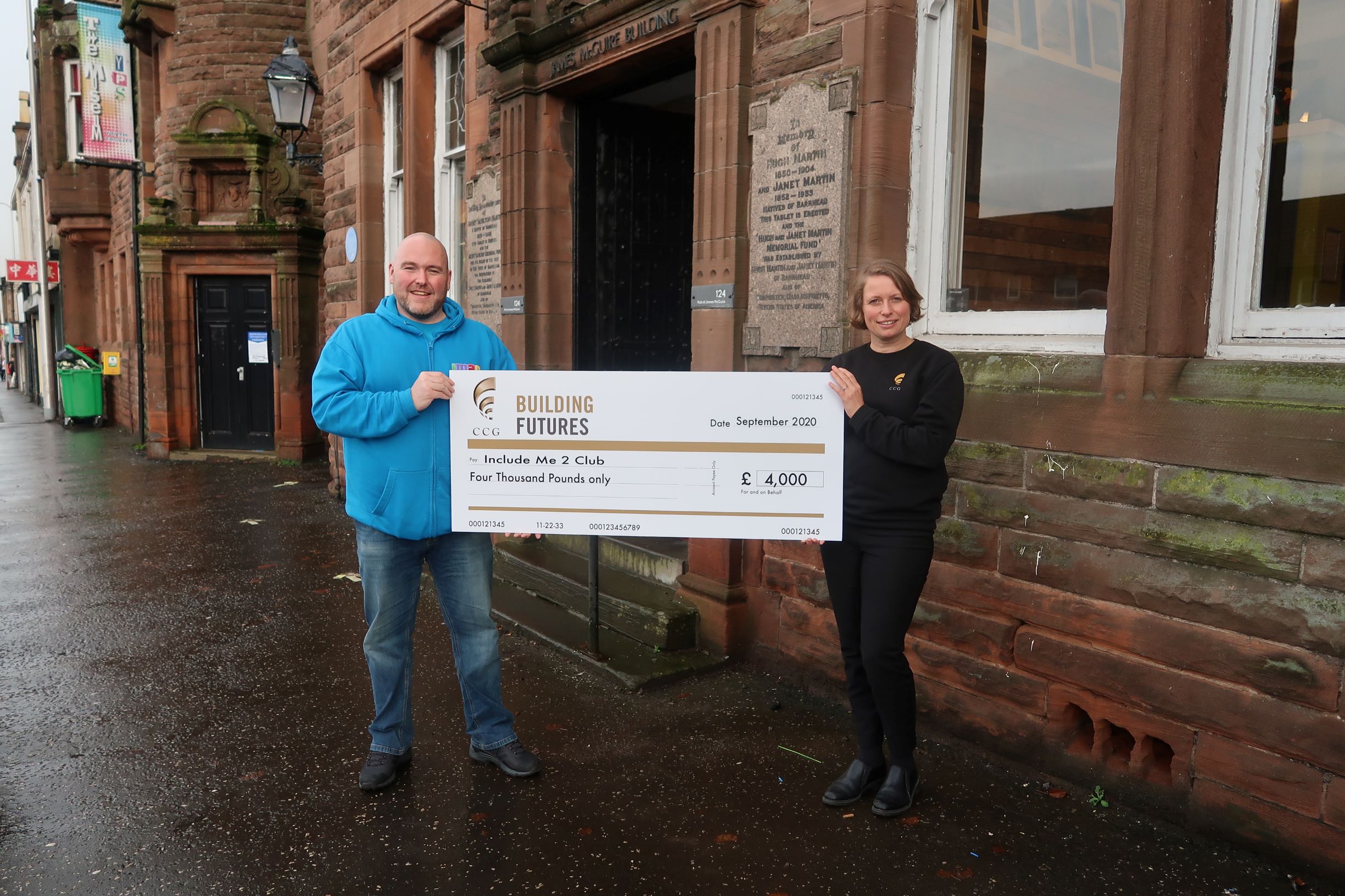 As part of the council's community benefits, suppliers who win any major contract must commit to supporting local causes through community enhancement, training and employment opportunities, work placements, school curriculum support and SME supply chain development.
The Glasgow-based construction and manufacturing company was awarded a contract to build 48 new council houses on Barrhead's Balgraystone Road and, as part of a wider initiative, to provide two jobs, six work placements and curriculum support for local schools.
£4000 of the company's contribution has been awarded to the Include Me 2 Club; a Barrhead-based charity which supports and works with children, young people and adults with additional support needs and disabilities. The funds will be going towards the group's digital engagement work, which is needed more than ever during the pandemic.
Include Me 2 Club is an organisation that was built on bringing people together to break social isolation and exclusion, but found itself in uncharted waters when lockdown was imposed.
The group quickly had to develop a wider range of online, digital and media options to keep its members engaged and included.
Councillor Danny Devlin, housing and maintenance services convener, said: "We are committed to ensuring that the East Renfrewshire community benefits from any significant council investment and I am delighted that, alongside delivering more high-quality social housing, we are also able to facilitate this donation to the Include Me 2 Club. They do some fantastic work in our community and this will help to ensure that this work, and the support they provide, can continue digitally in these unprecedented times."
Lynn Stodart, CCG Group HR manager, added: "We have been working in partnership with East Renfrewshire Council since 2018 with the successful delivery of three projects and a sustained programme of community benefit. Be it jobs, training, schools support or financial donations, CCG will always look to create a lasting legacy that transcends further than the construction of homes. We are delighted this will continue with Balgraystone."
Paul McIlvenny, chair of IM2C, said: "It's great to be working alongside East Renfrewshire Council and CCG through their community benefits programme. To receive this financial support at a challenging time is crucial to the continued success of charity to meet the needs of our members during difficult and uncertain times.
"Our online work is vital to keeping our members engaged, included and involved in online activities, projects and fun services. A big thank you goes to CCG for their donation and the impact it will allow us to make."