Edinburgh budget to boost frontline services and community improvements
A budget designed to support residents through the cost-of-living crisis and invest in local communities has been set by the City of Edinburgh Council.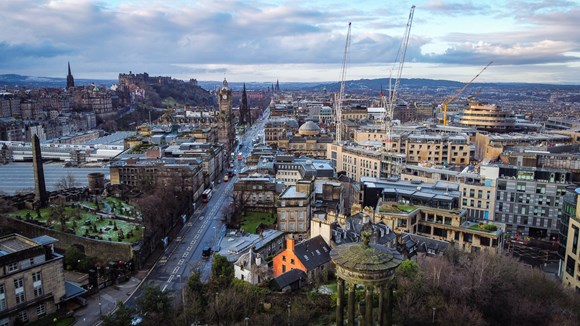 Agreed by elected members on Thursday, millions of pounds from the council's annual budget for 2022/23 will be spent towards shaping a more sustainable, fair and thriving future for Edinburgh post-pandemic.
Councillors have agreed to direct an extra £1.1 million towards easing the cost of living crisis for the city's most vulnerable and £150 for 33,000 low-income households across the city at a total cost of £4.95m. This is on top of national cash grants announced by the Scottish Government.
Alongside this, an extra £100 will be provided for every child within a low-income home (identified via free school meals qualifications) and an additional £450k will be made available by the council in crisis grant funding.
Frontline services will continue to be protected and the council's rent freeze for tenants will remain in place for another year.
Together with the council's ongoing £2 billion programme to build 5,500 sustainable, quality council homes and invest £1.3bn over the next 15 years in a new, green, well-connected neighbourhood at Granton Waterfront, around half a million pounds will be spent to provide social care adaptations to people's houses to allow them to live more independently in their own homes.
A total of £112k has been earmarked to make sure every school in the city is equipped with a life-saving defibrillator, and the council will continue to invest £454m in capital investment for new school facilities across the city over the next ten years, together with an annual £48m to help families access 1,140 hours of funded early learning and childcare.
The roll-out of 40,000 digital devices to school pupils across the city to close the digital divide will also continue, thanks to investment of nearly £18m. In recognition of pressures faced during Covid, £1m of additional funding will be provided for Children's Services, while a further £2m will be invested adopting the recommendations of the Tanner review.
A one-off £1.1m 'deep clean' will remove graffiti and address street cleansing in the city centre and local wards, while quarter of a million pounds will see a new, Neighbourhood Action Team created to tackle hot spot areas of unkept land and deal with issues like overgrowth and fly tipping.
An extra £1m will be set aside for road and pavement maintenance to improve movement around the city and £450k will help to improve park facilities, creating even better green spaces in every ward and improved lighting. Meanwhile an extra £325k will be invested in playparks and £130k in expanding provisions for food growing across the city.
There will be £200k invested towards temporary toilets in select parks - repeating successful arrangements from summer 2021 - and £60k will be set aside to provide seasonal improvements and rangers to Pentland parks. An additional £60k will be contributed towards works to complete the restoration of the Portobello Kilns.
This is alongside £150k to be spent regulating and monitoring short-term lets in Edinburgh and related issues of anti-social behaviour.
An additional half a million pounds will support Edinburgh's Net Zero ambitions, accelerating the city's One Million Tree City programme, and £200k will be invested in Energy for Edinburgh, the council's publicly owned ESCO, to allow a zero-carbon energy project to move forward.
Up to £100k will be spent through Participatory Budgeting, supporting local communities to be involved in the running of the city, and £200k will be used to support local community festivals, including Edinburgh's Diwali and the Leith Festival.
A commitment of £60k will support the re-opening of the city's libraries after use as Covid testing facilities and the new Meadowbank Sports Centre will open later this year.
Spend of £160k will be directed towards taxi regulation and enforcement; £180k of funding will be set aside to cover potential costs relating to the temporary Hostile Vehicle Mitigation arrangements protecting the city centre; and £50k will be used to upgrade the ForeverEdinburgh website to further drive footfall to local businesses as Edinburgh recovers from the pandemic.
Councillor Rob Munn, finance and resources convener, said: "This Budget signals a more sustainable, fair and thriving future for Edinburgh post-pandemic.
"For two years now, we have demonstrated incredible resilience as a council and as a city, banding together to support those who have needed extra help. We have been at the forefront throughout and as life finally - and thankfully - starts to return to normal, we will continue to safeguard our services and focus on getting things back up and running.
"Our city centre and local high streets have suffered through lockdown restrictions and due to the cost of living, families on low incomes are struggling to make ends meet. The decisions we've made today aim to challenge these disadvantages and help our city and communities thrive in the year ahead."
He added: "We'll direct £1.1m each towards a 'deep clean' of the city centre and local areas and improving roads, helping to make Edinburgh a more welcoming place to be, and a further £1.1m will address poverty and inequality to create a fairer future.
"These are just a few of the very welcome spending decisions we've been able to make and I'm grateful to members in all parties for shaping these plans, but we do need to remain prudent. Times are hard and we know that the impact of Covid on our budget will continue into future financial years and significant savings will have to be made."
Councillor Joan Griffiths, vice finance and resources convener, commented: "This budget is about giving Edinburgh the chance to recover and grow as we safeguard our frontline services.
"The impact the pandemic continues to have on residents, on businesses and in our communities is clear. We're now facing a cost of living crisis and it's vital that we prioritise support for those who need it most.
"As we recover from everything the last two years have brought, investment enabled by a modest increase in Council Tax rates will help people in every single one of our communities, with the extra money raised used to maintain critical frontline services."
She concluded: "We're determined to use this budget to help us close the poverty gap, and we've also committed to keeping rents frozen this year for council tenants. We're putting more money into crisis grants, into new schools and new homes - while spending millions on community improvements.
"All of this will go towards making Edinburgh the most welcoming, thriving, and sustainable place it can be."