Edinburgh care homes receive iPad donations
Eleven iPads have been donated to Edinburgh Health and Social Care Partnership care homes throughout the city to help residents to stay in touch with family and friends.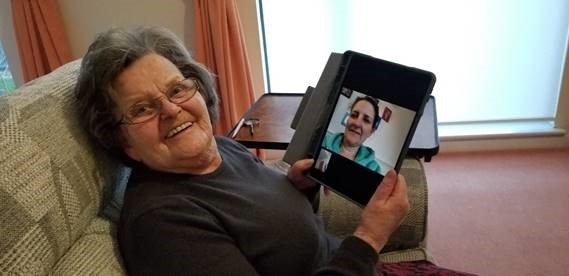 Danny Brown from technology company Zonal had the idea to reach out to the Partnership to see how they could offer support after talking to his mother, local councillor, Susan Rae.
Mr Brown said: "My mum and I were talking and she mentioned the council were doing a donation drive for iPads. She explained they would go to hospitals and care homes to allow isolated people to connect with their families. Given that I work for a technology provider that is very family orientated it seemed the natural thing to ask the board if it was something we could support. It's hard for everyone right now but especially those separated from their families and Zonal just seemed perfectly placed to do something really good in such a difficult time."
The iPads have been distributed to partnership care homes around the city and will enable residents to contact their loved ones while safeguarding measures are in place.
Julie Casement, team leader at Marionville Care Home, was delighted to receive this donation.
She said: "A lot of our residents in Marionville Court are missing their regular visits from family and friends. The lady in the picture was so excited when she received a Facetime call from her niece. Prior to self-isolation, she enjoyed regular visits with her niece including trips out.
"Due to the current circumstances we all find ourselves in, visitors are not permitted into the building. It's been fantastic that residents and family members can now Facetime or Skype daily. This means of communication is proving to be a lifeline for a lot of our residents, their families and friends. It's great to see the look of joy (and sometimes bemusement) on their faces when the people they know suddenly pop up on screen! Everyone here in Marionville is very grateful to have received the iPads and they are certainly being put to good use!"
Read all of our articles relating to COVID-19 here.