Edinburgh housing stock improvement pilot framework to benefit more mixed tenure properties
Five hundred households, both private and council-owned, living in mixed tenure properties across the Wester Hailes area of Edinburgh are to benefit from energy efficient upgrades and revitalised buildings.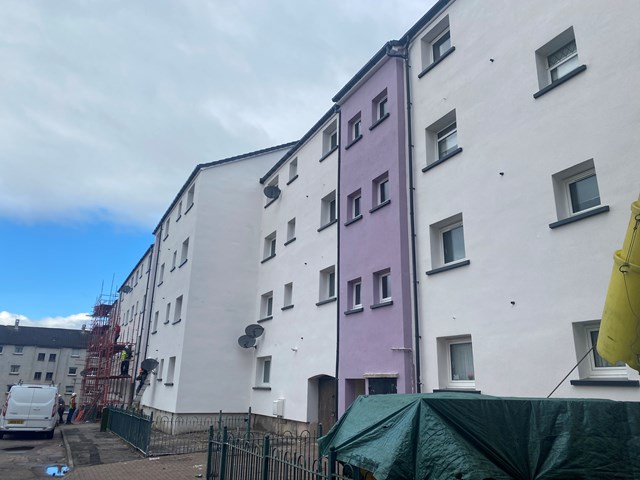 This follows an extensive large-scale common repairs and maintenance works programme to renovate 66 low-rise blocks in the first year due to complete by summer this year.
This is part of the City of Edinburgh Council's three-year Mixed Tenure Improvement Service (MTIS) pilot which gave an update on progress to date for the blocks across Murrayburn, Drumbryden and Hailesland to the Finance and Resources Committee yesterday.
The programme will now be rolled out across the city to help accelerate energy efficiency fabric maintenance and repairs in mixed tenure blocks to benefit more tenants. This is due to the success of the pilot to date in engaging with private owners - with scheme decisions to progress being made in 75% of minority council-owned blocks - and securing sizable energy efficiency grant support through the Scottish Government Energy Efficient Scotland, Area Based Scheme.
Councillors have also agreed to extend the council's Scheme of Assistance (SoA). This will, as part of the MTIS, offer enhanced debt repayment terms to help all private owner occupiers meet their repairs and maintenance responsibilities and allow them to consider more options for funding their share of the cost of works within all council-led capital improvement, mixed tenure property projects.
Works being carried out on behalf of all owners across the current MTIS pilot includes repairs and replacement of roofing, guttering, drying room facades, installation of external wall and attic insulation, together with the maintenance and decoration of communal stairwell spaces.
This MTIS pilot is aiming to carry this out in 181 mixed tenure blocks in Murrayburn, Hailesland and Dumbryden over a three-year period to the benefit of all residents and tenants, improving the aesthetics, energy efficiency, safety and security and the overall value of properties in the long term.
Councillor Kate Campbell, housing, homelessness and fair work convener, commented: "Bringing all our housing stock up to a good condition, making homes energy efficient, warm and affordable to heat is very important, both for tenants and for owners in these blocks.
"Council officers have worked hard to support private owners throughout this MTIS pilot. As a result, we're helping owner occupiers meet their share of the energy efficiency improvement works by supporting them to access up to £15,500 each in Energy Efficient Scotland (EES) funding. Supporting private owner occupiers with enhanced re-payment terms will help too, and this is now being extended to others in a similar situation.
"The mixed tenure improvement service continues to be an incredibly successful as a pilot, and I'm so pleased that we are expanding this programme as it will play a crucial role in dealing with the legacy issues caused by right to buy. We can now invest in many more homes making much needed improvements to homes and blocks across the city."
Councillor Mandy Watt, housing, homelessness and fair work vice convener, said: "We have a long way to go as part of this three-year programme to improve 181 blocks but this has been a great start. In this pilot's first year we will have improved the standard of living and conditions of a huge number of people in Wester Hailes. The buildings that we've completed so far look fantastic and really lift the look and feel of these neighbourhoods. We hope once the programme has been completed across all of Murrayburn, Hailesland and Dumbryden, the communities will feel a real sense of pride in their homes which fit in so much better with the new build developments close by.
"We have strong ambitions as a council and as a city to become a sustainable and net zero Capital by 2030. Housing is a huge factor in getting there and getting our existing housing stock better insulated and energy efficient will be key – which in turn will help to keep people warmer while helping to reduce energy bills."