Edinburgh to boost tenement recycling with communal bin enhancement project
Councillors in Edinburgh have considered a proposal which would give residents living in tenements greater access to a wider range of communal recycling facilities with more frequent collections.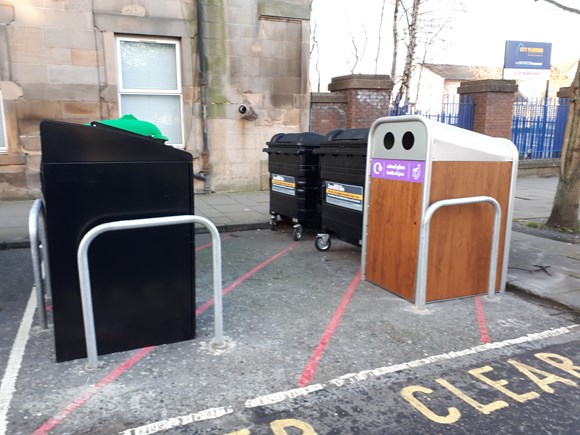 The Communal Bin Enhancement project aims to make it as easy as possible for all city residents to recycle, as well as tackle issues of overflowing communal bins by increasing collection frequency where most appropriate.
The project, which follows a well-received pilot in the city's Albert Street, will see the creation of fully integrated recycling and non-recyclable waste collection 'hubs' on residential streets where there might currently be several locations for communal bins, with increased recycling capacity so residents can give their waste the greenest possible future.
The project will focus on reducing the overall number of communal bin locations in favour of creating integrated 'hubs' where the full range of bins (dry mixed recycling, glass, food and non-recyclable waste) is provided. This is to ensure residents have no further to walk to recycle than to dispose of non-recyclable waste.
The bins - which in most locations would be wheeled communal bins - will include increased capacity for dry mixed recycling than at present, and reduced capacity for non-recyclable waste - matching or exceeding the per household capacity provided to residents who receive the kerbside collection service.
Creating on-street hubs is also designed to help to reduce street clutter and enhance the streetscape with clear bin locations.
Councillor Lesley Macinnes, environment convener, said: "We're enormously grateful to all our residents for their efforts to minimise waste by reducing, reusing and recycling, helping us lower our carbon footprint as we work towards our Net Zero Carbon 2030 target. The reality just now, though, is that it's not as easy to recycle if you're reliant on on-street communal bins than if your bins are collected at the kerbside, and this imbalance is exactly what this project seeks to rectify. "
"Enlarging recycling capacity and increasing the range of materials people can recycle on-street will definitely boost recycling rates and the integrated 'hubs' will not only enhance the streetscape but also mean residents have a one-stop-shop for all their waste.
"There are a number of factors behind overflowing communal bins, from trade waste abuse, double parking and the explosion of short term lets to highly transient populations in some areas with on-street collections. We're actively addressing these issues across our work as a Council and the proposal to increase collection frequency at on-street locations will further alleviate the problem.
Changeworks designed and delivered the consultation with Albert Street residents following the pilot project, and the results showed how well the changes were received. Residents reported recycling more, especially food and glass. The collection hub model proved popular and residents found them easier to use. They were also happier with their street as a result, seeing it to be less cluttered and tidier than before.
Kathleen Vaughn, senior waste project officer for Changeworks, added: "We're pleased to be involved in this successful campaign and it's great to see the council looking to roll this approach out more widely. We welcome any measures that will enable the people of Edinburgh to live, work and enjoy a low carbon life."
It's proposed to roll out the Communal Bin Enhancement project across the city, starting in the Leith and Leith Walk wards later in 2020 as Traffic Regulation Orders would not be required (because these areas do not have Controlled Parking Zones).
Residents in each area will have the opportunity to find out and ask questions about how their street will be affected through information drop-in sessions as each phase is progressed, alongside a multi-channel communications campaign to raise awareness.