EXPO partners announced for innovative Rural Housing Summit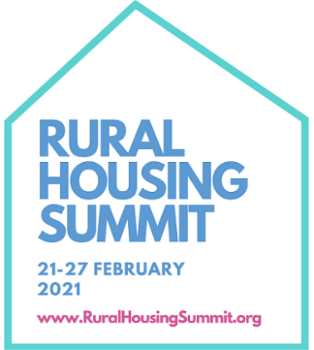 Organisers of the 2021 Rural Housing Summit have announced the partner organisations and businesses who will be co-hosting the EXPO networking sessions at this month's free, innovative, online event.
Ecology Building Society, Savills, The Wee House Company, Paved With Gold, Grand Bequest, Social Investment Scotland (SIS) and the Northern Ireland Housing Executive are all taking part in the Rural Housing EXPO, offering attendees at the Summit the opportunity to learn more about some of the companies and organisations supporting the rural housing sector throughout the UK through online one-to-one networking sessions.
More information the services they offer and how to book one-to-one sessions to find out more can be found at www.RuralHousingSummit.org.
Ecology Building Society supports private individuals, businesses and community organisations by offering mortgages for environmental building projects and renovations that support sustainable development.
Some of the projects that Ecology Building Society has been involved in include Scotland's first community-owned Passivhaus build in Dumfries and Galloway and the Open House co-housing project on the outskirts of Sheffield.
Savills is one of the world's leading property agents with a wealth of expertise across the UK, particularly in the fields of rural planning and architecture. Representatives from Savills will be leading a number of sessions as part of the wider Rural Housing Summit programme as well as taking part in the EXPO.
The Wee House Company designs and fabricates homes in their Ayrshire factory, reducing build time and improving quality and waste reduction, leading to more sustainable homes. Completed projects include bespoke individual houses and larger scale local authority affordable housing developments.
Paved With Gold is a marketing and crowdfunding agency based in Glasgow and London. Having managed crowdfunder campaigns since 2012, they know how to create an impact and will be on hand at the Rural Housing Summit EXPO to share their expertise.
Grand Bequest is a property technology company that works with communities to save their at-risk historical buildings by connecting them with project owners and investors and providing financial and operational assistance throughout the conservation process.
Social enterprise and charity Social Investment Scotland offers loan funding and business support for other social enterprises, charities and communities looking to make a positive impact on people's lives, society or the environment. Recent clients include the Glenurquhart Care Project which secured a £440,000 loan as part of a funding package to build 12 amenity homes.
The Northern Ireland Housing Executive is one of the largest social landlords in the UK, managing approximately 85,000 homes across urban and rural areas throughout all Northern Ireland.
Jennifer Higgins from The Wee House Company, said: "The Wee House Company is delighted to be part of this year's Rural Housing Summit.
"We are currently in the latter stages of an affordable housing project with Mull and Iona Community Trust (MICT) and we look forward to discussing how modular construction can make remote, rural projects more feasible and to connecting with individuals and organisations to address local housing needs in rural communities."
The week-long Rural Housing Summit, which takes place from Sunday, February 21, to Saturday, February 27, will bring together experts and community organisations from across the UK, Ireland and beyond to look at the issues facing the sector.
The main five days of the summit will explore the themes of community-led housing, quality homes, affordable homes for all, resourcing for rural housing, and the future of rural places, through a mix of webinars, panel discussions, workshops and one-to-one sessions.
Rural Housing Scotland, which campaigns to secure more affordable housing in rural Scotland and supports community action on rural housing issues, including helping develop community-led housing initiatives, is organising the Rural Housing Summit and the EXPO.
Derek Logie, chief executive of Rural Housing Scotland, added: "We are delighted to be able to announce are partners for this year's EXPO event.
"Networking and one-to-one sessions are an invaluable part of any event and this year's Rural Housing Summit, although taking place online, is no exception to this.
"There is a lot of expertise out there that communities, organisations, individuals and practitioners can draw on and we have brought together world leaders, pioneers and experts in their field who are looking forward to sharing their knowledge and experience of different aspects and approaches to tackling rural housing need with Summit delegates as part of the EXPO.
"I would encourage as many people as possible to book their place at these EXPO sessions and at the Summit itself, and create their own bespoke conference experience, which can be tailored to their own specific interests.
"Thanks to our partnership with UN-Habitat and sponsorship from Ecology Building Society all the sessions are free to attend. We are also very grateful for the support Savills and The Wee House Company and our other EXPO partners have provided."
Bookings are required for all Rural Housing Summit sessions.