Extra £80m funding to help councils deliver affordable homes
The Scottish Government has made an additional £80 million available over the next two years to help councils deliver affordable homes.
In 2019-20 council areas will benefit from an extra £42m on previously announced funding for affordable housing. In 2020-21, councils will benefit from an additional £38m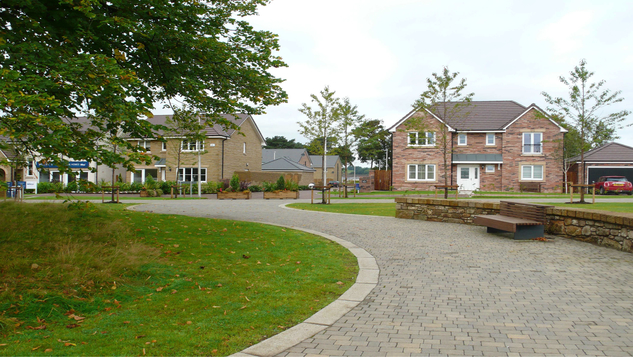 The extra affordable housing investment available for each local authority area is decided by a needs based formula agreed in 2012 with local government body COSLA.
Housing minister Kevin Stewart said the investment will mean local authorities will share a total of £1.3 billion between now and 2021 to help achieve the government's ambitious aim to deliver 50,000 affordable homes, with 35,000 available for social rent, by that date.
Since 2007 more than 82,000 affordable homes have been delivered, including 55,920 homes for social rent.
Mr Stewart said: "We believe that everyone should be able to live in a warm affordable home. Our investment and delivery of affordable housing is the biggest since devolution and I am determined to see it benefit communities across Scotland.
"This investment backs up our ambitions with financial certainty. We will continue to work in partnership with councils and housing associations to deliver quality homes to meet local needs."
Cllr Kelly Parry, COSLA community wellbeing spokesperson, added: "I am pleased to acknowledge the additional resources that will come to councils in this financial year and in 2020/21 to support the growth of affordable housing for all in our communities."
A breakdown of funding for 2019-2020 and 2020-2021 by council areas
Council
2019-20
£m
2020-21
£m
Total
Aberdeen City
19.473
20.658
40.131
Aberdeenshire
30.755
32.626
63.381
Angus
9.125
9.681
18.806
Argyll & Bute
18.407
19.527
37.934
Clackmannanshire
6.165
6.541
12.706
Dumfries & Galloway
21.930
23.264
45.194
Dundee City
18.173
19.279
37.452
East Ayrshire
12.692
13.464
26.156
East Dunbartonshire
7.904
8.385
16.289
East Lothian
10.822
11.480
22.302
East Renfrewshire
6.346
6.732
13.078
Edinburgh City
45.231
48.209
93.440
Eilean Siar
9.152
9.709
18.861
Falkirk
12.143
12.882
25.025
Fife
34.714
36.827
71.541
Glasgow City Council
104.044
110.896
214.94
Govanhill Early Action Programme
5.000
5.000
10.000
Highland
45.612
48.388
94.000
Inverclyde
10.773
11.428
22.201
Midlothian
9.247
9.809
19.056
Moray
9.080
9.633
18.713
North Ayrshire
16.112
17.093
33.205
North Lanarkshire
36.549
34.635
71.184
Orkney Islands
3.257
3.455
6.712
Perth & Kinross
17.423
18.483
35.906
Renfrewshire
16.823
17.846
34.669
Scottish Borders
15.998
16.972
32.970
Shetland Islands
5.213
5.531
10.744
South Ayrshire
12.761
13.538
26.299
South Lanarkshire
28.663
30.408
59.071
Stirling
9.677
10.266
19.943
West Dunbartonshire
10.490
11.128
21.618
West Lothian
13.848
14.690
28.538
Total
633.602
668.463
1302.065