Family gets keys to Osprey home in Portlethen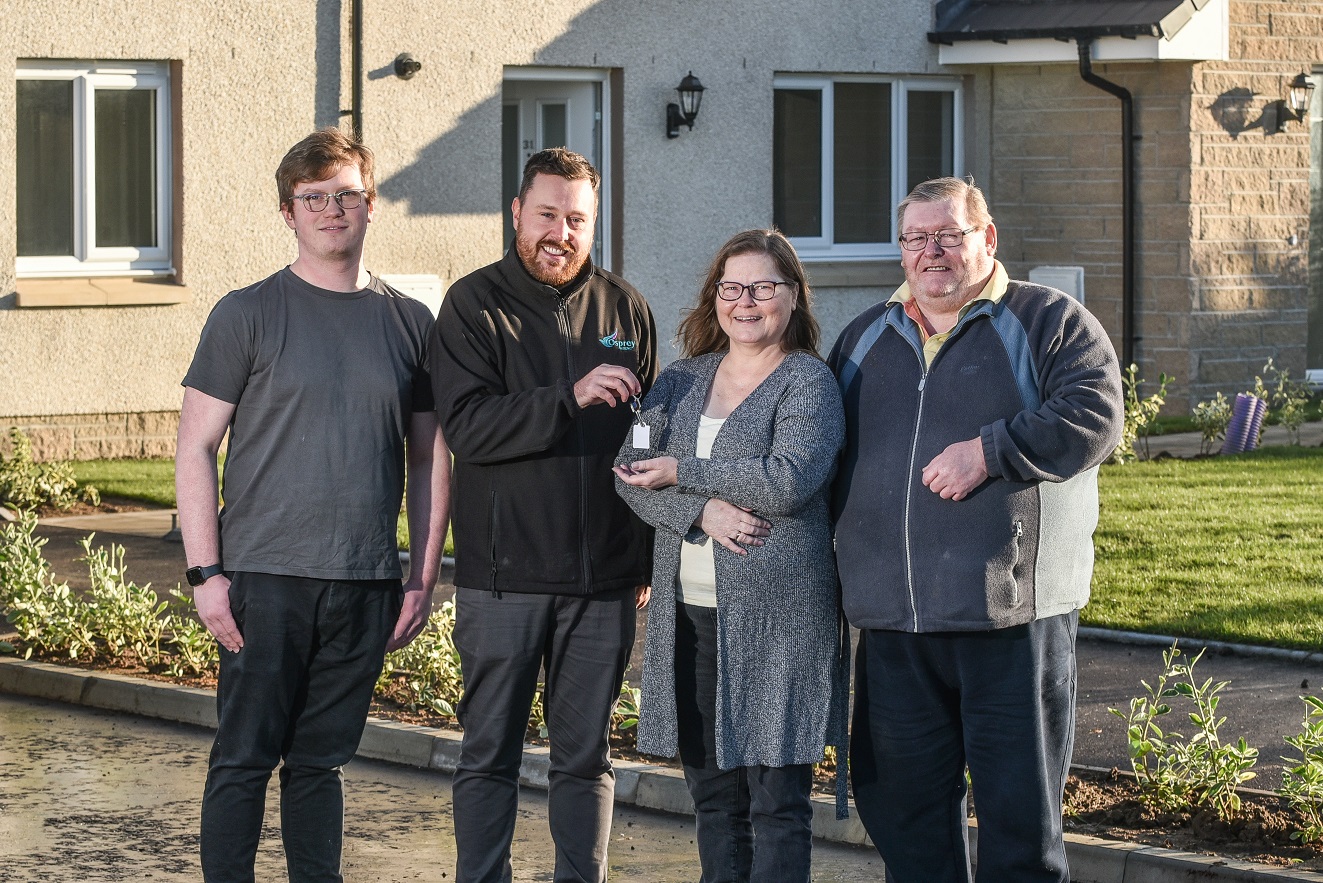 The new year marked a fresh start for an Aberdeenshire family who recently got the keys to one of Osprey Housing Group's new-build flats in Portlethen, just south of Aberdeen.
Alistair and Barbara Walker, together with grown-up son Ross, moved into the two-bedroom apartment within Stewart Milne Homes's Leathan Green development shortly before Christmas.
They had been living in a three-bedroom property in Fettercairn, but the stairs there were becoming an increasing challenge for Alistair, who has a physical disability and needs a wheelchair when outdoors. The family were allocated their new home via Aberdeenshire Council's tenant selection process.
Their new Osprey flat is on the ground floor and — along with other flats in the development — features full level access, wheelchair-accessible doors, and a wet floor shower room.
Alistair said: "This makes life so much less stressful, particularly as I also suffer from arthritis and may have to start using a wheelchair all the time, inside and out, in the future.
"Moving here has given us the chance of a new start, and for me it's given me back my independence."
Osprey's Leathan Green development, on the edge of Portlethen and close to schools and shops, comprises a total of 11 properties:
Four single-bedroom and four two-bedroom cottage-style flats
Two three-bedroom semi-detached houses
One four-bed detached house, which also features full level access, wheelchair-accessible doors, and a wet floor shower room.
The properties were released in two phases, in November and December 2022. The total development cost was £1,500,587, with a Scottish Government contribution of £958,956.
Osprey housing officer Jamie Brown said: "We're delighted to welcome the Walker family to Portlethen and hope their new Leathan Green home will make life much easier for them all.
"This collaboration with Stewart Milne Homes and has made it possible for us to once again offer our tenants fantastic new-build properties in a great location."