Former sheriff raises funds for Simon Community Scotland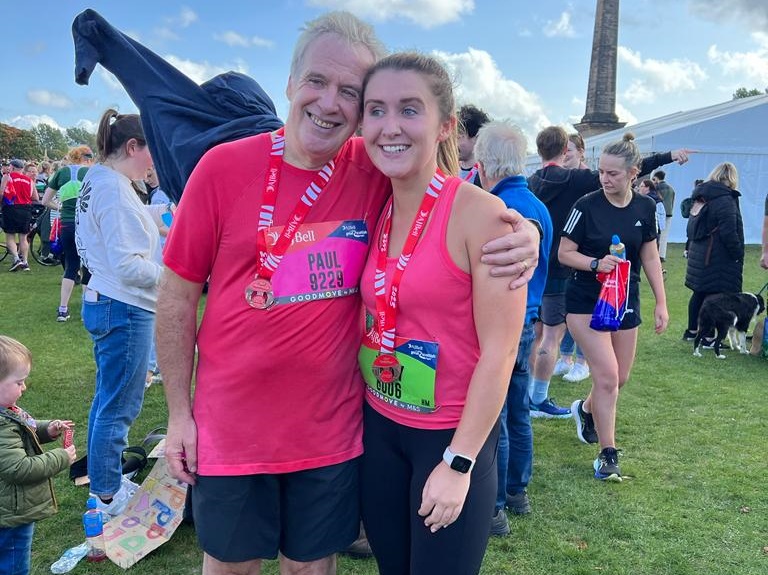 A former sheriff has raised more than £5,800 for Simon Community Scotland after completing the Great Scottish Run with his daughter.
Paul Crozier, who retired from the bench in Glasgow last June, completed the half marathon on October 1st in a time of 2 hours, 9 mins and 8 seconds.
Alongside his daughter Emily, he has raised £5,880 so far for the homelessness charity.
Explaining to SHN why he decided to take on this challenge, Paul said: "I had dedicated my entire adult working life to the law, I stopped enjoying what I was doing and realised the reason for that was that I was past my sell-by date.
"The job of sheriff had changed dramatically, the sheriff that I was did not sit well with the expectations of others and, having thought about it long and hard I decided that it was time to go even though I was only 60. Thus last June I stopped being a sheriff. I have embraced retirement! Golf, reading, travelling and generally having a good time.
"My life has to all intents and purposes been based in the West of Scotland; the city I frequent and am most familiar with is Glasgow. Pre-pandemic I was already noticing a rise in the number of homeless persons in Glasgow. Post-pandemic it appears to me that the numbers of homeless people have increased dramatically.
"The vast majority of us have daily worries and stress to contend with but still have a home to go to at the end of the day. There are however a number of our fellow citizens who have those worries and stress in their lives but these are compounded by addiction problems, mental health problems and homelessness.
"I felt that the time had come for me to do something that might help at least a little. I felt that it should be a challenge that would take me out of my comfort zone. I am not a natural athlete! I settled on taking part in the Great Scottish Run. I have never run a half marathon before, 61 is a great time to start. My daughter Emily decided that she had better keep an eye on me and decided to sign up too. Emily has never run a half marathon either.
"The Simon Community is full of heroes helping those who are homeless. They offer various services in Glasgow, North Lanarkshire, Perth and Edinburgh to those unfortunate enough to be either homeless or who are under threat of becoming homeless. We decided that we would like to try and raise money to help them.
"We have been blown away by the support that we have already received through donations to our Just Giving page. It would be great if SHN could help us raise awareness of the Simon Community and raise funds to assist them in carrying out their much needed work in our communities."
To donate to Team Crozier, please click here.