Funding for RSLs to increase supply of homes for displaced people from Ukraine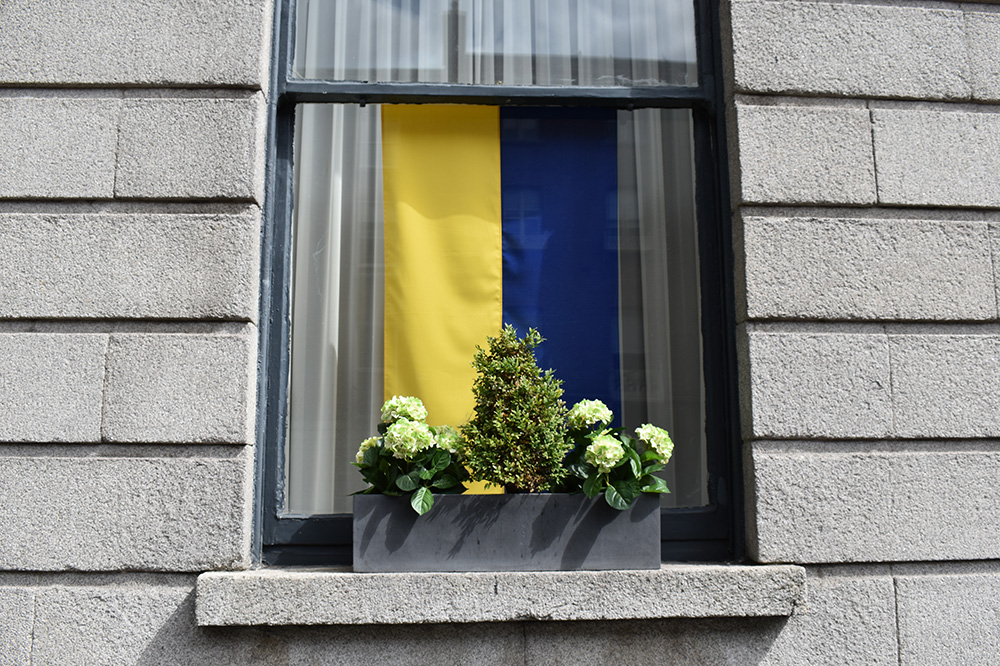 Councils and Registered Social Landlords will be able to apply for Scottish Government funding to bring properties into use and increase the supply of housing for those fleeing the conflict in Ukraine.
Through the Ukraine Longer Term Resettlement Fund, up to £50 million of funding will be made available to refurbish properties that otherwise would not be available for let.
Under the initiative, Councils and Registered Social Landlords will be responsible for leasing arrangements and rent collection.
The homes provided will be good quality affordable homes and will be available for rent for up to three years, in line with visa length, after which some will continue to be available as social rented homes.
Minister with special responsibility for refugees from Ukraine Neil Gray said: "We are providing sanctuary to more displaced people per head of population than any other part of the UK. Over the past seven months more than 18,411 have arrived into the UK with a sponsor located in Scotland. This exceeds our initial commitment to support and welcome 3,000 people and we are proud we have been able to provide a place of safety. We don't want people spending any longer than necessary in temporary accommodation so we are working hard to find longer term, sustainable accommodation.
"We have been working closely with local authorities and social landlords on proposals which could help meet the longer-term needs of displaced people from Ukraine. This fund will boost the supply of homes by bringing empty properties back into use across the country.
"We've already provided £5 million for the refurbishment of up to 200 homes in North Lanarkshire. These works are progressing at pace and are due to be completed later this year. A number of homes have also been identified in other areas and we are working closely with councils on other proposed projects.
"The safety and wellbeing of all displaced people from Ukraine is our absolute priority and this additional funding will help those displaced by this crisis to access a safe and secure home during their time here."
The announcement follows a memo from Scotland's local authorities to social justice secretary Shona Robison which claimed that the added pressure to house refugees from the war in Ukraine is putting the Scottish Government's key strategy to end homelessness at risk.
The memo summarised a meeting of the government's Rapid Rehousing Transition Plans (RRTP) sub-group last month.
According to the memo, which was leaked to The Herald, the lack of planning has left those working on the ground to feel "frustration, depression and anger" at the "massive challenges".
It says the "precariousness" of the system has left councils "desperate", amid "confusion and shifting goalposts" over the way the refugee programme had developed.
The experts warned the "fundamental impact" of local authorities trying to find places for refugees would be a failure to meet the government's pledge to rapidly rehouse other homeless people.
They highlighted an "ignorance" of homelessness within government and an "unwillingness" to recognise that the refugee situation could not be handled in isolation.
The latest published data on the Ukraine Sponsorship Scheme, including the Scottish Government's super sponsor scheme, shows as at 20 September there were:
18,411 total arrivals with a sponsor located in Scotland, of which 14,852 have come under the super sponsor scheme
35,754 applications under the super sponsor scheme
30,492 visas issued under the super sponsor scheme
The memo said: "The consensus across local authority homelessness services was one of an increasing desperate feeling with regards to the fragility and precariousness of the RR [rapid rehousing] system at present.
"Members expressed feelings of frustration, depression and anger with the challenging situation around homelessness and pressures from the Ukrainian DP [displaced person] scheme… cities are noting backward steps around homelessness.
"Particular concerns were raised around the scale of numbers being talked about and the uncertainty this leaves – resulting in massive challenges around ability to plan. Serious concerns were raised that this has been draining and resourcing is simply not present to cope with this."
It went on: "Whilst understandable given the pace and scale, members referred to confusion and shifting goal posts with regards to the way that the Ukrainian programme has developed over the past few months.
"This confusion and mixed messaging has been attributed to a lack of joined-up thinking.
"Members felt that on the refugee programme, there is ignorance on homelessness, with an unwillingness to recognise that the refugee situation cannot be dealt with in isolation; the scale of homelessness in Scotland also has to be dealt with.
"Homelessness services are trying to keep the homelessness and refugee/displaced persons programmes separate, but they are merging, which causes confusion.
"Members raised concerns they will be unable to deliver the political promise around rapid rehousing, because of the impact of the political promise around supporting refugees.
"This, it is believed, will be the fundamental impact."
Ms Robison said: "The Scottish Government appreciates the pressures and challenges local authorities are currently facing as they address homelessness and those at risk of homelessness.
"Partnership working is essential to develop solutions that support local authorities while delivering on our shared ambition to end homelessness.
"The Homelessness Prevention and Strategy Group, an expert group of stakeholders, will meet to discuss the situation and identify next steps."