Government paves way for warmer homes with £1.8bn Heat in Buildings Strategy
The Scottish Government has set out the actions it will take in the buildings sector to deliver on climate change commitments, support economic opportunities, and ensure a just transition, including helping address fuel poverty.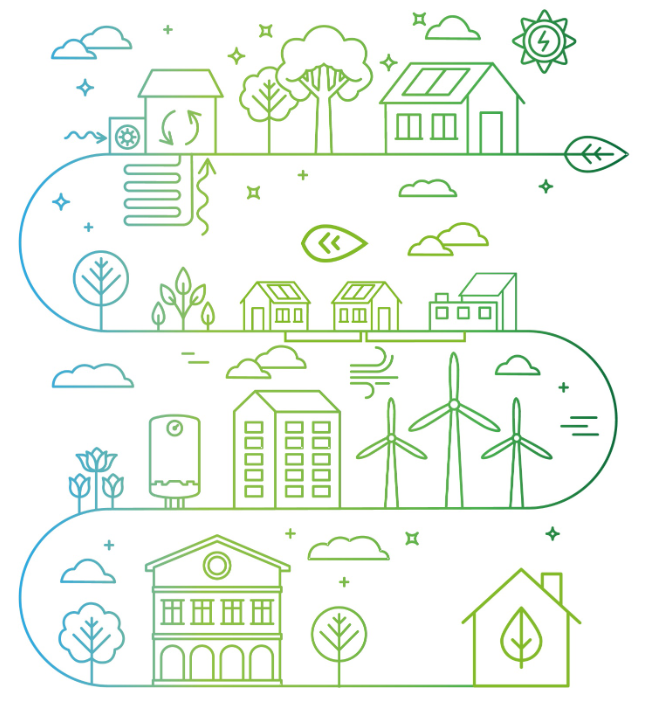 Ramping up delivery of renewable heating systems, driving a widespread improvement in the energy performance of buildings and investment of at least £1.8 billion are at the heart of the Heat in Buildings Strategy.
It will require over a million homes and the equivalent of 50,000 non-domestic buildings to convert to zero emissions heat by 2030.
Ahead of the Strategy's launch, zero carbon buildings minister Patrick Harvie visited the ng homes project in Springburn, Glasgow, where Scottish Government funding of £9 million has supported the installation of a communal zero emissions heating system. The project, which spans across six high rise social housing tower blocks, is expected save more than 650 households up to 60% in energy bills.
Mr Harvie said: "The ambition set out in our Heat in Buildings Strategy is significant, and rightly so on the eve of COP26 coming to Glasgow. Urgent action is needed if we are to stand a chance of limiting warming to under 1.5 degrees.
"As we take these bold steps to reduce emissions from our homes and buildings, we must do so in a way that leaves no-one behind. This Strategy sets out the guiding principles that will ensure our actions to decarbonise heat do not have a detrimental impact on rates of fuel poverty and instead serve to tackle social inequalities.
"This is a huge transition, affecting communities, businesses and households all across Scotland and we must work collaboratively – across public and private sectors, across parliament, and across governments, to deliver it.
"Our Strategy also makes it clear that, to deliver the transformational change required, the UK Government must take urgent action in reserved areas to support the just transition to decarbonised heating. Our Strategy commits to phasing out the need to install new or replacement fossil fuel boilers, and to consult on introducing new legislation and regulations to underpin this transition and ambitious investment programme, but equivalent action from the UK Government in reserved areas, such as on energy pricing, will be essential to deliver these commitments.
"It is essential that homes and buildings achieve a good standard of energy efficiency and by 2033 we want to see all homes meeting at least an EPC band C standard where feasible and cost effective. This will help ensure energy costs in future are affordable and that our actions continue to remove poor energy efficiency as a driver of fuel poverty."
A new Green Heat Finance Task Force will be established to identify innovative solutions to maximise private sector investment, and to find new ways to help individuals and organisations spread the upfront cost of investing in making their properties warmer, greener and more energy efficient.
It has been estimated that the transition to zero emissions heat could support around 16,400 jobs across the economy in 2030.
The Scottish Federation of Housing Associations (SFHA) said it welcomed the government's commitment to a just transition to net zero emissions housing, ensuring those who are most vulnerable are protected against any cost increases such as higher energy bills.
SFHA chief executive Sally Thomas said: "(Yesterday's) announcement is an important next step from the Scottish Government in addressing climate change and fuel poverty. We are particularly pleased that the government has committed to delivering a just transition to net zero emissions housing. This was one of the key recommendations of the Zero Emissions Social Housing Taskforce (ZEST) which SFHA co-chaired. With over a third of social housing tenants living in fuel poverty, and energy bills already spiralling, this commitment is absolutely fundamental – our efforts to tackle climate change must not leave any tenant with energy bills they can't afford.
"Heat from buildings accounts for around 20% of Scotland's greenhouse gas emissions, so housing has an essential role to play in tackling the climate emergency. We particularly welcome the doubling of the five-year Social Housing Net Zero Heat Fund. Alongside this, we would like to see a further longer term and non-competitive fund to help spread investment strategically across the country, delivering improvements at the scale required, without a negative impact on rent affordability.
"We acknowledge that the ZEST recommendations are still being reviewed, and we look forward to working with the Scottish Government, and other partners, in order to implement its full recommendations, allowing us to meet Scotland's climate change targets and end fuel poverty."
The Existing Homes Alliance (EHA) said the plan "paves the way for warmer, healthier homes and will help us meet climate change targets".
EHA chair Lori McElroy said: "This is about tackling the climate emergency. Heating accounts for around 50% of Scotland's energy use and to cut greenhouse gas emissions we know must move away from fossil fuel to low or zero carbon heating systems.
"We also need to reduce how much energy we use to heat our homes by making them as energy efficient as possible. Investing in improving the fabric of our homes not only helps us to reduce emissions, but it can also protect us from the kind of sudden energy price rises we've seen recently."
In its final report in June 2021, the Climate Assembly said that "to tackle the climate emergency in an effective and fair way, Scotland needs to retrofit the majority of existing homes to be net zero by 2030, while establishing Scotland as a leader in retrofit technology, innovation and installation practice".
The Heat in Buildings Strategy aims to improve one million homes across Scotland by 2030 through a combination of new regulations and support for people including those at risk of fuel poverty.
Lori McElroy added "Our transition to net zero must be fair and everyone should have the right to a warm, low carbon home. We are particularly pleased to see the Scottish Government taking on board the recommendations of the Just Transition Commission and putting such a strong focus on making sure no one is left behind.
"But we need to make it easy for everyone to be part of the transition and comply with the standards of the future and that's going to mean scaling up advice and support services and increasing funding for Scotland's excellent national energy and fuel poverty programmes.
"With this strategy the Scottish Government is setting out a clear pathway, but now needs to move quickly to delivery. We have a really strong base to build from and with the right package of policies and investment there is a real opportunity for us to create thousands of green jobs that not only help us cut greenhouse gas emissions but also tackle poverty and inequality."
Morag Watson, director of policy of Scottish Renewables, said: "We welcome (yesterday's) publication of the Scottish Government's Heat in Buildings Strategy which commits to eliminating emissions of greenhouse gases from heating Scotland's homes and buildings by 2045 through the use of low-carbon heating solutions powered by renewable energy.
"Scotland has some of the best renewable energy resource in Europe which can be harnessed to ensure our homes and buildings are warmed by clean energy.
"We urge The Scottish Government to ensure the commitments made in the Strategy are pursued at pace to enable the delivery of our climate change targets."
Holly O'Donnell, climate and energy policy manager at WWF Scotland, added: "This new strategy to cut emissions from our homes and buildings is an essential step to dealing with the climate emergency. Soaring gas prices are an urgent reminder that the sooner we can banish polluting and volatile fossil fuels from our homes the better. The new rules mean that all homes will need to reach minimum levels of energy efficiency which will cut carbon, make homes warmer and healthier, while creating thousands of jobs across Scotland and protect against high fossil fuel costs.
"If the transition to green homes is to be fair to all, then regulations will need to be accompanied by grant support, particularly for those on lower incomes who need it most. We look forward to seeing more detail on this soon."
Daryl McIntosh, policy manager at Propertymark, said: "The publication of the Scottish Governments Heat in Buildings Strategy has left some previously discussed questions unanswered.
"The mention of a Green Heat Finance Task Force shows acknowledgement that there will be costs involved, but what's lacking is detail on the availability of financial support landlords and homeowners can expect to receive. There is no mention of a cost cap which was previously discussed.
"Any new regulations must avoid the unintended consequence of landlords leaving the private rented sector, at a time when they are most needed.
"Realistically, to achieve the number of properties in the PRS meeting EPC band C by 2025 at change of tenancy, and all PRS properties by 2028, as well as owner occupiers to meet level C by 2033, the funding process needs to be well thought out and implemented as well as adequate materials and a skilled work force available."
Federation of Master Builders Scotland director, Gordon Nelson, said: "With the United Nations Climate Change Conference in Glasgow only weeks away, we welcome the publication of the Heat in Buildings Strategy. Scotland's statutory emissions targets require us to achieve net zero greenhouse gas emissions by 2045. The scale of the challenge is huge, with around 1 million Scottish homes needing to have energy retrofit works delivered to reduce their energy consumption. As the strategy states 'high standards of energy efficiency are essential to reduce the overall demand for energy'.
"It is right that a fabric first approach will be taken and that local, small building firms are ideally placed to deliver the appropriate green upgrades to homes across Scotland. We also need energy retrofit measures to be integrated into every appropriate home improvement project. This will enable energy retrofit work to be delivered at scale by backing local builders in every community throughout Scotland. We look forward to working with the Scottish Government on developing the Supply Chain Delivery Plan and central to this will be creating sustainable consumer demand for energy retrofit works."