Hillcrest Maintenance welcomes international visitors to showcase workplace training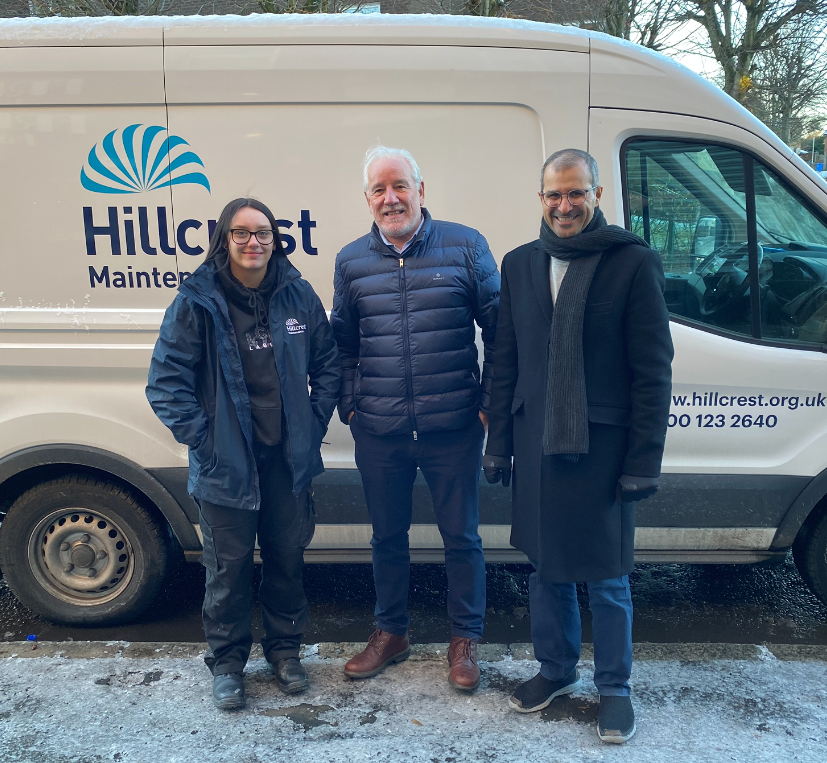 Hillcrest Maintenance, the professional trades business which is part of the Hillcrest Homes group, has welcomed an international delegation from the Bahrain Chamber of Commerce and Industry to showcase how it provides education and training opportunities to young people.
Dr Ahmed AlKoofi and Ameera Almutawa, accompanied by Graham Scott from Future Skills College who organised the visit, met with 16-year-old Casey Craig, who is undertaking a placement within Hillcrest Maintenance's electrician team, learning how hands-on training coupled with classroom teaching can significantly improve the job prospects of young people moving into the workforce.
Dr Alkoofi from the Bahrain Chamber of Commerce said: "The purpose of our visit to Scotland is to research how the transition to apprenticeships and employment from schools and colleges is being approached. I'm very grateful to Hillcrest Maintenance and Future Skills College for arranging for me to meet young people having a 'real working life' experience.
"This will help me formulate a similar strategy that could be implemented in Bahrain where, generally speaking, the focus is on university education rather than vocational training.
"I very much value Hillcrest Maintenance's commitment to supporting young people and particularly in terms of gender equality and removing barriers to the workplace, demonstrating that opportunities can and should exist for young women in a historically male-dominated environment."
Brian Jones, operations supervisor for Hillcrest Maintenance, added: "We were delighted to have the opportunity to showcase how we mentor young people to upskill them and provide them with proper exposure to what it means to work within our teams, preparing them for the future workforce and their careers ahead.
"Hillcrest recognises it has a role to play in tacking youth unemployment and, as part of our Young People Strategy, we're collaborating with schools and partnering organisations who support young people with the transition into the world of work."
In 2022, Hillcrest recruited 11 young people aged 16 to 19 into various apprentice positions within the company, both in traditional trades roles and into corporate positions within our HR, learning and development, IT, housing, and health and safety teams.
A key investment to support our young people's development is Hillcrest's 'Young People's Voice' group which provides young colleagues with a safe space to network and to share their ideas, views and opinions on changes happening within the business.