Hillcrest's brand new service set to create 'appy tenants'
Hillcrest has launched a brand new tenant app which will put a multitude of functions including getting in touch, reporting repairs and requesting advice or support right at users' fingertips.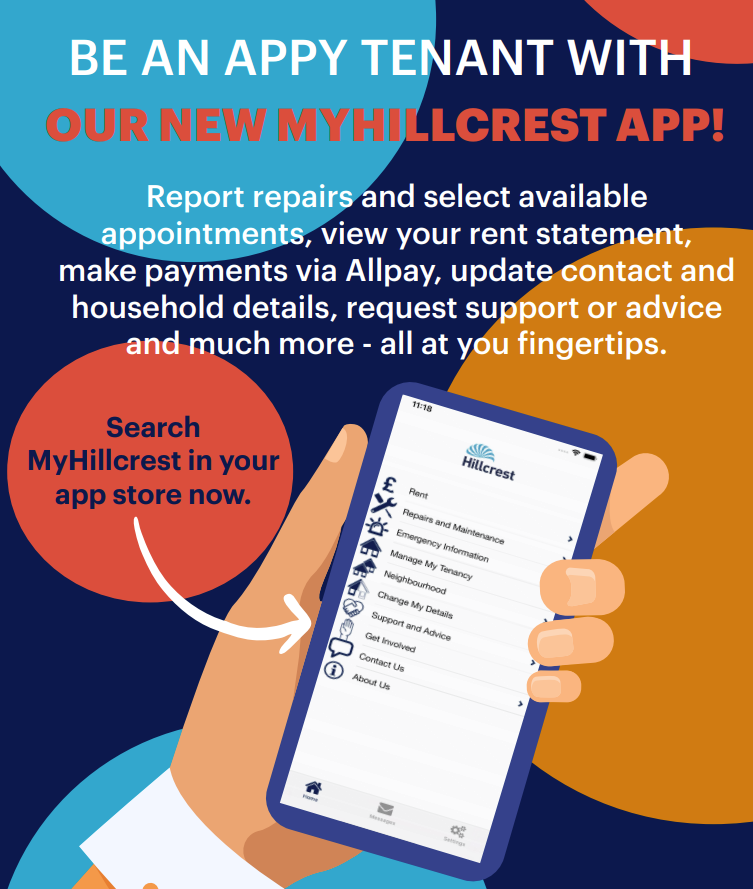 The free app, called MyHillcrest, is available for both Hillcrest Homes and Hillcrest Enterprises tenants on the Android and Apple IOS platforms, and is available to download now.
With the Covid-19 pandemic and restrictions continuing to affect normal operations and resulting in many people being housebound, the app allows tenants to carry out a range of functions that they would usually have had to phone up or visit an office to do.
The rolling out of the app follows a period of initial testing and feedback by a group of Hillcrest tenants, with their suggestions playing a key role in finalising the software.
Using the app, tenants can check rent accounts, update details, complete forms and report repairs required within their home, with the app even offering the option to choose a repair time that is suitable to them.
Angela Linton, Hillcrest chief executive, said: "We're delighted that our brand new app is ready for our tenants to download, which will make interacting with us much quicker and easier.
"While the current Covid-19 situation has made contact with customers or service users much more difficult for many companies, our app will help us hugely in our ambition to stay in as close contact with our tenants as possible and to continue to offer the highest levels of service.
"The app brings together almost every function that tenants would usually have had to phone, visit us or visit our website to undertake - all in one place. The app can be downloaded now from either the Google Play or Apple App store."